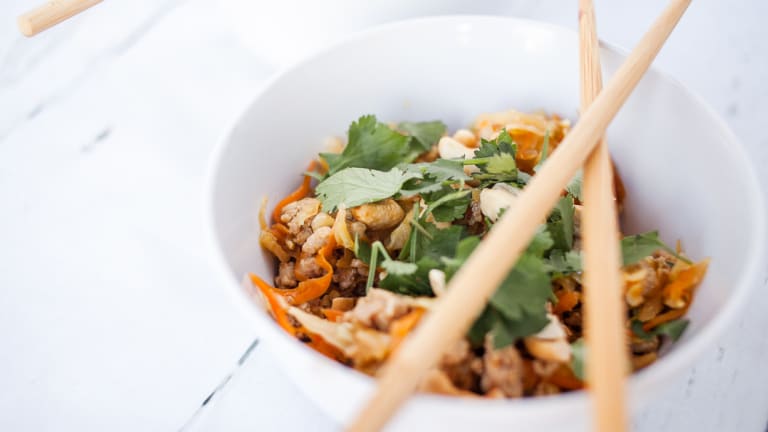 Whole 30 Egg Roll in a Bowl
If you are craving some Chinese take-out but trying to take it easy on noodles and wrappers, this whole 30 approved egg roll in a bowl is just the dinner you need!
Ready to enjoy the taste of takeout while staying true to the Whole 30 program? Get ready to enjoy the Whole 30 Egg Roll in a Bowl!
One of the biggest adjustments when doing the Whole 30 program is the need to steer clear of most takeout options. Who doesn't enjoy taking a night off from cooking? But a successful Whole 30 requires careful attention to the ingredients in your food.
Sauces can be tricky, and alas, most convenience foods are delivered in a grain-based vessel.
Case in point, our favorite takeout hero: the egg roll.
But now, you've got the next best thing: the Whole 30 Egg Roll in a Bowl.
I would even argue that it's not just the "next" best thing, it's the actual best thing because with the omission of that pesky grain and gluten-filled wrapper, you'll find yourself free of the bloat, gas, digestive distress, and brain fog that accompanies eating grains.
Did that sound dramatic? Perhaps. But that was my very own experience when I did my first Whole 30 several years ago. I vividly remember telling Rachael; "I don't have an issue with gluten, I've been eating bread my whole life and it's no big deal."
I could not have been more wrong. Once I omitted gluten and grains from my diet, I FELT UNSTOPPABLE. My round lower tummy that I could never seem to get rid of, no matter how much I exercised, disappeared. The digestive issues that I just considered the normal part of consuming food...gone! The brain fog that I was often hit by in the afternoon, had become a distant memory.
But my love of asian food was still firmly planted in my heart.
So I began to test my at home asian cooking skills. There were some failures. And some successes—one of which was this Whole 30 Egg Roll in a Bowl.
Some people are thrown off my the concept of a Whole 30 Egg Roll in a Bowl—for a few reasons.
The first reason? Soy Sauce is not a compliant ingredient during your Whole 30, which might seem like such a minor thing. It did to me. But as I discovered during my reintroduction phase, soy is a strict "no fly zone" for me. It makes me feel TERRIBLE. According to It Starts With Food, Whole 30 creators Melissa Hartwig Urban and Dallas Hartwig state:
"Soybeans contain compounds called isoflavones, with are types of phytoestrogens (phyto meaning "plant," estrogen as in that female sex hormone). These phytoestrogens are recognized by our bodies—male and female alike—as a female reproductive hormone."
Personally, I saw a huge improvement to my menstrual symptoms when I cut soy out of my diet. So much so that I never went back.
Hey there! Didn't expect to get a little side-story about female hormones when your clicked over here for a Whole 30 Egg Roll in a Bowl recipe, didya?
Well, that's the magic of Whole 30—removing a few key food groups will tell you SO MUCH about your body and mind.
Which is why those little white boxes of delicious Chinese takeout were hitting me so hard. The gluten in the egg roll wrappers, the soy sauce, the added sugar in the sauces...they all compounded to make me feel miserable.
This is why you'll see so many Whole 30 recipes on our site—many people on our team have done the Whole 30 and seen first hand what a tremendous difference it has made in our health and our relationship with food.
So if you are craving some Chinese take-out but trying to take it easy on noodles and wrappers, this Whole 30 Egg Roll in a Bowl is just the dinner to add to your meal plan! Added bonus? It's SUPER QUICK and really easy to toss together on a busy weeknight!
It was met with initial concerns by my children, but after a reluctant try, they loved it! And if you're kids want to learn chopsticks, this dish is the one to practice on!
Whole 30 Egg Roll in a Bowl
Ingredients:
1 lb. ground Turkey or Chicken
1 Small Sweet Onion, diced
1 Tbsp Toasted Sesame Oil*
1 Tbsp Rice Vinegar
2 tsp Fresh Garlic, minced
1 tsp Fresh Ginger, grated
¼ cup Coconut Aminos (Soy Sauce Replacement)
1 (16 ounce) bag Coleslaw Mix
½ cup Carrots, grated
Salt and pepper to taste
1 Tbsp Hoisin Sauce (Here's a link to a homemade hoisin sauce recipe that is Whole 30 compliant if you omit the honey. If you want to skip this step, just leave out the Hoisin sauce.) 
Method:
Heat a large skillet over medium-high heat. Add ground meat and cook, stirring, until no longer pink. Drain; return meat to skillet.
Add diced onion, sesame oil, and rice vinegar to the skillet. Cook, stirring, for a few more minutes (until onion is tender).
Add garlic, ginger, coconut aminos, hoisin sauce, coleslaw mix, and carrots to the skillet. Cook, stirring, for about 5-7 more minutes, or until cabbage is wilted.
Remove skillet from the heat. Season with salt and pepper, to taste.
I'm pretty sure that you'll find "Whole 30 Egg Roll in a Bowl" on your weekly meal plan, A LOT after your family gets a taste of this.
Why Coconut Aminos?
The Whole 30 guidelines are clear: NO SOY SAUCE. But there are some flavors that simply can't be omitted from certain dishes...and well...your life! Coconut Aminos to the rescue! Coconut Aminos are Whole 30 compliant and are becoming easier to find at your friendly neighborhood grocery store. You can read more about Coconut Aminos (AKA; the secret ingredient for a killer Whole 30 Egg Roll in a Bowl) here. 
Use Toasted Sesame Oil Sparingly
Hence the * in our recipe. Seed oils are not recommended on Whole 30, but according to this post; you can use sesame oil sparingly. So consider that when treating yourself to a Whole 30 Egg Roll in a Bowl. (And feel free to adjust our recipe to suit your very own taste buds!)
Is Rice Vinegar Whole 30 Compliant?
Yes! According to the Whole 30 website:
"Nearly all forms of vinegar, including white, red wine, balsamic, apple cider, and rice, are allowed during your Whole30 program. (The only exception is malt vinegar, which generally contains gluten.)"
More Whole 30 Recipes
If our Whole 30 Egg Roll in a Bowl sounds delicious, be sure and check out our other Whole 30 recipes including..
Whole 30 Spaghetti Squash Pesto Bake
Whole 30 Breakfast Sweet Potato Hash
Whole 30 Chicken Bacon Apple Salad
And check out our Whole 30 Walmart Shopping List! 
Plus our other easy and delicious dinner recipes, like 5 Fall Soup Recipes and Okra Soup! 
The Mama's Guide to Whole 30
Are you new to Whole30 or just completely confused by everything Whole30 entails? The recipes, the philosophy, the science, how it's different from vegan, Keto, Paleo, the shopping lists, the things you can and can't eat...we get it. You're feeling overwhelmed. We've been there before too. And you're probably wondering if Whole30 is even worth it! We're here to let you know that it is! Here's what every Mama needs to know about Whole30. The Mama's Guide to Whole30 provides Whole30 recipes, tips, advice, resources, shopping lists and more!