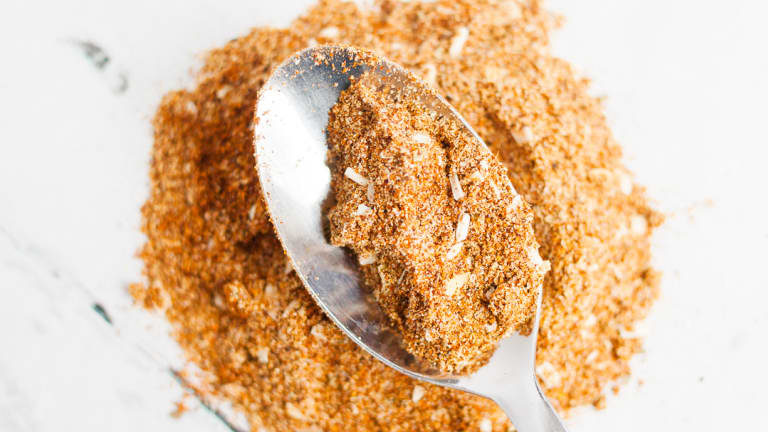 Whole 30 Taco Seasoning
Quick and Easy Whole 30 Taco Seasoning.
Save money, avoid creepy hidden additives, and win at your elimination diet with our Whole 30 Taco Seasoning! It's great on so many dishes, you're sure to reach for it on days other than Taco Tuesday.
You might be rolling your eyes at me.
"Whole 30 Taco Seasoning...is she for real? What on EARTH could be lurking in my trusty packet of taco seasoning?!"
OH HO HO! I'm glad you asked...because the answer is, "A LOT."
Here's the ingredient list from a very popular taco spice packet:
Other Ingredients: Chili Pepper, Maltodextrin, Salt, Onion Powder, Spice, Corn Starch, Sea Salt. Contains 2% or Less of: Vegetable Oil (Canola, Soybean and/or Sunflower Oil), Silicon Dioxide (Anticaking Agent), Citric Acid, Sugar, Natural Flavor.
In addition to many of these items being non-compliant for the Whole 30 program, I'm willing to bet there's simply more there than you bargained for when you tore open that packet.
Surprised? WELCOME TO WHOLE 30! They should consider changing the name of the program to "WHY IS THAT IN MY FOOD" or "SUGAR IS IN WHAT?"
Because you're going to spend a lot of time standing in store aisles reading labels and being super annoyed. I did.
But that's the magic of the Whole 30 program. Honestly. It's the single best thing I ever did for my health—to eliminate problematic food groups and then just see how I felt. It was amazing and it's why I currently eat along Whole 30 guidelines about 80% of the time. Sure, I love chocolate and gluten-free waffles and I enjoy them both occasionally because they are 100% worth it.
But a lot of the food that I used to eat regularly, out of habit and convenience? NOT WORTH IT.
So eating clean and avoiding the frustration of dodging sketchy additives has led me to start making my own spice mixes.
To further illustrate my point, here's the ingredients in a popular Garlic Salt:
Salt, Garlic, Modified Food Starch, Sugar, Parsley, Partially Hydrogenated Vegetable Oil (Cottonseed, Soybean), Carrot Oil (for color), Garlic Oil.
Go ahead...call me an overzealous hand wringer about the inclusion of fillers, sugar, soy, and anything partially hydrogenated in my spices.
You might say, "But Erin! It's only a small amount! What's the big deal?!"
To which I would say...have you ever eaten something that didn't sit well with you and wondered why on Earth your stomach has started gurgling? Or why you have a headache? You take that mental tally of ingredients and think, "None of that would make me feel lousy! It was just a taco salad with ground beef (safe), veggies (safe), salsa (safe), and dressing. And THAT's where you get to learn a whole lot about your body by doing Whole 30. Because some people (ME!) can't hang with those ingredients. They make me feel crummy and removing them from my food has made a huge difference for me.
So if you're ready to start saving money and eating clean, give our Whole 30 Taco Seasoning spin!
Whole 30 Taco Seasoning
Ingredients:
1 Tbsp Chili Powder
3 Tbsp Ground Cumin
1 Tbsp Salt
4 tsp Black Pepper
3 tsp Dried Oregano
2 tsp Paprika
1 tsp Garlic Powder
1 Tbsp Onion Flakes
1 tsp Dried Parsley
Method:
1. Mix all of the ingredients and save in a jar with a tight lid.
Use as taco or fajita seasoning on steak, chicken, ground beef or ground turkey.
Whole 30 Taco Seasoning Makes SO MANY Great Dishes
Tacos are a family favorite at our house. For years we've had a weekly tradition of Taco Tuesday that featured the standard ground beef, corn tortillas, and all the delicious additions (I'm looking lovingly at YOU, shredded cheese and sour cream.) Admittedly, doing a Whole 30 required that I adjust my beloved taco habit. This Whole 30 Taco Seasoning is the key— use it on steak, chicken, ground beef, or ground turkey to spice up your taco repertoire. You can even add it to our Whole 30 Ranch Dressing for a spicy version for your favorite salad!
Why Make Your Own Whole 30 Taco Seasoning?
When I did my first Whole 30 a few years ago, hunting down compliant sauces and packaged foods was impossible. They simply didn't exist—fast forward to today and the Whole 30 program has grown so much in popularity that my friendly neighborhood Walmart is stocked with loads of compliant products and ingredients (check out our Whole 30 Walmart Shopping list here.) 
Check out our other favorite taco recipes: Easy Taco Soup Recipe and 7 Easy Taco Recipes. 
True Elimination is WORTH IT.
It might feel nit picky to lament the non-compliant elements of your favorite spices, but the magic of the Whole 30 program is elimination—the practice of completely removing all of the food groups that are known to cause inflammation, hormone disruption, digestive discomfort, and mental fog. As you eliminate these food groups and get several weeks of clean eating under your belt, you may be more sensitive to small quantities of food additives or non-compliant ingredients. For example—corn gives me a terrible headache and peanuts give me a stomach ache. Even small amounts will trigger these reactions for me, so I am diligent about avoiding them so I don't find myself side-lined by a preventable headache.
It All Adds Up!
Making your own dressings or spice mixes like our Whole 30 Taco Seasoning is a great practice because while the amount of sugar in a spice blend might not seem like much, but when you consider that sugar is hidden in so many of the foods that we eat every day, it all adds up! A little bit in our yogurt, plus some in our peanut butter, a few grams in our salad dressing, a bit in our spice blends and sauces...if you start to keep track, you'll be surprised and how much hidden sugar you're consuming. So you may have managed to navigate your day, repeatedly saying "No thank you" to the donuts, cookies, and candy sprinkled through your life, only to realize you've consumed well over the daily recommended amount of sugar for an adult woman—just from all of the sneaky hidden sugar in your "healthy" foods.
More Whole 30 Recipes
Here are a few other Whole 30 recipes you should try…
Whole 30 Spaghetti Squash Pesto Bake
Whole 30 Breakfast Sweet Potato Hash
Whole 30 Chicken Bacon Apple Salad
PLUS our Whole 30 Walmart Shopping List!
The Mama's Guide to Whole 30
Are you new to Whole30 or just completely confused by everything Whole30 entails? The recipes, the philosophy, the science, how it's different from vegan, Keto, Paleo, the shopping lists, the things you can and can't eat...we get it. You're feeling overwhelmed. We've been there before too. And you're probably wondering if Whole30 is even worth it! We're here to let you know that it is! Here's what every Mama needs to know about Whole30. The Mama's Guide to Whole30 provides Whole30 recipes, tips, advice, resources, shopping lists and more!