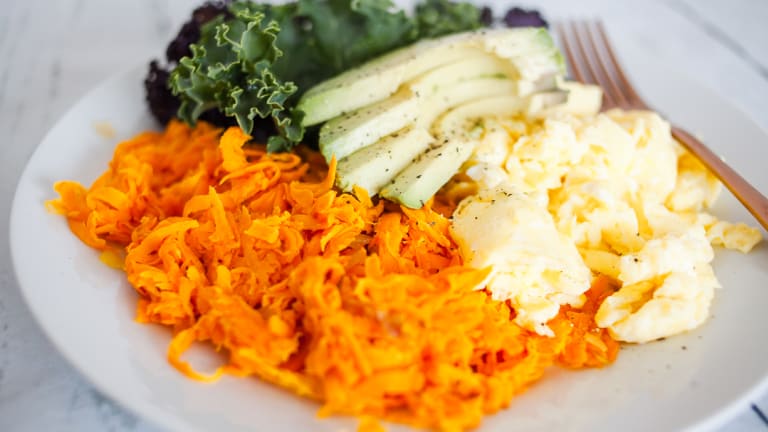 Whole 30 Breakfast Sweet Potato Hash
This colorful whole 30 sweet potato hash is the perfect breakfast, lunch or dinner.
When I did my very first Whole 30 a few years ago, I was going into it with a hard core sweet grain-based breakfast habit. So figuring out what a Whole 30 breakfast was going to look like for me, for 30 whole days, was intimidating.
I was what you would consider a "healthy" person when I did Whole 30, I ate pretty nutritiously, I worked out and was fairly trim. But my food was not agreeing with me. So after several months of pep-talk by Rachael (see also; outright harassment) I tackled my first Whole 30 in January of 2016. I read It Starts With Food — the book that dives deep into the WHY of Whole 30 and covered the pages in highlighted passages. I was ready! This book was speaking to my soul!
But. What about those pancakes? And toast? And cinnamon rolls?
Whole 30 breakfast was going to be my real struggle. And it was. It was hard to break those sweet bread breakfast habits, but hear me when I tell you that it was the best thing I ever did for my health.
By starting my day with a compliant Whole 30 breakfast recipe, I found that I actually had the energy to make it to lunch time without needing a snack. And because my breakfast was fueling my body and brain so much better (peace out, mid-morning brain fog!) when lunch time rolled around I wasn't ravenously hungry and could make better nutritional decisions.
I mean, what mom hasn't inadvertently wolfed down chicken nuggets and fries out of shear ravenous hunger because your morning got away from you.
Right. Same.
So therein lies the critical nature of the Whole 30 breakfast — starting your day with a belly full of nutritional food makes it easier for you to stick with the Whole 30 program for the rest of the day.
So after a lot of trial and error...possibly some tantrums (by me,) I came up with this delicious breakfast staple—Whole 30 breakfast sweet potato hash. I've eaten it almost every morning for the last three years.
No joke.
It's quick and easy enough to whip up on a busy weekday and the taste and texture of slightly crispy, salty sweet potatoes makes whatever egg you're going to eat that morning, feel like a luxury.
Starting my day with this colorful plate of delicious food makes me feel like an overachiever. It does. My go-to plate includes scrambled eggs, spinach or kale, sweet potato hash, and if I'm lucky some leftover bacon or avocado.
Whenever someone I know decides to try Whole 30 for the first time, they always ask the SAME question:
"What do you eat for breakfast on Whole 30?"
The answer?
Whole 30 Breakfast Sweet Potato Hash
Ingredients:
Avocado Oil 
1 Sweet Potato, peeled and grated 
1 Shallot, diced 
Salt and Pepper to taste
Optional additions to your Whole 30 Breakfast:
Avocado 
Eggs 
A bunch of Kale, Spinach, or other Greens
Method:
1. Heat avocado oil in a frying pan over medium to high heat.
2. Add thinly sliced shallots/onions. Allow shallots to cook for about a minute on their own.
3. Add a heaping handful of grated sweet potato to pan.
4. Salt and Pepper to taste.
5. Cook hash until the sweet potato softens and begins to get caramelized and brown. Stir as it cooks to insure even cooking.
6. Serve with LITERALLY ANYTHING AND REJOICE.
This Whole 30 breakfast recipe is so simple and delicious, but here are a few tips to make it even easier to start your day off right!
It's Not Just For Breakfast
I have discovered that this hash does a marvelous job of serving as an accompaniment to a lot of grain-based dinner dishes that my family loves, such as spaghetti with meat sauce, burritos, pulled pork sliders. Instead of eating those dishes with noodles, flour tortillas, or bun, I simply pile the protein, sauce, and garnishes on top of this sweet potato hash. It's always so delicious! Don't overlook this Whole 30 breakfast staple when considering your dinner options.
Whole 30 Meal Prep
If you're not already a meal prepper, Whole 30 will certainly turn you into one. The key to being able to whip up a Whole 30 breakfast is to meal prep ahead of time—but for this recipe it's so easy! Just slice up a few shallots and store them in an airtight container in your fridge and grate or shred a few sweet potatoes in advance. The shredded sweet potato with keep in the fridge for 3-4 days if you store it in an airtight container. That way, you can just fire up your frying pan and toss in the ingredients on a busy morning.
Why Sweet Potatoes?
Sweet potatoes are full of fiber, potassium and vitamin A. They are also lower on the glycemic index than regular potatoes and won't send your blood sugar crashing after you eat. They are also super delicious and cook up quickly! Making sweet potatoes a fixture of your Whole 30 breakfast is a quick and easy way to round out your favorite breakfast egg and a pile of leafy greens. (I prefer my leafy greens raw and crisp. I never could get behind sautéed spinach.)
Why Avocado Oil?
Avocados are a great source of healthy fat and a Whole 30 compliant ingredient. I cook almost exclusively with Avocado oil now and have found that it doesn't impart a taste or smell to my cooking the way coconut oil does. I use it for pan frying and oven roasting with great success!
Why Use a Shallot Instead of a Regular Onion?
I like the mild flavor of a shallot over the ZING of a regular yellow onion. They are also smaller, more tender, and cook up quicker—a key factor when busting out a Whole 30 breakfast recipe.
Post Whole 30
When I did Whole 30 there were certain meals and on-the-go snacks that I relied on, but that I retired post-Whole 30. But this is a solid Whole30 breakfast recipe! I've been eating it 4-5 times a week for the last three years, with a variety of proteins and greens. I've made it for both Whole 30 devotees and donut lovers and everyone absolutely LOVES it.
Here is another one of my my FAVORITE Whole 30 recipes; Whole 30 Bacon Apple Chicken Salad. (I get texts from friends and family asking for it all the time!) 
Check out our other Whole 30 Recipes including:
PLUS our Whole 30 Walmart Shopping List! 
The Mama's Guide to Whole 30
Are you new to Whole30 or just completely confused by everything Whole30 entails? The recipes, the philosophy, the science, how it's different from vegan, Keto, Paleo, the shopping lists, the things you can and can't eat...we get it. You're feeling overwhelmed. We've been there before too. And you're probably wondering if Whole30 is even worth it! We're here to let you know that it is! Here's what every Mama needs to know about Whole30. The Mama's Guide to Whole30 provides Whole30 recipes, tips, advice, resources, shopping lists and more!