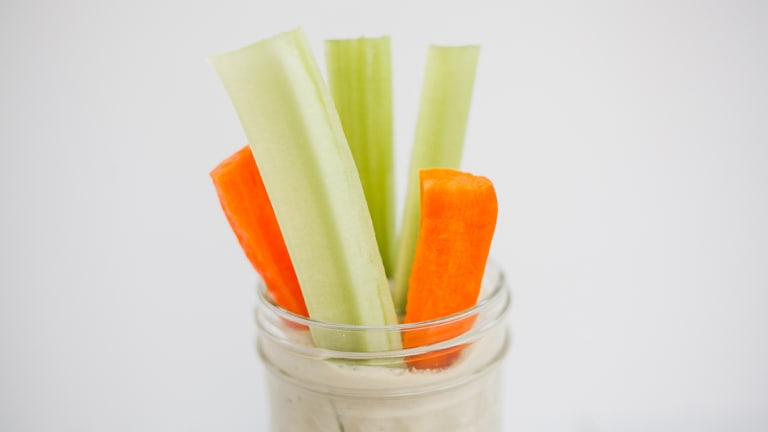 Whole 30 Ranch Dressing
This creamy vegan ranch dressing is so good you'll be licking the jar!
When I did my first Whole 30 a few years ago, I got the idea real quick that it essentially boiled down to this; protein and veggies. That's where this Whole 30 Ranch Dressing comes in, because a big delicious salad is about to become your new best friend.
Oh sure, the actual parameters and logic behind Whole 30 is much more detailed and nuanced than "protein and veggies" — I'm not saying there aren't a whole bunch of other things available for your plate! But when I get busy, I fall back on protein and veggies to help me formulate a quick meal.
Which is why I say this: get ready to become a salad ninja.
Because a veggie-heavy salad with this Whole 30 Ranch Dressing can be made in so many delicious ways that you'll never be bored with your bowl of Whole 30 goodness.
Since doing my first Whole 30 in January of 2016, I've found that generally sticking to a Whole 30 nutritional plan, has made a big difference in my health. Now, this is not the official guidance of the Whole 30 books—the power is in eliminating five groups of foods/beverages for 30 days, seeing how your body reacts to the change, and then reintroducing the foods to see if you have a reaction. Please refer to the book It Starts With Food by Melissa Hartwig Urban and Dallas Hartwig for a much more thorough outline of this life-changing program.
THAT'S RIGHT, I CALLED IT "LIFE CHANGING."
Which is why I eat according to the Whole 30 guidelines about 80% of the time. For me, this looks like:
Dairy: Occasionally.
Sugar: Occasionally.
Grains: Rarely. (An occasional rice bowl, but never any gluten-based grains.)
Alcohol: Never.
Legumes: Rarely.
Limiting these groups has made a huge difference in my overall health. I sleep better, my brain functions better, and my mood is better. Turns out sugar makes me feel crazy pants and I have a legit (doctor diagnosed) gluten intolerance.
So, yeah, SALAD is king! And for a long time, I was content with a little oil and vinegar, but then...I began to long for the creamy salad dressings from my pre-Whole 30 awakening. But now I yearn no longer.
Behold! 
Whole 30 Ranch Dressing!
It is so creamy and flavorful and completely guilt free. I prefer the sunflower seed version instead of the vegan mayonnaise versions because I love the flavor. This Whole 30 Ranch Dressing comes together so easily and tastes so fresh and crisp. It is the perfect dip for veggies, a yummy topping for tacos and a great sauce for ranch pizza! (Save the pizza for that post-Whole 30 life, of course.)
Ingredients:
1 cup Sunflower Seeds, peeled
1 cup Cold Water
1 ½ Tbsp Apple Cider Vinegar
½ tsp Salt
2 Tbsp Coconut Aminos
1 Small Scallions, diced
2 tsp Fresh Dill, minced
6-8 Fresh Basil Leaves, chopped
1 heaping tsp Fresh Parsley, chopped
Method:
1. Cover the sunflower seeds in water and boil for 15 minutes OR soak them overnight. Rinse with cold water and dump in the blender.
2. Add one cup of cold water, vinegar or lemon juice, salt and coconut aminos. Blend for a couple of minutes until smooth and creamy.
3. Add chopped onions, dill, basil and fresh parsley. Mix and let it marinate for a bit so the flavors can meld.
4. Enjoy!
There you have it! A Whole 30 Ranch Dressing that is easy to make and totally compliant!
What are Coconut Aminos?
Since soy is off limits during Whole 30, that handy kitchen staple, soy sauce, is also off the table. Literally. Get it off your table. But Coconut Aminos are A-OK to enjoy when following the Whole 30 guidelines and this soy-sauce substitute tastes just like it! For more details on coconut aminos, visit the Whole 30 website. 
Here are a few variations to consider…
Taco Salad
Give our Whole 30 Ranch Dressing recipe a little kick with our Whole 30 Taco Seasoning and add it to a salad packed with fresh greens, cooked taco meat (get the Whole 30 recipe here), chopped bell peppers, tomatoes, and chopped avocado. Never forget the avocado!
Garden Salad
Fill your bowl with fresh greens, carrots, cucumbers, tomatoes, cucumbers, beets, broccoli, hard boiled eggs, bacon, and our Whole 30 Ranch Dressing. HEAVEN! So delicious and so packed with nutrition.
BBQ Chicken Salad
Mix our Whole 30 BBQ Sauce with this Whole 30 Ranch Dressing and add it to a big delicious pile of fresh greens, shredded chicken, tomatoes, bacon, and avocados.
Fajita Steak and Pepper Salad
A salad is a great way to use up leftovers! Fajita Steak and Peppers for dinner, can turn into a delicious salad for next day's lunch! Combine crisp lettuce, grilled peppers, grilled steak, salsa, avocado, and our Whole 30 Ranch Dressing.
Our Whole 30 Ranch Salad Dressing is just the tip of the Whole 30 iceberg around here! Check out our Whole 30 Egg Roll in a Bowl, our Whole 30 Breakfast Sweet Potato Hash, and our Whole 30 Bacon Chicken Apple Salad.
Plus our BIG list of Whole 30 Tips including our Whole 30 Walmart Shopping List!
shopping lists and product reviews!
Still looking for the right Ranch Dressing? Try our Creamy Tomatillo Ranch Dressing and our Low Fat Ranch Dressing.
The Mama's Guide to Whole 30
Are you new to Whole30 or just completely confused by everything Whole30 entails? The recipes, the philosophy, the science, how it's different from vegan, Keto, Paleo, the shopping lists, the things you can and can't eat...we get it. You're feeling overwhelmed. We've been there before too. And you're probably wondering if Whole30 is even worth it! We're here to let you know that it is! Here's what every Mama needs to know about Whole30. The Mama's Guide to Whole30 provides Whole30 recipes, tips, advice, resources, shopping lists and more!