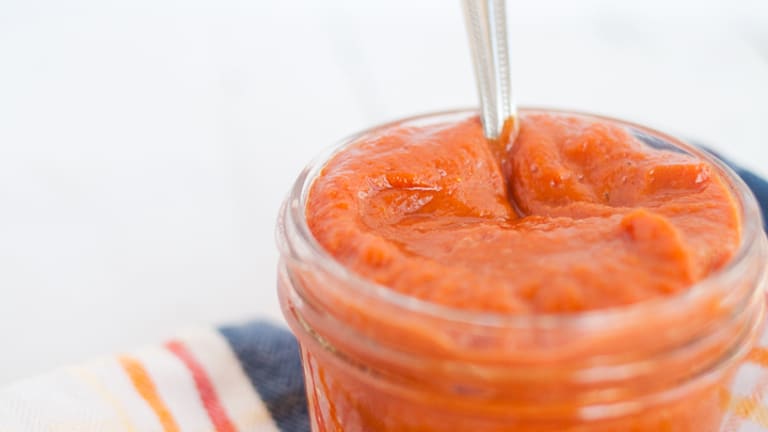 Whole 30 BBQ Sauce
This whole 30 approved bbq sauce is absolutely delicious!
You'll never go back to your old sauce after tasting our Whole 30 BBQ Sauce recipe! Get ready to fall back in love with pulled pork, chicken, and anything else you want to coat in this delicious goodness!
When I did my first Whole 30 several years ago, I hunted for a store-bought, Whole 30 BBQ sauce that was compliant like my life depended on it. I was CRAVING BBQ and my family loves it too, so I was hoping to find a dinner that could satisfy everyone sitting around the table—even my kiddos.
Alas, I was disappointed. The only store-bought version I could find was so vinegary, it made my mouth pucker.
That was not the experience that I was going for.
I am a die hard lover of brown sugar filled, standard, finger-licking good barbecue sauce. When it came to putting together a Whole 30 BBQ Sauce (no brown sugar!) I was incredibly skeptical. I'm not a big fan of dates and I just couldn't see how this could come together and taste as good as the BBQ sauce I know and love.
Not only did it come together, it's now one of my favorites! I am completely blown away by the flavor of this sauce. The coconut aminos and mustard really make the flavor, along with the dates, which replace the brown sugar so well, you wouldn't even know!
Whole 30 BBQ Sauce Recipe
Ingredients:
1 — 6 oz can Tomato Paste
1/2 cup Apple Cider Vinegar
1 cup Water, plus more if necessary
1 1/4 cup Dates, pitted
2-4 Tbsp Yellow Mustard (more if you love mustard, less if you don't)
1 Tbsp Coconut Aminos
1 tsp Salt
3 cloves Garlic, minced
1 tsp Chili Powder
1 tsp Black Pepper
1/4 tsp Ground Clove
Method:
1. In a high powered blender, mix all ingredients until smooth.
2. Smother all over your favorite grilled meat or tofu!
What are Coconut Aminos?
Never heard of coconut aminos? This sauce is a Whole 30 compliant substitute for soy sauce. Coconut Aminos are made from the nectar of coconut flower blossoms and taste JUST LIKE SOY SAUCE. The coconut flower blossoms are processed, and while coconut aminos are technically from an "added sugar source", they are considered Whole 30 compliant, which is great because they make our Whole 30 BBQ Sauce taste AMAZING. Read more here. 
Why Use Dates?
Before I did my first Whole 30, I'd never had a date in my life. Now they are everywhere! In my favorite Whole 30 compliant snacks (LaraBars, RX Bars) and they are the key to making this Whole 30 BBQ Sauce taste like your pre-Whole 30 indulgences...only this time you won't have the digestive issues from that added sugar. Here's the official word from the Whole 30 website:
All fruit, including dates, are allowed on your Whole30. They're a great way to add that hint of sweetness to a sauce or to stuff with almonds and wrap in (compliant) bacon as a fancy-schmancy appetizer. But please, no processed date syrup.
How to Use our Whole 30 BBQ Sauce
Shredded slow cooker chicken is your friend. Cook up a big batch so you can make several different meals throughout the week. A few suggestions;
Mix shredded chicken with Whole 30 BBQ Sauce and Whole 30 Ranch Dressing and serve over mixed greens, a rainbow of chopped veggies and BOOM —you've got a BBQ Chicken Salad!
Mix pulled pork with Whole 30 BBQ Sauce and enjoy with roasted potatoes and a green salad—serve your family pulled pork sliders and enjoy minimal cooking for a variety of nutritional needs and desires! (Because try as I might, my kids have not gotten behind a no-bun pulled pork dinner. YET.)
Grilled or Oven Roasted Chicken Drumsticks—just cook this family favorite (what kid doesn't love meat they can pick up?!) and slather with our Whole 30 BBQ Sauce. Serve with roasted sweet potatoes and a green salad!
BBQ Chicken Pineapple Kabobs—use grilling skewers to alternate chunks of chicken and pineapple. Grill and coat in our Whole 30 BBQ Sauce. DELICIOUS! And crazy easy!
Looking for more Whole 30 Recipes?
Check out Melissa Hartwig Urban's recipe for Classic BBQ Ribs with Brussels Sprouts that she shared when she was on the Today's Mama Podcast, and take a peek at the Marinated Turkey BBQ Recipe from our archives. 
More Whole 30 Recipes
If you like our Whole 30 Spaghetti Squash Pesto Bake, I have a few other Whole 30 recipes you should try…
Whole 30 Breakfast Sweet Potato Hash
Whole 30 Chicken Bacon Apple Salad
PLUS our Whole 30 Walmart Shopping List! 
The Mama's Guide to Whole 30
Are you new to Whole30 or just completely confused by everything Whole30 entails? The recipes, the philosophy, the science, how it's different from vegan, Keto, Paleo, the shopping lists, the things you can and can't eat...we get it. You're feeling overwhelmed. We've been there before too. And you're probably wondering if Whole30 is even worth it! We're here to let you know that it is! Here's what every Mama needs to know about Whole30. The Mama's Guide to Whole30 provides Whole30 recipes, tips, advice, resources, shopping lists and more!