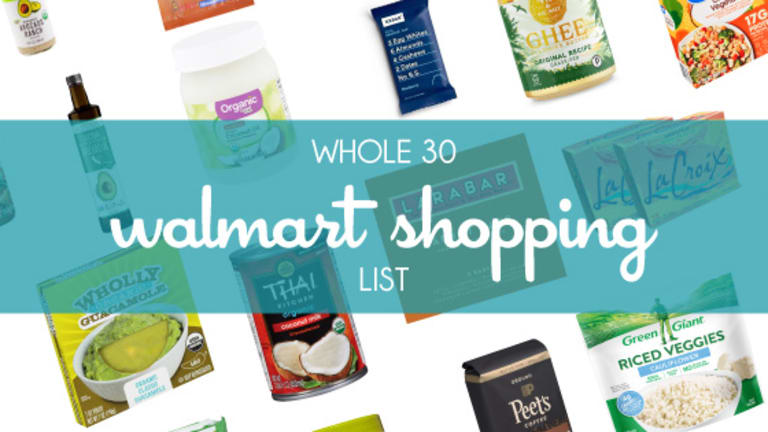 Walmart Whole 30 Grocery List
Don't Miss These Whole 30 Walmart Must Haves {With a printable PDF grocery list}
We've got your BIG Whole 30 Walmart Shopping List, plus a free printable shopping checklist to help you stay on track!
Whether you're new to Whole 30, or already living it ride-or-die style, chances are you've been on the hunt for compliant food and ingredients at every health food store near you.
But step aside, snooty budget-busting foodie joints, because Walmart is seriously loaded with Whole 30 approved foods and we've got the Whole 30 Walmart Shopping List to prove it.
When I did my first Whole 30 several years ago, I found shopping for food to be INCREDIBLY FRUSTRATING. I considered myself a fairly healthy shopper, but it was really eye opening for me when I had to start finding products that did not include any added sugar. Because, OH HIIIIIIIII SUGAR, YOU ARE FREAKING EVERYWHERE.
In salsa. In tangy salad dressings. In your favorite sauces. And holy moly, you will fall over dead when you take a peek at the nutritional labels of things like juice and realize how packed with sugar they are. It makes for some strong grocery shopping annoyance.
Because when you read the chapter in It Starts With Food by Melissa Hartwig Urban and Dallas Hartwig, where they outline their firm NO SUGAR rule, you might be tempted to think this program is too hard, or too restrictive...and when you go shopping, you are going to be wildly frustrated at how pervasive added sugar is in our food.
IT. IS. WORTH. IT.
The Whole 30 program is life changing. For reals. Many members of our team have done it, and have adjusted our personal nutritional habits to the great improvement of our health. Among our team we've got a variety of autoimmune issues, food intolerances, and problematic inflammatory reactions to stress and food.
The GREAT NEWS is that the Whole 30 program has grown and compliant food has become more readily available, so much so that this Whole 30 Walmart Shopping List is packed (and continues to grow!)
Which is handy when you are feeding a family and need to stock your cart with items for them AND items for you. Be sure and take a look at our big list of Whole 30 tips, that includes advice for how to feed yourself Whole 30 compliant meals, while still feeding your family food they love...WITHOUT preparing two separate meals.
Now let's get to it.
You can download this list here!
Whole 30 Walmart Shopping List
Don't forget to print out your shopping list, or save it in a treasured spot on your phone so you'll never be without it! Here is our big list of WalMart Whole30 approved must haves; 
Whole 30 Walmart Shopping List: Protein
Chicken of the Sea Canned Pink Salmon
Aidells Chicken & Apple Sausages
Crescent Foods Antibiotic-Free Chicken
Fresh, wild-caught fish
Whole 30 Walmart Shopping List: Frozen Foods
Whole 30 frozen meals! (See Rachael's review of the whole line of Whole 30 frozen meals here!)
Green Giant Riced Cauliflower (Broccoli, Beets, and Butternut Squash also available.)
Green Giant Zucchini Spirals (Carrot, Zucchini, Beet, Butternut Squash also available.)
Great Value Strawberries (Pineapple, Raspberries, Kale, Carrots, Mango Chunks also available.)
New World Farms Watermelon Balls
Wild Alaskan Frozen Sockeye Salmon
Mr. Dell's Shredded Hashbrowns
Bonafide Bone Broth (chicken and beef)
Whole 30 Walmart Shopping List: Pantry Staples
Rao's Marinara and Pasta Sauces
Sam's Choice Napoletana Pasta Sauce
Mezzetta Sun Ripened Dried Tomatoes
Great Value Tomato Sauce, Paste, Diced Tomatoes
Sam's Choice Organic Vegetable Broth
Betterbody Foods Organic Chia Seeds
Unsweetened Coconut Flakes
Arrowhead Mills Organic Coconut Flour (can't find a link to a single bag)
Hodgson Mills Almond Flour/Meal
Canned fruits (in 100% fruit juice, of course)
Spices
Whole 30 Walmart Shopping List: Snacks
RXBars (No peanut varieties)
Lara Bars (No varieties w/ chocolate chips, no peanuts, no vanilla extract.)
Various baby food pouches (again, be label-vigilant!)
Nature's All Freeze-Dried Fruits (Pineapple, Strawberries, Banana)
Nuts—lots of brands and varieties
Raw Almonds Nuts
Raw Cashews
Raw Macadamia Nuts
Raw Hazelnuts
Fresh produce
Whole 30 Walmart Shopping List: Condiments
Great Value Cantina Style Salsa
Great Value Organic Dijon Mustard
Great Value Organic Yellow Mustard
Tessemae's Sauces & Dressings (like ranch—score!)
Whole 30 Walmart Shopping List: Healthy Fats
California Extra Virgin Olive Oil
Great Value Organic Coconut Oil
Bertolli Extra Virgin Olive Oil Spray
Whole 30 Walmart Shopping List: Beverages
Flavored and Unflavored Perrier
Certain flavors of Arrowhead Sparkling Water
Boxed Tea
Kombucha
Thai Kitchen Unsweetened Coconut Milk
Whole 30 Walmart Shopping List Tips
Have you tried the Walmart Grocery Pick Up and/or Walmart's Delivery service?! Please say yes, because it's amazing. You can place your Walmart Grocery Pick Up or Delivery order online or via the Walmart Grocery app, schedule a time to either pick it up (they'll put everything in your car for you! You don't even have to get out!) or have it delivered. There is a fee for the delivery to your house, but that service was a lifesaver for me when my kids and I all got hit by a nasty virus over the holidays. It was glorious to have food and medicine delivered right to my front door. You can read more here. 
Check out our other Whole 30 Recipes:
Whole 30 Breakfast Sweet Potato Hash 
Whole 30 Bacon Apple Chicken Salad
The Mama's Guide to Whole 30
Are you new to Whole30 or just completely confused by everything Whole30 entails? The recipes, the philosophy, the science, how it's different from vegan, Keto, Paleo, the shopping lists, the things you can and can't eat...we get it. You're feeling overwhelmed. We've been there before too. And you're probably wondering if Whole30 is even worth it! We're here to let you know that it is! Here's what every Mama needs to know about Whole30. The Mama's Guide to Whole30 provides Whole30 recipes, tips, advice, resources, shopping lists and more!