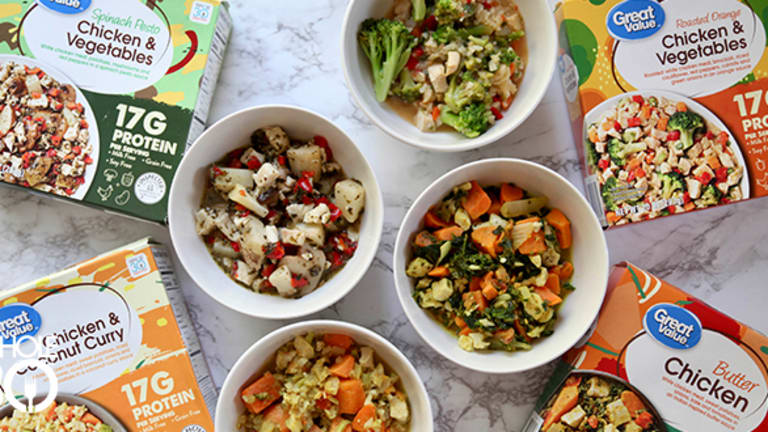 Walmart Whole30 Frozen Meals Review
Whole30 has hit the Walmart freezer aisle and I couldn't be happier!
The day that the Whole30 Great Value Freezer meals became available I filled my online cart for pickup and sang praises to the internet! 
If you are new to Whole30 or need more Whole30 meal ideas and advice be sure to check out our Mama's Guide to Whole30. 
Walmart Whole30 Frozen Meals Review
The convenience, the quality, the price point -- I'm SOLD. These are a regular part of my pickup order and these Whole30 frozen bowls literally save the day when I haven't prepared well and need a quick, healthy, Whole30 compliant meal. My kids will even throw a meal in the microwave when they are looking for something easy.  
If you've done a Whole30 before you know that when you are unprepared or short on time things can get crazy. That's where these freezer meals come in. Having a few of these meals stashed away is a must for anyone on a Whole30. 
I've been ordering these for 3 or 4 months now.  I have experienced an occasional packaging snafu.  In total I've had 5 or 6 frozen bowls where the plastic over the bowl has come loose in the packaging exposing the frozen food. 
When it comes to the varieties, I've tried them all! Scroll through this gallery for a flavor by flavor breakdown and ingredient lists starting with my very favorites up front! 
Whole30 Approved Walmart /Great Value Meals
Mediterranean Inspired Chicken
Spinach Pesto Chicken & Vegetables
More from our friends at Whole30 HERE! 
Over the last few years, many Whole30 convenience products (like meat sticks, condiments, and sauces) have entered the market, but because of their price point, they are often seen as luxuries for those shopping on a budget. Our goal with this initiative was to make Whole30 products more accessible for our entire community.

- Melissa Hartwig
More Whole30 on TodaysMama.com
The Mama's Guide to Whole30
Paleo on the Go Whole30 Compliant Meals Review
Whole30 Approved Walmart Must Haves Grocery List
The Mama's Guide to Whole 30
Are you new to Whole30 or just completely confused by everything Whole30 entails? The recipes, the philosophy, the science, how it's different from vegan, Keto, Paleo, the shopping lists, the things you can and can't eat...we get it. You're feeling overwhelmed. We've been there before too. And you're probably wondering if Whole30 is even worth it! We're here to let you know that it is! Here's what every Mama needs to know about Whole30. The Mama's Guide to Whole30 provides Whole30 recipes, tips, advice, resources, shopping lists and more!