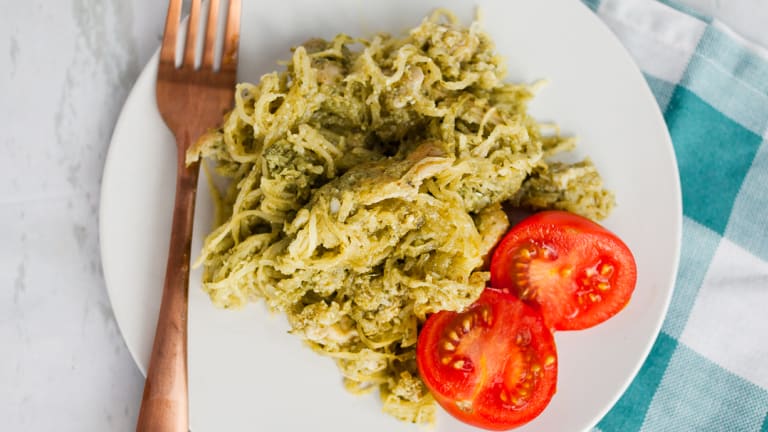 Whole 30 Spaghetti Squash Pesto Bake
Here's a Whole 30 meal that will make everyone at the dinner table happy.
This Whole 30 Spaghetti Squash Pesto Bake could not be easier to put together—or be more delicious for so little effort!
You'll need to break out your homemade pesto for this in order to be Whole 30 compliant—most pesto includes parmesan cheese, which definitely is a no-go on Whole 30. We've linked to a great Whole 30 friendly pesto below in the notes.
We also recommend using chicken thighs over your standard chicken breasts because of their flavor and moistness...also they tend to be less expensive. For this Whole 30 spaghetti squash pesto bake, it's worth it to get the chicken thighs and sweet campari tomatoes.
You can save time by roasting the squash in advance and throwing this together for a quick weeknight meal and it reheats really well, so congratulations, you have a Whole 30 compliant lunch awaiting you the next day.
Whole 30 Spaghetti Squash Pesto Bake
Ingredients:
Method:
1. Preheat your oven to 425 F. Roast spaghetti squash by cutting the squash in half, scooping out the seeds and placing cut side down on a foil-lined baking sheet. Cook for 20 minutes or just until done.
2. Allow squash to cool enough to handle, and, using a fork going lengthwise down the squash, remove spaghetti strings from both sides of the squash and place in a large bowl. If the squash is soggy, blot with paper towels to absorb some of the moisture.
3. Turn down the oven to 400 F.
4. While the squash rests, cook the chicken. Heat a large skillet over med/med-high heat and add your cooking fat. Sprinkle the chicken lightly with salt, pepper, and onion powder on both sides, then add to the pan and cook 2-3 minutes on each side, or until no longer pink in the center. Remove from pan to a plate, and allow to cool a bit. Once cool enough to handle, slice or chop into bite size pieces.
5. In a casserole dish, toss the spaghetti squash, chicken and pesto. Use approximately 1 cup of pesto (this Whole 30 compliant recipe is wonderful!) Put the casserole dish in the oven for about 10 minutes, or enough time to fully heat through and blend everything. Remove and serve! 
6. Serve with halved campari tomatoes.
BOOM! You've got a Whole 30 spaghetti squash pesto bake that will make everyone at the dinner table happy.
Why Blot The Squash?
Whole 30 will give you the chance to become intimately familiar with some crucial veggies that may have only had an irregular guest spot on your menu—sweet potatoes, zucchini, cauliflower, and SPAGHETTI SQUASH. The reason for this is that these items can all be prepared in a way that they make a great stand-in for a variety of grain products, such as pasta! For heaven's sake cauliflower pizza crust is a thing we're doing now. My point is that you're going to become a spaghetti squash expert—and your path to expert status includes learning that soggy squash is not your friend. Blot that squash after roasting and shredding and you're much more likely to get a baked Whole 30 spaghetti squash recipe that will make you say, "pasta, WHO?"
Whole 30 Spaghetti Squash Is Your Mealtime Hero
Pasta dishes are a busy family dinner staple. Even if you're hustling home after an afternoon of extracurricular activities, you can whip up meatballs and spaghetti for your hungry family. But sadly, as much as I've been committed to my Whole 30 lifestyle, I still struggle to make my meals "quick", especially at dinner time when my kiddos are looking for something delicious to fill their belly. Spaghetti squash is the hero that made quick dinners possible again! Especially if you roast a batch of spaghetti squash to kick off your week. Now you can pull a spaghetti and meatball dinner together that satisfies your family and meets your Whole 30 needs. Still need healthy dinners ideas for kids? Here are 10 Healthy Dinner Ideas Your Kids Will Like Too. 
What Else Can You Do With Whole 30 Spaghetti Squash
So now that I've revealed that spaghetti and meatballs is my quick family dinner fix, you might be wondering what else you can you do with Whole 30 spaghetti squash (the "Whole 30" being the act of roasting it with coconut oil, avocado oil, or ghee.) The answer is A LOT. You can use roasted spaghetti squash to replace the grain/pasta in; frittatas, chow mein, stroganoff, and casseroles. You can also make a version of lasagna and fritters with spaghetti squash or you can just match that veggie with your favorite delicious protein of choice. Anything you'd pair with a potato, but with ⅓ less carbohydrates! (Carbs aren't a thing that the Whole 30 program worries about, but I've found that I feel a little sluggish if I rely too heavily on potatoes in my meal planning. The more you know.) Also, please enjoy our other favorite squash—the mighty butternut, with 7 Butternut Squash Recipes for Dinner. 
More Whole 30 Recipes
If you like our Whole 30 Spaghetti Squash Pesto Bake, I have a few other Whole 30 recipes you should try…
Whole 30 Breakfast Sweet Potato Hash
Whole 30 Chicken Bacon Apple Salad
PLUS our Whole 30 Walmart Shopping List! 
The Mama's Guide to Whole 30
Are you new to Whole30 or just completely confused by everything Whole30 entails? The recipes, the philosophy, the science, how it's different from vegan, Keto, Paleo, the shopping lists, the things you can and can't eat...we get it. You're feeling overwhelmed. We've been there before too. And you're probably wondering if Whole30 is even worth it! We're here to let you know that it is! Here's what every Mama needs to know about Whole30. The Mama's Guide to Whole30 provides Whole30 recipes, tips, advice, resources, shopping lists and more!