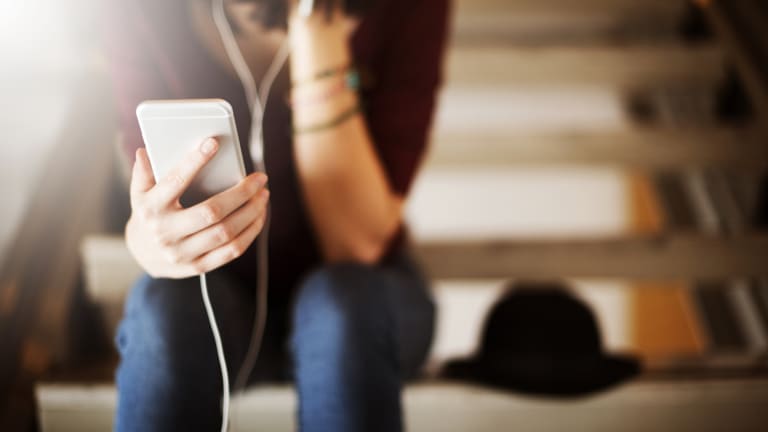 Podcasts for Teens
I make my kids listen to 4 podcasts a month as their cell phone "payment". It's simple, $35 or 4 podcasts? They choose podcasts every time. Here's the big list!
Here's the trick: I get to choose which podcasts. Some are long, some are short, some are light, some are heavy. 
You'll notice they often come from the same shows - I love most things from NPR, lots of Oprah Super Soul, loads of TED talks. 
The rule for cell phones in our house is 8th grade / 14 Years Old. That means as I started assigning podcasts to my two teenagers that they were at least 14 years old.  Some of these topics might seem to be above their "pay grade" but I'm OK with that. I'll let them reach a little on some of it. 
We talk about the episodes. Sometimes I require notes (sometimes I don't). 
IMPORTANT NOTE FOR PARENTS: This means you should listen to these podcasts too! 
My general hope is that I'll raise kids who think deeply, who are curious, who can ask questions, who can be interested in a variety of people and perspectives. I hope it will shape the way they think about the world and the people in it. I hope it will impact what they study in college, maybe even the professions they choose. 
This list isn't perfect. It doesn't represent all the world has to offer - but I'm working on it. I've included as much as I could find in our text history. I usually share episodes with my kids via text right out of my Apple podcast app. 
I'll keep adding podcast episodes as I find and assign new gems. I'm always looking so feel free to leave a link or suggestions in the comments. 
The Podcasts I Make My Teenagers Listen To
The Today's Mama Podcast 
(Yep, I make them listen to their mom's podcast. Ew.)
Bethany Hamilton on Being "Unstoppable"
Riley Jensen: Sports Psychologist on Mindset and How We Talk to Ourselves
Naomi Riley: Stop Banning Seesaws and Start Banning SnapChat
Gabby Blair: The Mom Who Broke the Internet About Birth Control (FOR REALS. Make your teenagers listen to this one. My 16-year-old son said this is the best podcast I've assigned him. It would also be helpful for you to listen to this one first. It should set you up for some good conversations about things that can be tricky.)
Dr. Meg Meeker: Anxiety and You
Morgan Scalley: Here's What the Coach Wants You to Know 
Jodi Hildebrant: The Stories We Tell Ourselves and Getting to the Truth
Our Amazing Bodies and Our Inherent Ability to Resent Them (Part 1 & 2) Especially great for teenage girls!
Andrew Taylor and Wilderness Therapy and How to Avoid It
TED Radio Hour
Screen Time Part 2 (this one is better than Part 1 if you had to choose just one episode)
TED Talks Daily
Here's a podcast with a tricky online presence. I can't seem to find a great landing page for this podcast. You'll just need to search on whatever app you listen to podcasts with. These episodes are worth searching for! You can find this podcast on Spotify or Apple / iTunes. 
You can also watch them as a TED Video (I'll leave those links with each episode)
How we need to remake the internet
Where do your online returns go?
Is the world getting better or worse? A look at the numbers. 
Why We Choke Under Pressure -- and how to avoid it. 
How we could teach our bodies to heal faster.
The brain-changing benefits of exercise
The brain benefits of deep sleep and how to get more of it
Your elusive creative genius - Elizabeth Gilbert
How to deliver an authentic apology
Why you should define your fears instead of your goals - Tim Ferriss
Change your story, change your life - Lori Gottlieb  (A MUST LISTEN)
Why noise is bad for your health -- and what to do about it (My 16-year-old who always has headphones found this episode and recommended it back to me!)
What your breath could reveal about your health - Julian Burschka
Roger McNamee Takes on Big Tech (this one might feel a little bit like "Tech Insider" talk, but the issues he talks about are important for parents and teenagers to understand and to hopefully impact future policies)
TED Kids and Family
No great landing page for this podcast either. You can search on your podcast app or watch the TED talks on the video links below. 
The nightmare videos of children's YouTube
How to raise successful kids without over-parenting
TEDTalks Education
Feats of memory anyone can do -- Joshua Foer (Recommended by my brother-in-law, my kids loved this one!)
Story Corps
There are so many great Story Corps episodes I don't even think I scratched the surface here. 
A Son Always Remembers His Father
Willie, Shig, and a Bird Named Maggie
Oprah Super Soul
The best way to access these is to use the Apple Podcast App (or whatever podcast app you use) and search for the specific episodes. It's a little hard to get where you need to be or to see your listening options on Oprah's website -- but I've included links to videos or video snippets below. Oprah! Help a mama out - make your podcast episodes easier to find online! 
Shawn Achor: The Life-Altering Power of a Positive Mind (We've taken specific things from this podcast and implemented at our house! Make sure you listen to the end of this one!)
Karen Armstrong: Steps to a Compassionate Life (Part 2)
Wayne Dyer: The Art of Manifestation
Malala Yousafzai: What is Your Defining Moment
Former Vice President Joe Biden: Hardship, Hope, Purpose
Gretchen Rubin: 8 Rules to Happiness
Jack Canfield: Fulfilling Your Souls Purpose
Tom Brady: How Football Can be a Spiritual Experience
Maria Forleo: Everything is Figureoutable
Eckhart Tolle: Acceptance of Troubled Times
Malcom Gladwell: Talking to Strangers (Parents be sure to listen to this one! In addition to being a great listen all around, this episode has an important conversation about binge drinking, especially at universities, A great opportunity to talk with our teens about the issue)
Joel Osteen: I Am - Life is How You See It
Oprah's Masterclass
Oh Oprah. I hate to say it again. Same thing here. No landing page for the Masterclass Podcast where I can give you a direct link. The best way to access these is to use the Spotify App or the Apple Podcast App (or whatever podcast app you use) and search for the specific episodes.
Laird Hamilton (Worth the search! I listened to this episode twice!)
The Science of Success
This is one of my latest finds! I've been listening for myself from a business perspective but finding lots of great podcasts for my teens to listen to along the way.  (Note: You'll find a little swearing on this podcast, but they'll warn you up front.)
The Truth About Fear & Why You've Got it All Wrong 
Big Tech is Flooding Your Senses & Stealing Your Attention 
Neuroscience Hacks You Can Use to Change Behavior, Take Action and Finally Break Through What's Holding You Back
The Shocking Secret You Must Know to Create Lasting Behavior Change
Dr. Brene Brown: The Can't-Miss Interview on Shame, Self Worth, Empathy and Living a Courageous Life
Learn From Harvard's Most Popular Course - From the Archives with Dr. Tal Ben Shahar
Tony Robbins Podcast
Invisibilia
The Good Life Project
Seth Godin: Learn to See, Leave them Changed
I'm sure I'll be sending more to my kids from this podcast this year. Always something good on Hidden Brain!
Creative Differences: The Benefits of Reaching Out to People Unlike Ourselves
Radio West
This is our local public radio station and the interviewer is, in my opinion, one of the best in the nation. 
The Smartest Kids in the World
Fixing Health Care: A Single-Payer Model (Why would I make my kids listen to this?!? Because they need to help fix the problem in the future.)
The Tim Ferris Show
I like a lot of Tim's podcasts. There's not a lot in his archive that is "under 18" friendly. He tends to go down some psychedelic drug paths so I definitely wouldn't classify his podcast in general as kid/teen-friendly and that's not how he bills himself. HOWEVER, this episode was fantastic. Keep an ear out for the piece on Abraham Lincoln's "hot letters". We had a great discussion about that at our house after the kids finished this episode. 
#335: The Life Lessons and Success Habits of Four Presidents
Duo Lingo
Both of my older kids take Spanish at school. I not only thought these were great listens from a language/education perspective but also for the stories they tell. So total bonus, cultural and educational. I will be assigning more of these this year. 
Lewis Howes
Terry Crews on Success, Accountability, and Toxic Masculinity  (Huge thanks to Amy from SuperHealthyKids.com for this recommendation!)
Lindsey Stirling on Facing Loss, Dreaming Big, and Becoming a Superstar
Stuff You Should Know
Science VS. 
Heads Up: This podcast will often have some "bleeped" language and ads for alcohol. 
A Little Happier with Gretchen Rubin
A Story from Matisse About Time and Mastery
Eisenhower: To Do Some Work Well, We Have to Do Some Work Poorly
The Idea of Negative Space at the Wizarding World of Harry Potter
Wow in the World
Heads Up: This podcast is designed for younger kids and one of our top picks on our Podcasts for Kids list. But there are often topics that I think my teenagers will be interested in and they've given me the thumbs up! It mixes things up a little bit, and honestly, I think they enjoy dramatic Guy Raz.
G-Force vs. Wasabi (My kids are obsessed with both hot peppers AND Naked Mole Rats so this episode was a winner)
The Science of Cute Aggression
Tiny Desk Concert Series
Why music? It's my job as a parent to expose them to great music. It's been my duty to make sure they enjoy my favorite bands like The Killers and The Beatles. I'll even let a few musical podcasts count towards their monthly requirement. I'll be adding more here! 
Yo Yo Ma - I love what he says between songs about practicing throughout his life. Here's a link to the video as well. Bonus! This is less than 12 minutes long. 
Overheard at National Geographic
Yep! National Geographic launched a podcast and it's fantastic! 
Whalesong of the Summer / Humpback Hit Factory
The Doctor's Kitchen
New to Podcasts? Here are some frequently asked questions:
How do I listen to a podcast? 
There's an app for that! 
The easiest way to download a podcast is from your mobile device or smartphone. 
Apple: If you are on an iPhone or Apple product their podcast app comes pre-installed on your device. You can search "podcasts" or find the purple icon on your menu. You can also download a number of other podcast apps to your phone depending on your preference.  
I find myself using Spotify more than Apple podcasts these days. 
Android: You have a number of app options on your android phone for podcasts. Our top picks are Spotify and Stitcher. 
Do podcasts cost money? 
Nope! The app you use may cost you a few bucks, but generally, podcasts are free to download. 
How do I find the episode I'm looking for?
Most apps have a search function. You can search for the name of the podcast and see the full menu of episodes or search for a specific episode name. I've included the names of the podcasts and episodes in this list so they should be easy to find.
I don't have a smartphone, how can I listen to a podcast? 
You can often find a video or audio recording of the episode you are looking for with a quick Google search. You can listen or watch from your desktop or laptop computer. 
I listened, I liked it, now what?
Hit the subscribe button on your podcast app and you can get alerts every time that show releases a new episode. 
LEAVE YOUR FAVORITE PODCASTS EPISODES IN THE COMMENTS! 
I am always looking for more. If you've heard something that teenagers need to hear leave us a link!