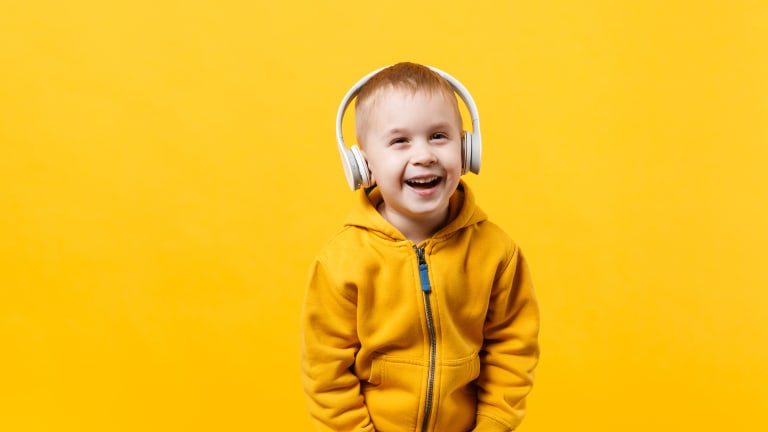 The Best Podcasts for Kids
We are living in a golden age of kid-focused "infotainment"—there are SO MANY great podcasts!
One of the ways we connect as a family is by listening to podcasts for kids. We are living in a golden age of kid-focused "infotainment"—there is SO MUCH good stuff out there! Especially in the realm of podcasts.
I'm always on the hunt for great podcasts for families to enjoy in the car, or on a trip, but especially when we're at home and we need a little down time. Podcasts are a wonderful cure for "the witching hour"—that tricky time in the afternoon when the kiddos are dangerously close to going full-crankypants. I turn on one of the podcasts for kids on Spotify and everyone gets to tune in together.
Together being the operative word.
All of the podcasts listed below are fun and interesting and really well done. I enjoy everything we listen to as a family, and these have sparked some hilarious conversations and ongoing jokes at our house.
They are also great for when the kiddos have become a bit too obsessed with a particular artist or soundtrack. (I'm looking at YOU, The Greatest Showman Soundtrack, for the entirety of 2018.)
Wondering what makes these the best podcasts for kids?
Something that all of these podcasts have in common is that they speak to kids as the wonderful, creative, compassionate, intelligent people that they are. Each podcast inspires the imagination of the listeners in big, wonderful ways...and you'll feel like you had a parenting win...even if no one liked the dinner you cooked.
The Best Podcasts for Kids
Wow in the World
So smart and so funny. This podcast for kids covers it all—science, technology, unusual or interesting topics from across the globe. We've learned about an elevator to space, exploding ants, bees, the big bang and more. The nuggets of info from this stick with my kids—so much so that the fact that they've learned the ins and outs of how fish oil supplements are made, has made my morning vitamin routine wildly entertaining. The theme song is so fun too. The hosts, Guy and Mindy, are my kid's new favorite people. Listen here.
The Adventures of Finn Caspian
Think of this like the podcast version of an audio book, with each new podcast episode serving as another "chapter" in the ongoing story. This was what we listened to last summer as we commuted to and from summer camp and our adventures at the lake. We still repeat so many funny one liners from this pod, such as "Fancy a drink, governor?!" with a British accent. (I guess you had to be there.) Safe to say this is a podcast for families who love goofy robots and silly repeatable lines. Listen here. 
Story Pirates
We discovered the Story Pirates after a Wow in the World crossover episode. My kids and I are big music lovers, so the catchy and hilarious original songs hooked us right away. This is a great podcast for kids because it includes so many goofy elements—this is perfect for when you need to lighten up your drive or make dinner prep extra fun around the house. Listen here. 
Circle Round
This podcast gets its name from the phrase "circle round" for a story. Get it? This podcast takes folktales from around the world and adapts them a bit and employs the help of actors to bring these highly produced stories to life through your speakers. Music, sound effects, delightful voices come together to create a wonderful podcast for families to share together. We turn this on while we work on preparing dinner or when we're doing chores, but you'll love it anytime. Listen here. 
Brains On!
I can't get enough of this podcast for kids—I may or may not have listened even when the kids aren't within earshot. This science podcast is co-hosted by kid scientists and public radio journalists. They explore and investigate big topics like black holes and wormholes along with everyday questions like, why do we yawn and get goosebumps? Experts, soundbites, facts, and imagination come together in this podcast to get your BRAINS ON! Listen here. 
Forever Ago
Here's a great podcast for families, especially if you've got info-buffs in your house. Each episode is an entertaining blend of fictional storytelling with actual facts and history. The host (an adult and a kiddo) interview guest experts with the type of questions that will resonate with kids and open minds. This is best for curious kids, 1st grade and up. Listen here. 
What If World
This podcast creates original stories inspired by listener submissions—kiddo listener submissions—and anyone that has ever fielded questions from a small child knows that their minds are breathtakingly creative. Kids submit an idea nugget or two and the host runs with it. This is a great storytelling podcast for kids that speaks the language of kids in random and hilariously whimsical ways. Listen here. 
Book Club for Kids
If you've regularly been treated to a vivid recap from whatever your kiddo has been reading, this podcast for kids will be right up their alley. Book lovers will enjoy hearing kid guest hosts talk about the featured book—what they loved about it, what questions it sparked for them, what they would do if they were in the characters shoes, and more. The host does a great job of asking the kids interesting questions prompted by the themes and issues in the book. There's even a part in the pod when a celebrity reads an excerpt from the featured book for the audience. You'll also hear additional book recommendations from guest kiddos, the author of the featured book, the celebrity reader and more. Listen here. 
Tumble Science Podcast for Kids
Here's one for your science lover. Each podcast poses fun science based questions like "What Would Happen If There Was No Moon?" or "Why Words?! How We Learn Language". It also proposed seemingly strange or impossible topic such as "The Weather Balloon, the Girl Scouts, and the Unicorn" or "The Cave of the Underground Astronauts." Episodes feature interviews with scientists, researchers, and experts to infuse the discussion with fun and unbelievable facts and Most episodes are short—around 15 minutes or so—with the occasional longer one thrown in for special topics. Listen here. 
But Why: A Podcast for Curious Kids
Honestly, this is one of my favorite podcasts for kids because I don't know the answers to these questions either! (Especially the episode "What Is It Like To Be An Adult") Topics range from whimsical (How Do Popcorn Kernels Pop?) and funny (Why Do We Poop And Fart?) to thoughtful (Why Do People Get Cancer?) and important (Why Is There a Big Patch of Garbage In The Pacific Ocean?). These episodes open your mind and lead to the most wonderful conversations. Listen here. 
How to Listen to Podcasts for Kids
I've only gotten into a rhythm of steady podcast listening in the last few years. And forgive me if I sound like a dope, but I didn't really find the whole podcast listening thing to be very intuitive. Here's a few quick tips if you want to dive into enjoying family friendly podcasts on the regular. I listen to podcasts primarily via Spotify or the Podcast app on my iPhone or iPad. You can "subscribe" on Apple Podcasts or "follow" on Spotify. This means that you won't have to wander around through the app searching for your favorite podcasts for kids when you want to fire one up on a whim, or on the way to soccer practice. By subscribing or following, you'll see new episodes as soon as they are published.
One Last Podcast Recommendation
We have a podcast! The Today's Mama Podcast is a parenting podcast featuring our funny, curious, and thoughtful founder, Rachael Herrscher, focused on talking about how we care for the things we care about the most. Parenting advice, tips, and inspiration from smart parents, for smart parents. You can see all of the links to our podcast episodes, along with links to additional recipes, advice, and guest posts from the podcast guests here. 
Other posts you might enjoy…
Podcasts I Listen to When I Need a Pep Talk