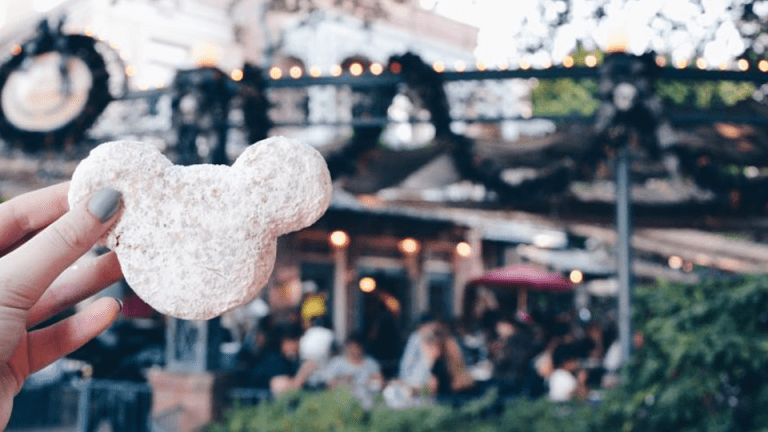 Disney Releases Club 33 Pumpkin Beignet Recipe
This Disney treat is sweet and EASY!
The best part of heading to Disneyland in the fall, aside from the general magic of Disney during Halloween, is—of course—the Pumpkin Beignets from Club 33.
They add just the right amount of cozy sweetness to the Kingdom. And now, they're going to add some cozy sweetness to your own kitchen.
How to make Disney Beignets?
Lucky for you, you don't have to travel all the way to Disneyland to get your hands on this famous fall treat. We've outlined the recipe and details below. This Disney Beignet Recipe is super easy to make and the pumpkin flavors and maple glaze are the perfect flavors to warm up a chilly fall afternoon—although if you're looking for a beignet that will work year-round, may we suggest Disney's Official Mickey Mouse Beignets Recipe? After you make this amazing pumpkin version, of course.  
Club 33 Pumpkin Beignet Recipe (with Bonus Maple Glaze!)
This recipe has been converted from a larger quantity in the restaurant kitchens. The flavor profile may vary from the restaurant's version.
INGREDIENTS
Pumpkin Beignets
1/2 tsp. dry yeast
1/4 cup warm water
4 cups all-purpose flour
1 cup canned pumpkin puree
1/4 cup sugar
1/4 cup heavy cream
1/4 cup hot water
1 egg
2 tbsp. vegetable shortening
1/2 tsp. salt
vegetable oil, for frying
Maple Glaze
3 tbsp. butter
1/4 cup maple syrup
1 cup powdered sugar
INSTRUCTIONS
Pumpkin Beignets
Sprinkle yeast over warm water in a small bowl, stirring to dissolve. Let stand for 5 minutes. 
Combine flour, pumpkin puree, sugar, heavy cream, hot water, egg, shortening, and salt in a large bowl; stir in yeast mixture. Mix dough just until combined and smooth.
Let dough rest in bowl, covered with a clean kitchen towel, 30 minutes. 
Transfer dough to a well-floured surface. Pat to about 1/4-inch thickness and cut into 2-inch squares. 
Cover with a clean kitchen towel and let the dough rise in a warm, draft-free area, about 1 to 1 1/2 hours. 
Heat three inches of vegetable oil to 350°F in a deep, heavy pot over medium-high heat. 
Fry beignets until golden brown, about 2 to 3 minutes, turning as soon as they brown on one side. 
Remove with tongs or a slotted spoon and place on paper towels to drain.
Maple Glaze
Combine butter and maple syrup in a medium microwave-safe bowl. Microwave until butter melts. 
Whisk in powdered sugar until smooth. 
Drizzle warm beignets with maple glaze and serve immediately.
What Does a Beignet Taste Like?
Heaven. They taste like heaven. Okay...if you want some specifics then I'll say that they taste a lot like a less-sweat donut with a chewier texture. But don't worry, a beignet gets doused in powdered sugar so, in the long run, you'll never miss the sweetness from the dough. 
DISCOVER: The Disneyland Christmas Food Guide
Can You Save Beignet Dough?
Yes! You can absolutely make the dough ahead and fry it later—a hero family member once did this on a trip to Yellowstone and one chilly night by the campfire we had fresh beignets! According to Handle the Heat, "simply cover and store the dough after forming it in the fridge for up to 4 days. It will rise in the fridge. Let it come to room temperature before using."  
What's the Difference Between a Beignet and a Donut?
Even though they seem similar, beignets are made from choux pastry (my binge-watching of The Great British Bake Off had taught me that you pronounce this "shoe"...the more you know *wink*) and when fried, the hot oil will make the dough puff up and that's how you get the air pocket. A beignet is lighter and chewier than a donut because they are typically made with bread flour which has more protein, creating the denser and chewier treat. 
Do Disney Beignets Have Dairy?
Yes, the Disney beignet recipe includes heavy cream. If you're looking for a delicious, dairy-free treat in Disneyland, head for the churro carts. Those delicious churros are dairy-free. Don't have a Disney trip planned anytime soon? No worries, try Disney's Churro Bites Recipe! 
Where Can You Get Disneyland beignets?
When you're at the park, these Pumpkin Beignets are only available to members of the private Club 33—which is why making them at home is so much easier! If you're visiting the park you can get the classic Mickey-shaped beignets inside Disneyland at the Mint Julep Bar in New Orleans Square.  
You can also get delicious beignets in the Downtown Disney District at Ralph Brennan's Jazz Kitchen Express which is the walk up/take out version of Ralph Brennan's Jazz Kitchen—these are the traditional square beignets dusted in powdered sugar. At the Express area you can order beignets to go in small (4), large (6), or family size (10.)  
Craving More Disney Treats?
Listen, I'm of the opinion that one of the best parts of a trip to Disneyland is enjoying all of the food! So if you're craving a bit of that Disney food euphoria, I've got a few more options for you to try. Disney's Official Dole Whip Recipe will transport you right back to the Enchanted Tiki Room. 
Want something a bit more chocolatey? How about Disney's Official Grey Stuff Recipe —you remember the line from "Be Our Guest" don't you? "Try the grey stuff, it's delicious! Don't believe me, ask the dishes!" No need. This pudding treat is amazing!
If you want to start your morning off with a bit of Disney magic, whip up Disney's Chocolate Peanut Butter Banana French Toast. Good morning, indeed.
More on TodaysMama.com:
4 Reasons to Go to Disneyland During Halloween
The Mama's Guide to Disneyland Halloween