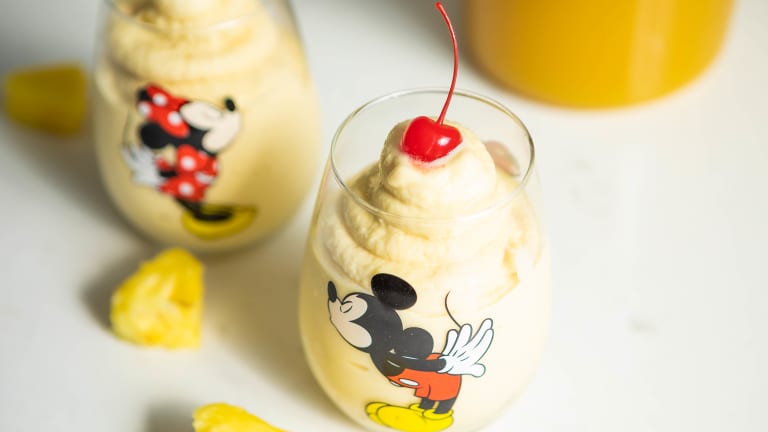 Disney's Official Dole Whip Recipe
Bring the Magic Kingdom into your kitchen with Disney's official Dole Whip Recipe!
Like, have you really visited the Magic Kingdom if you didn't have a Dole Whip? I think not.
Disney Dole Whip Recipe
Serving Size: 1
1 big scoop of ice cream
4 oz of pineapple juice
2 cups of frozen pineapple
Disney Dole Whip Instructions
Add all ingredients to a blender until it's a thick drink.
Add your swirl and then you're done.
Enjoy!
What Is a Dole Whip?
When you think about a Dole Whip, you might think about Walt Disney's Enchanted Tiki Room. This attraction located in Adventureland has been the spot to find this delicious treat with a cult following. Dole Whip was originally introduced to the world in 1984 at the National Restaurant Association show. Disneyland offers two versions of the Dole Whip. One that stands alone and one called a Dole Whip float where the Dole Whip has added Dole pineapple juice.
The Dole Whip has always been gluten free and began being created with vegan ingredients in 2013. The Dole Whip does taste like soft serve ice cream with a sweet and tart taste. Dole Whips are not sold in stores, so you will need a trip to Adventureland or a blender and a passion for following our recipe!
Can I Make This Gluten Free and Dairy Free?
The good news is that the Dole Whip currently being sold in Disneyland and Disney World is already gluten free and dairy free! If you can't get to Disneyland soon, try creating the recipe at home. Both pineapple and pineapple juice are gluten free. Gluten free ice cream and dairy free ice cream is an available option!
Disney Dole Whip Recipe Tips
Make the Disney Dole Whip recipe your own! Follow the traditional recipe or add your own personal spin with strawberries or raspberries or even blueberries for a berry twist. Get creative!
More on TodaysMama.com:
The Mama's Guide to Disneyland
Disneyland Dole Whip + Cotton Candy = True Love