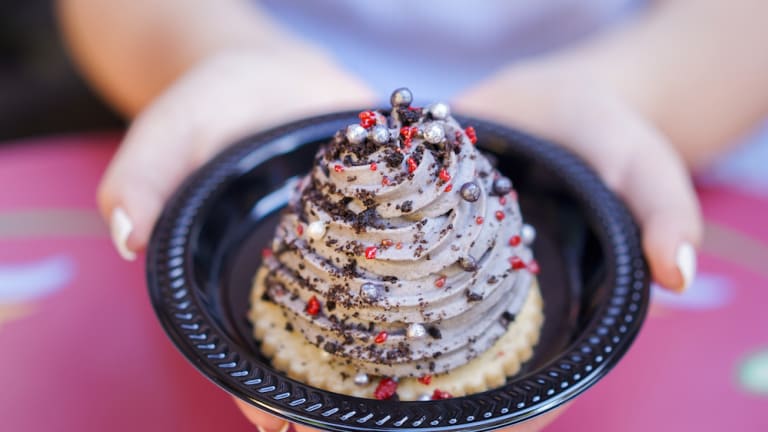 Disney's Official Grey Stuff Recipe
Disney is famous for its semi-sneaky quips that kids generally won't catch but make for great easter eggs for parents. One of my favorites is from Lumiere in Beauty and the Beast as he belts about the magical menu: "Try the grey stuff—it's delicious!"
Well, now we can. Chefs at Disney Parks have created a smaller, make-at-home version of the Grey Stuff found at the Be Our Guest restaurant at Disneyland.
And guess what... It's delicious.
Disney Grey Stuff Recipe
Ingredients:
1 1/2 cups cold whole milk
1 (3.4 ounce) package instant vanilla pudding mix
15 chocolate sandwich cookies
1 (8 ounce) container whipped topping, thawed
3 tablespoons instant chocolate pudding mix
12 scalloped sugar cookies
Edible sugar pearls
Instructions:
Pour milk into large mixing bowl. Add instant vanilla pudding mix and whisk for 2 minutes until smooth and slightly thickened. Place in the refrigerator for 1-2 hours, until firm.
Place chocolate sandwich cookies in food processor and pulse until puréed.
Fold puréed cookies into pudding mix. Stir until fully mixed.
Add whipped topping and instant chocolate pudding. Stir until fully mixed.
Place in refrigerator and chill for one hour.
Spoon grey stuff into piping bag fitted with desired tip. Pipe grey stuff onto cookies. Top with sugar pearls.
More on TodaysMama.com:
The Mama's Guide to Disneyland