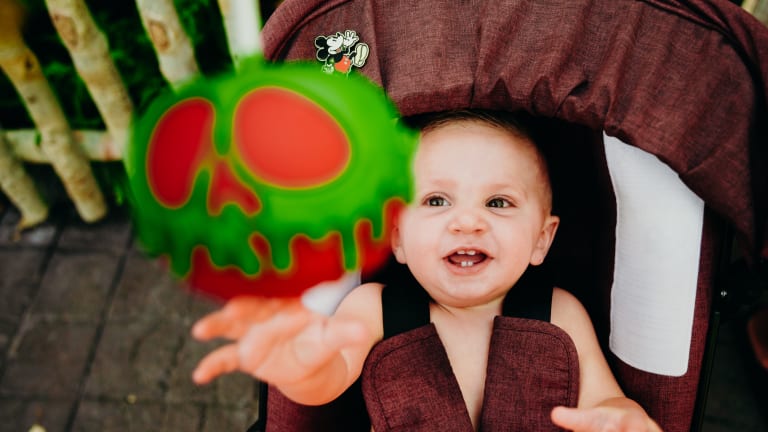 The Mama's Guide to Halloween Time at Disneyland
Disneyland AND California Adventure are both DECKED OUT with spooky spectacles for the whole season! Here's the inside scoop!
DISCOVER: The Disneyland Christmas Food GuideWhat is Halloween Time at Disneyland?
Halloween Time at Disneyland is EVERY Mickey Mouse lovin', Pumpkin Beignet Eatin,' Traveling Mama's Dream. Every year starting September 6th through Halloween, both parks are transformed into a spooky showdown of costumed characters and delicious delectables, haunted parades and villain celebrating shows, and ALL OF THE MAGIC HALLOWEEN TIME HAS TO OFFER. 
When Does Halloween Time End at Disneyland?
Although Halloween Time at Disneyland runs from September 6th to October 31st, Jack Skellington and The Nightmare Before Christmas takes over the Haunted Mansion in a spooky Halloween and Christmas celebration clear until January 6th!  
Is Disneyland Decorated for Halloween?
Disneyland AND California Adventure are both DECKED OUT with spooky spectacles for the whole season! From Main Street to Buena Vista Street, both parks are covered in pumpkins, costumed characters, and ghastly goodies for all fall season!
Disney Halloween Time Food
Guys. Not only is Disneyland in the Fall the CUTEST THING EVER, the food is TO DIE FOR. Be sure to pick up a free Food Guide at Guest Services or the park entrances right when you arrive, to pick from their amazing menu across both parks! Our favorites were the Horchata Churro with Condensed Milk Cream (at the stand by Goofy's Flight School), the Slow-Burnin' Mac & Cheese Cone (from Cozy Cone #3 in Cars Land), the Oogie Boogie popcorn buckets (at all the popcorn stands), and the mint chocolate Minnie Witch Shake (from Schmoozies in Hollywood Land)! But if you're picking ONE TREAT to make your top priority, the PUMPKIN BEIGNETS at the Mint Julep Bar in New Orleans Square will blow your mind. And your babies' minds.
Halloween Time Parade
The Headless Horseman rides again and kicks off the Frightfully Fun Parade at the Oogie Boogie Bash! The parade is packed with villains and dancers and the cutest scary music, and is SO MUCH FUN! Guests at Disneyland can see the original light parade down main street in the evening, but guests who purchase a ticket to the after hours Oogie Boogie event at California Adventure can see the Halloween parade!
BUT. Guests with regular tickets, do not despair. Now that Disneyland is open late all fall long, the "Halloween Screams" Fireworks are available to all Disneyland guests (times vary each night)! And if it's too windy for fireworks or it is a weekday evening, the show is still projected down Main Street, on the castle, and where Fantasmic! normally plays, on the water by New Orleans Square! It was SO CUTE. 
Is Disneyland Busy on Halloween? 
Disneyland and California Adventure busy times basically run on three things: Holidays, Weekends, and School Breaks. If you're going on Thanksgiving weekend or the first day of summer, it'll probably be packed. But, the greatest thing about Halloween Time at Disneyland is if you go on a weekday in the fall, kids are in school and you'll most likely have a less busy park. We went one day this week and one day last week, and both days had 15-30 minute wait times on almost all the rides. SCORE. And lots of rides were at 5 minutes, too. So generally, you're safe in the fall, especially on weekdays! If you want to check what Disney thinks though, go look at their site to buy a one-day-ticket, and the price and color of the day you're looking at will usually be a pretty good indicator to what Disney thinks it'll be like! And guys. Disney at 70 degrees with pumpkin beignets is DREAMY.
TRENDING: Our Favorite Halloween Homes This Year!
Disney's Oogie Boogie Bash
Mickey's Halloween Party has been replaced by their newest Halloween Party, The Oogie Boogie Bash! 
The Oogie Boogie Bash at Disney's California Adventure is the newest Disneyland Halloween Party and Trick or Treating event, where guests get decked out in costumes and have the most ghastly, amazing time! There are magical Treat Trails with famous villains, the cutest, spookiest, decked-out Car's Land you ever did see, and so many fun characters (naughty and nice) to meet! Go see more about the Oogie Boogie Bash over at.
Since the Oogie Boogie Bash is in California Adventure and replaced Mickey's Halloween Party in Disneyland, Disneyland doesn't close early for the party like it used to! On nights the event is taking place, California Adventure closes at 6 pm to start the party!
DISCOVER: The Disneyland Christmas Food Guide
Halloween Time Tips for Parents
Halloween Time is a secret tip all by itself. It's cool outside, the park is slower because school is in session, and the cozy fall cuteness is out of this world. But here's a few tips that will help your magical trip be even more magical!
1: Take snacks. 
2: If you're bringing a stroller, wagons aren't allowed anymore, and if you're bringing a cooler you'll need ice packs because regular ice isn't allowed either. 
3: California still gets pretty toasty in the day, so bring lots of water, shade and fans for little babies, and remember that Disneyland will ALWAYS give you all the free cups of ice water your heart could desire.
4: ALWAYS bring a camera...or even better, bring a photographer. Seriously. We took our maternity photos here and brought a photographer from Sugar Rush Photo + Video out to photograph us and it was worth every penny. Why worry about getting everything captured on your camera when someone else can do that for you while you play with your favorite humans in the happiest place on earth? 
5: MAX. PASS. This is the BEST $15 upgrade to your ticket. It includes ALL RIDE PHOTOS AND ALL THE DISNEY PHOTOGRAPHER PHOTOS. Seriously. And. It's fast passes on your phone, so you aren't running back and forth and all over both parks to get fast passes. Just scan in all your tickets on the Disney app, and you can list for all your fast passes wherever you are, on your phone.
6: Get the Disneyland App. See wait times, MOBILE ORDERS, firework and parade times, and even play games. It's genius.
7: Mobile Orders. Order from your phone on your way to the restaurant, skip the lines, and get your Delectable Dole Whips and Banging' Banyan Beef skewers instantly. 
What's your favorite thing about Disney in the Fall? We love it all SO much, especially when it's spooky and adorable, and would love to hear from you!!!
xoxo Lyndi + Rob + Compton
More Disney Halloween on TodaysMama.com
4 Reasons to go to Disneyland During Halloween Time
The Magic of Mickey's Halloween Party
Follow the Disney Parks Blog, Disneyland Resort Facebook page and @Disneyland on Twitter for daily updates about the Disneyland Resort.
The Mama's Guide to Halloween
Halloween can be busy. Halloween can be fun. Halloween can be extremely stressful. The costumes, the decorations, crafts, activities, school parties, trick or treating, kids safety, food, recipes,...we get it. You're most likely feeling overwhelmed with this spooky holiday. We've been there before too. Halloween is meant to be fun for everyone, not wear you down with all the minutiae of the holiday festivities! We're here to help! Here's what every Mama needs to know about Halloween. The Mama's Guide to Halloween provides Halloween tips, tricks, resources, recipes, activities, costume ideas, and more!