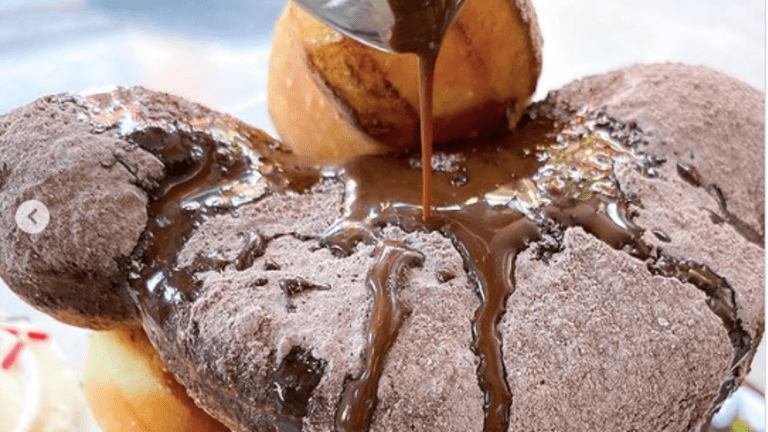 The Mama's Disneyland Christmas Food Guide
All the Christmas food and treats at Disneyland you need to eat this year (and where to find them)!
I mean, eating them ALL might be impossible . . . but you might as well try, right?
We visited Disneyland to check out all the festive food (ok, the rides and decor too)! Here's the big list of most everything you can find to nosh on this holiday season at Disneyland and Disney California Adventure!
Disneyland Holiday Churros
Keep an eye out for all the churros! You'll see different varieties everywhere. 
Here's a look at all the churros you can grab at Disneyland this holiday season:
Churros Available in Disneyland
Caramel and Coconut Churro (Town Square Churro Cart and Churros Near Sleeping Beauty Castle)
Santa's Cookies and Milk Churro (Churros Near Casey Jr.) – Artisan churro rolled in cookie butter sugar and served with sweet milk dipped sauce
Toffee-Flavored Churro (Tomorrowland Churro Cart) – add-on chocolate-almond or chocolate dipping sauces available
Turtle Churro (Frontierland Churro Cart) – Artisan churro rolled in chocolate sugar and served with caramel pecan dipping sauce
Sugar Plum Candy Churro (New Orleans Churro Cart) – Sweet and tart churro
Churros Available in Disney California Adventure
Peppermint Churro (Churros Near Redwood Creek Challenge Trail) – Churro coated with crushed candy canes and chocolate and vanilla icing
Milk & Cookies Churro (Hollywood Land Churro Cart) – Churro with chocolate chip cookie and cookies and cream sugar with cookies and cream dipping sauce
Sugar Cookie Churro (Cozy Cone Motel) – Churro rolled in sugar and topped with white icing and holiday sprinkles
Horchata Churro with Condensed Milk (Churros Near Goofy's Sky School)
Our top choice? Horchata Churro with Condensed Milk. A close second was the Sugar Cookie Churro, however, I have a child arguing heavily for the Toffee Churro in Tomorrowland. 
Mickey Beignets
Where are the Mickey Beignets you ask? 
Mint Julep Bar in New Orleans Square (Candy Cane Beignets in a 3-pack or 6-pack, traditional beignets available)
Cafe Orleans in New Orleans Square  (Hot Chocolate Beignets)
Jazz Kitchen in Downtown Disney (Traditional Beignets)
Jazz Kitchen Express in Downtown Disney (Traditional Beignets)
Surfside Lounge at Paradise Pier Hotel (Traditional Beignets)
Candy Cane Beignets
A pillowy, doughnut-esque delight with candy cane powdered sugar and bits of candy cane mixed throughout the dough. So good! I think they are perfect as is, but you can add some chocolate dipping sauce to take it over the top! 
Hot Chocolate Beignets
I'm lamenting the fact that we didn't try the Hot Chocolate Beignets. You can grab them at Cafe Orleans in New Orleans Square. 
But guess who did try them? This smart girl @DisneyHungry. And her photo has created level 1,000,000 FOMO for my tastebuds. Did she say Marshmallow Whipped Cream?!? Yep. She did. And I'm tempted to book my flight back RIGHT NOW!
Disneyland Candy Canes
Guys. This is a whole big thing. The candy canes are a really big deal! 
DISNEYLAND HOLIDAY TREATS GUIDE
Main Street, U.S.A.
Gibson Girl Ice Cream Parlor
Peppermint Holiday Sundae
Carnation Cafe
Fried Bologna Sandwich
Pork Chop TV Dinner
Jolly Holiday Bakery Cafe
Thanks-mas Sandwich
Butternut Squash Soup
Snowman Shortbread Cookie
Santa Hat Macaron
Dutch Apple Cinnamon Muffin
Eggnog Latte Cheesecake
Holiday Cupcake
Holiday Brownie
Mickey Gingerbread Man
Market House
Holiday Linzer Cookie
Snowman Shortbread Cookie
Mickey Gingerbread Man
Refreshment corner
Plaza Inn
Raspberry-Mascarpone Yule Log
Christmas Cake
Christmas Bundt Cake
Churros near Sleeping Beauty Castle and Churros Near Town Square
Caramel and Coconut Churro
Critter Country
Harbour Gallery
Holiday Pozole
Pumpkin Spice Cold Brew
Hungry Bear Restaurant
Pumpkin Spice Cheesecake Funnel Cake
Snickerdoodle Cold Brew
Churros & Lemonade in Critter Country
Tomorrowland
Alien Pizza Planet
Bruschetta Poultrium Pizza
Green Alien Holiday Macaron
Alpha Broccolius Parfait
Galactic Grill
Holiday Speciality Burger
Apple Pie Slush
Nova Coffee Slush
Caramel Pecan Brownie Parfait
Churros near Buzz Lightyear Astro Blasters
Frontierland
The Golden Horseshoe
Holiday Ice Cream Sandwich
Rancho Del Zocalo Restaurante
Chicken Mole
Caldo de Pollo
Pan Dulce Ice Cream Sandwich
Frozen Abuelita Hot Chocolate
Champurrado with Churro Bites
Stage Door Cafe
River Belle Terrace
Burnt Ends Grilled Cheese Sandwich
Churros Near Big Thunder Mountain Railroad
Fantasyland
Red Rose Taverne
Beast's Fordibben Pastrami Burger
Pumpkin Spice Shake
Churros near Casey Jr. Circus Train
Santa's Cookies and Milk Churro
New Orleans Square
Blue Bayou Restaurant
Cafe Orleans
Royal Street Veranda
Churros near Haunted Mansion
Mint Julep Bar
Candy Cane Beignets
Cranberry Julep
French Market Restaurant
Smothered Beef
The Wedding Cake
Blue Velvet Cheesecake
Adventureland
Bengal Barbecue
CALIFORNIA ADVENTURE HOLIDAY TREATS
Festival of the Holidays: Festival Foods Marketplace
Embrace a seasonal celebration filled with multicultural music, food and fun for all—from November 8, 2019 to January 6, 2020.
Here's a sneak peek at what you'll find in Disney's California Adventure:
A Twist on Tradition – try holiday classics infused with a festive kick like the reimagined Beef Wellington or Reuben potato tots with Russian dressing and rye toast
Brews & Bites – imbibe in a variety of brews followed by chorizo queso fundido with house-made tortilla chips
Favorite Things – indulge in glazed ham shanks with honey crumble and holiday stuffing mac & cheese or sip a s'mores frozen chocolate milk with house-made toasted marshmallow-infused whipped cream, graham cracker crumble and chocolate drizzle
Grandma's Recipes – head home for the holidays with time-honored treats like shepherd's upside-down pie made with plant-based ground beef or curried cauliflower & chicken with lemon tahini sauce and black garlic drizzle
Holiday Duets – harmonize with perfect pairings of shrimp and grits with Andouille sausage or braised pork belly adobo with garlic fried rice
Making Spirits Bright – deliver the perfect toast with pomegranate, apple or cran-blackberry mimosas as well as imported/domestic wines and a hot cocoa marshmallow macaron
Merry Mashups – kick things off with a turkey-and-stuffing tamale, pork al pastor naan taco with pineapple pico de gallo and cilantro-lime Dannon® Greek yogurt crema or house-made horchata
Winter Sliderland – sink your teeth into a fried turkey slider on herb roll with cranberry slaw, beef pot roast on potato roll with horseradish cream or a warm peppermint chocolate float with peppermint hot chocolate, Dreyer's® vanilla ice cream, whipped cream and peppermint crumbles
Buena Vista Street
Clarabelle's Hand-Scooped Ice Cream
Chocolate-Peppermint Cone
Chocolate-Peppermint Sundae
Chocolate-Peppermint Bar
Mickey Gingerbread Man
Fiddler, Fifer & Practical Cafe
Mortimer's Market
Carthay Circle Restaurant & Lounge
Sleigh Ride Cocktail (contains alcohol)
Grizzly Peak
Churros Near Redwood Creek Challenge Trail
Cars Land
Flo's V-8 Cafe
Salisbury Steak
Chocolate-Peppermint Shake
Cozy Cone Motel
Sugar Cookie Churro
Peppermint Soft Serve
Luigi's Chicken Pesto Cone
Pixar Pier
Lamplight Lounge
Specialty Holiday Cocktail
Pacific Wharf
Pacific Wharf Cafe
Mickey Gingerbread Man
Holiday Sourdough
Capuccino Cart
Peppermint Mocha
Mickey Gingerbread Man
Snowman Shortbread Cookie
Boudin Bread Cart
Hollywood Land
Award Wieners
Cheesy "Corn" Dog
Cheesy "Corn" Fries
Gingerbread Funnel Cake Fries
Hollywood Lounge
Wonderland Hot Chocolate (contains alcohol)
Winter Hot Chocolate (specialty beverage)
Holiday Egg Nog (contains alcohol)
Mistletoe Mule Cocktail (contains alcohol)
Holiday Hard Cider (contains alcohol)
Elf Nog (specialty beverage)
Sleigh Ride Slush (specialty beverage)
Studio Catering Co.
Plant-Etarium Street Tacos
Sleigh Ride Slush (specialty beverage)
Churros At Hollywood Land
Schmoozies
Holiday Affogato
Gingerbread Cookie Ice Cream Sandwich
Churro Shake
Minnie Wreath Donut
Peppermint Mickey Shake
Paradise Gardens Park
Boardwalk Pizza & Pasta
Holiday Dinner Pizza
Mickey Gingerbread Man
Pumpkin Pie Cheesecake
Churros Near Goofy's Sky School
Paradise Garden Grill
Burrito
Street-Style Tacos
Plant-Based Chile Relleno
Torta Al Pastor
House-Made Pozole
Paradise Gardens Special Event Cart
Holiday Tamale
Seasonal Empanada
Festival of Holidays
Located in Disney California Adventure. Most 
https://www.instagram.com/p/B4-cFOigWoC/
DISNEYLAND RESORT HOTELS
Disneyland Hotel
Classic Tea at Disneyland Hotel
The Coffee House
Pumpkin Spice Latte
Eggnog Latte
Caramel Apple Muffin
Disney's Grand Californian Hotel & Spa Holiday Cart
Disney's Grand Californian Hotel & Spa Holiday Cart
A merry assortment of sweets and treats!
Grand Californian's Gingerbread House
You can't eat it, but you should definitely see it!
Here's what it looked like when we were there:
Here's the finished product!
Disney's Paradise Pier Hotel
Surfside Lounge
Pumpkin Spice Latte
Eggnog Latte
Roasted Pork Roulade
Bourbon Chocolate Whoopie Pie
Turkey Poutine
Mickey Shaped Beignets
Downtown Disney
Guess what we discovered in Downtown Disney?
Salt & Straw Ice Cream
If you haven't experienced Salt & Straw, I invite you to live your best ice cream life! Salt & Straw started in Portland and has worked it's way down the West Coast into a few locations including Downtown Disneyland! 
Their menu never fails to be unique and sometimes weird - but always amazing!
Their seasonal flavors for Thanksgiving include:
Roasted Peach and Sage Cornbread Stuffing
Spiced Goat Cheese Pumpkin Pie
Salted Caramel Thanksgiving Turkey
I can't wait to see what their December menu holds. I'll be back with updates as soon as it's posted. 
The Salt & Straw Classic Menu includes:
Sea Salt with Caramel Ribbons
Double Fold Vanilla
Chocolate Gooey Brownie
Strawberry Honey Balsamic with Black Pepper
Honey Lavender
Salted Malted Chocolate Chip Cookie Dough
Sightglass Coffee Cashew Praline
Black Olive Brittle & Humboldt Fog Goat Cheese
Roasted Strawberry Coconut
Freckled Mint TCHO-colate Chip
Dandelion Chocolate Hazelnut Cookies & Cream
Pots of Gold and Rainbows
My very favorite is Sea Salt with Caramel Ribbons. Tied for 2nd place is Sightglass Coffee Cashew Praline and their Strawberry Honey Balsamic with Black Pepper.
I first tried Salt & Straw in one of their Portland stores and had an amazing Olive Oil ice cream too. Maybe it will be back soon! 
Main Street Disney Salt & Straw Menu
California Churro
Just in case you didn't eat enough churros inside Disneyland, you can grab this Churro Ice Cream Sandwich (and a variety of other churrs) on your way out!
Starbucks
Because you may need to caffeinate on your way in or out of the park to survive!
Sprinkles Cupcakes
Baked fresh every day! No matter what time of year you go there will be festive seasonal options available. Maybe you want to grab a few cupcakes to carb load on your way into the park! 
Kayla's Cakes
Everyone loves macarons, but let me tell you who loves them the most . . . the gluten-free people in your group! Macarons are adorable, delicious, and most of them are gluten-free. You can find them in Downtown Disney but you can also find a Kayla's Cakes kiosk inside California Adventure near Pacific Wharf. 
Our Very Favorites!
Want to know our top 5 very favorites? Pop on over to our friends at Southwest Airlines Community where we break down the 5 things you absolutely shouldn't miss when visiting Disneyland at Christmas!
Can You Bring Food Into Disneyland?
In the case that you don't want to eat everything listed above (we highly suggest that you at least try), many wonder if you can bring food into Disneyland. The answer is yes. Guests are allowed to bring food and/or drink into the Disney park with a handful of exceptions. Any food items a guest brings need to be snack items in nature or pre-made. What does this mean? Guests can bring items like carrots, veggies, apples, other fruit, bags of goodies (chips, crackers, crisps), granola bars, and sandwiches. Guests are also allowed to bring in liquid beverages if they are not in a glass container. For a comprehensive list of what you can and can't bring into the park (aside from food and drink), check out this article on things you can take to Disneyland.
What do we recommend to bring aside from food? Because Disneyland offers free iced water in many of its restaurants (just ask), bring your own water bottle. Other important things to bring are a light blanket, wipes, wireless chargers, sanitizer, a light jacket (preferably rain-proof), and sunscreen. Disneyland provides a really good resource when it comes to items permitted into the parks. The best way to approaching this is to list all the things you do want to take into the park, then visit the list of items not permitted, then begin crossing those items off your list. There are a lot of things that might shock first-time park-goers so make sure you really take a hard look at it. 
The Mama's Guide to Christmas Recipes
Christmas. All the things. Are you ready? One of the most exciting aspects of Christmas is the food and treats. We have the recipes we love. The recipes we don't. We all have our favorites and make no mistake, the foods and goodies we surround ourselves at Christmas time enhance the Christmas spirit and make this special holiday memorable. Today's Mama wanted to share all of the Christmas recipes, tips, secrets, and hacks we've come to love and enjoy. To learn more about why we love Christmas and the foods it brings, check out our extensive guide to Christmas recipes.