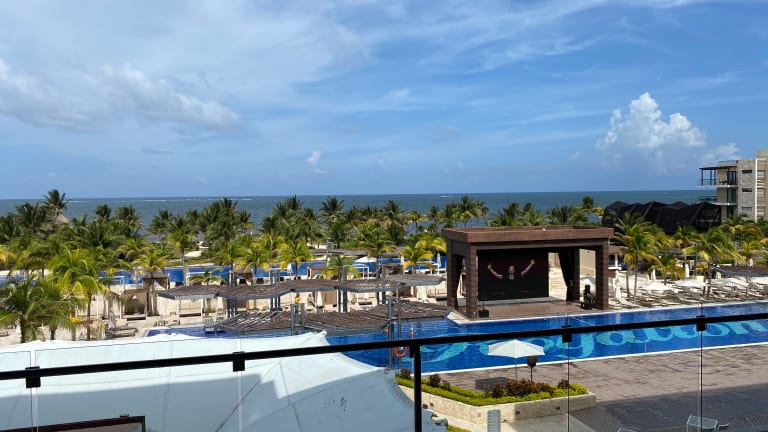 7 Little Known Travel Tips That Will Improve Your Trip To Mexico During COVID-19
Discover 7 valuable lessons turned travel tips we learned from traveling to Mexico during the COVID-19 pandemic.
Travel Tips To Mexico During Coronavirus 
Traveling to another country can already put some added stress on you. Add traveling to another country during a world-wide virus outbreak, and you've just earned yourself another layer of anxiety. Aside from the normal "pack this" and "don't pack this" tips, we'd thought it'd be helpful to round up our top travel tips when traveling to Mexico during coronavirus. There are probably more, but here are seven insightful tips to help lessen the stress of traveling to Mexico during COVID-19 right now.
Bring Masks
On the surface, this might seem silly, but you'd be surprised how many vacationers DIDN'T bring masks. Notice the plurality of the word mask here. It's best to bring many (pretty sure we packed more masks than underwear). If you don't have one, in most places you'll be required to buy one and they have zero problems gouging you on the price. More problems more money. This definitely applies. And I would bring both kinds of masks (disposable and non-disposable masks). There were some instances where we saw people being turned away from an attraction or destination because they didn't want to wear a mask or buy one. And at this point, we might as well make the most out of having to wear masks, so it's not a bad idea to let your kiddos choose different designs and different styles so they're comfortable with what they're using. 
Bring Hand Sanitizer
In most cases, if you bring a small container of hand sanitizer through airport security they might make you throw it away. TSA is now equipped with technology to test the liquid to make sure it really is hand sanitizer (and not some hazardous bomb liquid). We had zero problems bringing it on board with us. Furthermore, most of the hand sanitizer dispensers we came across in Mexico had a sticky after-texture to it, which wasn't pleasant after a couple of days. Having the brand of your choice handy with you helps you avoid some of these less pleasant types of sanitizer. We also equipped every family member with their own small container of hand sanitizer to carry with them in their packs.
LEARN MORE: We Traveled To Mexico During Coronavirus. Here's What Happened.
Practice Wearing Masks Ahead Of Time
Most of us are not used to wearing masks for long periods of time, so giving your face some much-needed repetitions with having a piece of material covering it for long hours will be helpful. If you are traveling with kids, make sure the first time they're going to be introduced to wearing a mask for long periods of time is not right before you board a 5 hour flight. If you have a few days leading up to your travel, have your kids experiment with wearing it in one to two hours chunks. 
Know Celsius to Fahrenheit Conversion
Know what a normal Farenhait temperature is, but in Celsius. Temperature checks are all done in Celsius on the Mexico side, so I thought it was handy to know what 98.6 Fahrenheit converted to for Celsius (it's 37 Celsius by the way). 
| Fahrenheit | Celsius |
| --- | --- |
| 98 | 36.67 |
| 99 | 37.2 |
| 100 | 37.8 |
| 101 | 38.33 |
Stay Hydrated
There's no scientific research behind this next idea I'm going to share with you, but there was a noticeable difference in wearing a mask on the flight back to America. It could have been because my face, mouth, and nose were more acclimated to wearing a facial mask, but I also think it's because I drank more water on the trip back. And the airlines and transportation vehicles were okay with you briefly taking your mask off to take a drink, so giving your face and lungs a break by taking a small sip of water was just the perfect little trick.
Downloads Before Take-Off
There's no doubt this little travel tip is going to save you some tears. We were told by friends prior to our trip to download every movie we wanted to watch before we boarded the plane to Mexico. When we asked why we found out that many of our streaming movie services don't allow content to be streamed or downloaded from an IP address located in Mexico. We listened to that little tip and downloaded everything we needed (music, tv shows, movies) to our iPads, iPhones, and laptops. Once we were situated in our rooms in Mexico we tried streaming content and many of our streaming services gave us error codes because of our location in another country. So if you're regulars of Netflix, Amazon Prime Movie, Disney + or any other streaming service, plan ahead of time and download everything you need while on American soil.
Be Patient
This virus has a lot of people on edge for a lot of reasons (valid or not valid). Patience will go a long way, whether dealing with kids complaining about masks or having to wait in line a little longer because a group of people in front of you are wiping feet and getting temperatures checked. Traveling right now in abnormal conditions means normal processes at just about every place you go are going to be shaken up a bit. We are all learning how to navigate life in these new unchartered waters. Being a little more patient than normal is going to actually help bring a little bit of normalcy back to our lives.
More Information On Traveling To Mexico....
We Traveled To Mexico During Coronavirus. Here's What Happened