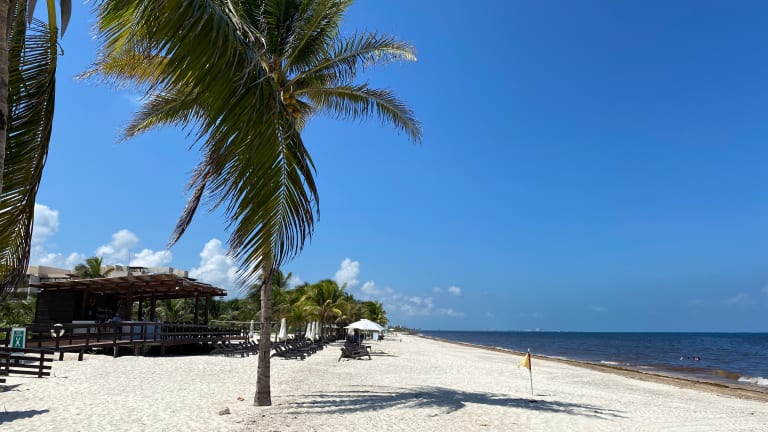 7 Frequently Asked Questions About Travelling To Mexico During Coronavirus
Here's 7 frequently asked questions about traveling to Mexico during Coronavirus from someone who recently went there.
FAQs For Traveling To Mexico During COVID 
There are a lot of questions about traveling to Mexico during these unpredictable times with coronavirus. These questions stem from uncertainties and plenty of unknowns about traveling out of the country. Here are a handful of questions we've heard which have been asked specifically about vacationing to and from Mexico. The feedback to each question is relevant and updated during the time this article was published.
Is It Safe To Travel to Mexico During COVID?
As of right now, two of the more popular areas for tourism are under Level 2 precautions which means travelers should exercise increased caution. This could be because of both violent and non-violent crimes and situations. As for safety as it relates to COVID-19, traveling to Cancun Mexico felt extremely safe. Tourism is the vital blood to their economy so keeping tourists safe is really important. We had to wear masks just about everywhere we went. We were constantly sanitizing with wipes and hand gels. And temperature checks regularly occurred in restaurants and other common destinations.
On the flip side, you potentially could experience border closures, airport closures, travel restrictions, etc. in Mexico, but that has always been a threat when traveling to another country...not just Mexico.
Was There Extra Hurdles With COVID-19 Testing?
There were a handful of extra obstacles we faced while traveling to and from Mexico. For the most part, there weren't a lot of long, drawn-out measures for COVID testing. We had to fill out a COVID-19 survey form from the Mexican government before we entered as well as once we left the country. Our temperatures were checked at the airport (via infrared camera technology), at restaurants, ground transportation, and at the resort. It may seem like a lot, but every process was very quick and efficient and almost unnoticeable.
Will I Be Tested For COVID Entering Mexico?
There were no screenings or temperature checks at any American airport during our stop. Prior to entering Mexico, we had to submit a form/questionnaire asking various questions about previous travel and coronavirus symptoms. This COVID-10 form can be found here (form example below). You will have to submit it for every traveler in your party and show the QR code it generates. The only "test" we were submitted to was via infrared camera temperature technology. Everyone entering Mexico via air travel will go through this and everyone leaving via air travel was submitted to this. But you just walk by the machine. If it registers a higher temperature.
Will I Be Tested For COVID Entering The US?
As of August 2020, you will be tested in the airport in Mexico by the Mexican government by their infrared technology via cameras (it's kind of cool to see actually). However, at no point on American soil, were we tested via an infrared camera or thermometer gun. To be blunt, it felt like everything on the Mexican side of travel took coronavirus more seriously than on the American side. More masks were worn, more temperatures were taken, more sanitization methods were employed, and it felt like COVID was a bigger deal there. Not in a "fear the virus" kind of way, but there was more reverence and respect for what's happening globally and we could tell. 
The communication on air travel policies was also more prevalent while in Mexico. For example (pictured below), we couldn't even check bags in until we submitted health information. There were signs letting us know this and a checkpoint where we could scan a QR code for online forms and there were airport staff willing and able to help us through the process
Do I Have To Self-Quarantine Once I Arrive in Mexico?
No, you do not. At the time of this publishing, if you're hearing that no matter what you have to self-quarantine once you arrive in Mexico that is a myth. Now, according to both the Mexican and United States governments, those travelers exhibiting symptoms may be subject to additional health screening (the COVID-19 nasal swab test) and/or quarantine.
Do I Have To Self-Quarantine Once I Return From Mexico?
According to the CDC, it is not mandatory for you to self-quarantine once you return from your travel in Mexico. However, the CDC recommends precautionary measures you should implement to help prevent and protect others from getting sick. These include social distancing of at least 6 feet, wearing a mask whenever you are outside, washing your hands often and using hand sanitizer, and monitoring your health for fevers and COVID symptoms. Since these are the standard precautions for everyone in the U.S. right now, it doesn't appear that there are any mandatory self-quarantine measures you should take. However, upon returning from Mexico our entire family voluntarily was tested for the COVID-19 virus and the antibodies just to make sure.
Current Restrictions On Mexico Travel From The US
At the time of the publishing of this post, the U.S. State Department classified Mexico under a Level 4 advisory, which cautioned against travel to Mexico because of COVID-19. With that said, popular destinations (such as Cabo San Lucas, Cancun, and Tulum) are classified as Level 2 which means visitors from the U.S. should exercise increase caution in the area. As mentioned above, health and hygiene measures have been been given the highest priority for tourists. Airports, resorts, transportation all exercised the highest of quality in regards to safety.
More Information On Traveling To Mexico....
Travel Tips To Improve Your Mexico Trip During Coronavirus
We Traveled To Mexico During Coronavirus. Here's What Happened