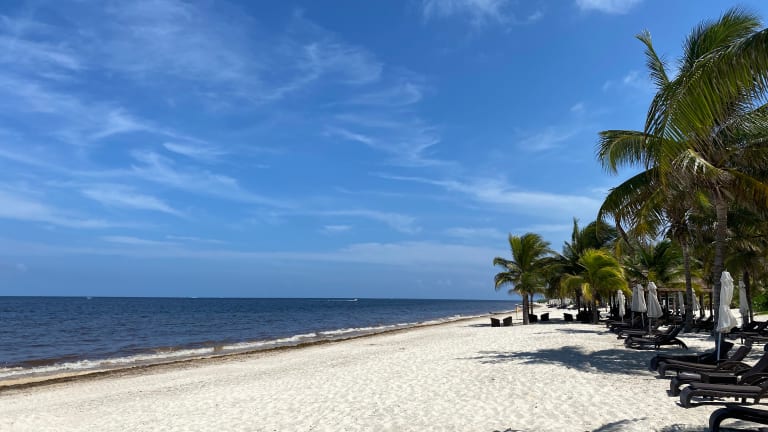 We Traveled To Mexico During Coronavirus. Here's What Happened.
From masks to social distancing and everything in between, here's what happened to us when we traveled to Mexico during Coronavirus.
How To Adjust To Travel In Mexico During Coronavirus
The Coronavirus has changed so many aspects of our lives. It's impacted almost everything: how we work, the way we're entertained, how we shop, how we educate, how we parent, how we worship, and yes..the way we travel. And it's going to be clinging to our way of life for what feels like a long time. This can be a sobering and depressing thought when you think about it. But it doesn't have to be.
It's okay to strive for normalcy in our lives, especially within the bubble of safety. When we were contemplating whether to follow through on this vacation to Cancun Mexico (which we had planned for a year), this was the deciding factor. We wanted to get as close to normalcy in our lives as possible. A month before leading up to the vacation, we did a lot of research on the best ways to travel to Mexico and explored every potential way we could protect ourselves from the virus while vacationing. Having fun was really important, but being safe was a priority. We chatted with several doctors, experts, and seasoned travel experts to make sure we were being responsible. We were tested for coronavirus right before the trip to make sure we weren't bringing the virus with us. Almost everyone we talked to said it was completely fine to travel to Mexico during coronavirus as long as we adopted precautionary measures to help keep us protected.
Amongst the beliefs of some Americans, there is a general sense of worry when traveling to Mexico. There are many regions of Mexico that the federal government has classified as dangerous areas. We traveled to Cancun Mexico, so for the most part we were in a very safe region of Mexico. Coronavirus aside, traveling to Cancun and being worried about shootings, drug cartels, and gangs would be like traveling to Yellowstone National Park and being concerned about the gang activity in Detroit. Any incidents there are super rare and almost never happen, especially in the tourist areas of the region. Furthermore, getting in and out of Cancun is based on limited access--there's really only one entry point and one exit--so Cancun is really safe.
From the flights, the restaurants, the resort, the attractions, destinations, and tours, we tried to cover just about every aspect of concern in regards to traveling to Mexico during coronavirus. Furthermore, we also wanted to give some tips for traveling to Mexico and answer some frequently asked questions we've heard from those curious about traveling to Mexico with COVID-19 hanging around (links at the end of the article). We traveled to Mexico during coronavirus and here's what happened... 
The Flight: Flying To And From Mexico via Southwest Airlines
We booked our flights through Southwest for a handful of reasons: we love flying with Southwest, it's relatively cheap, Southwest makes us feel like family, and we capitalize on the rewards benefits of their Rapid Rewards credit card. Not only does Southwest offer the best value to flyers, you can leverage their rewards program for some insane miles in the air. Our flights were nearly half the normal price as they would have been sans COVID-19. Here are a handful of other reasons why we chose Southwest for our air travel to Mexico during the COVID-19 pandemic.
Full exchange of fresh, outdoor air every 2-3 minutes
The majority of passengers were required to travel with masks on (this was reassuring on a handful of levels)
Middle seats were open on all flights (and this is expected to last a while)
Cleaning around the clock. Their method for cleaning the airplanes is hands down more thorough and efficient. Southwest airlines uses an electrostatic disinfectant AND an anti-microbial spray on every surface of the aircraft. The science behind this stuff is pretty cool.
There was constant cleaning of ticket counters, baggage claim areas, and gates.
Southwest has worked with the CDC, WHO, government officials, and their own medical professionals on infectious diseases on how to operate during this pandemic. 
There were a couple of noticeable examples of Southwest going the extra mile for us during the entire vacation (even during the planning). When our flight itinerary changed a month prior (which added two additional stops before our destination), we immediately received a phone call from Southwest notifying us and asked us if this was okay. When we told them we weren't satisfied (it added 8 hours to our travel time), they worked with us to find the best option (and they did). Secondly, when we needed to connect to another flight on the way back, we had to go through customs, re-check in, and check in baggage in an unfamiliar airport. Southwest had employees who literally walked with us through the whole thing (where they could). They could feel the nervousness from my family and acted accordingly. I've never seen anything like it.
From the moment you check in to when you leave the airport after a successful vacation, you can really feel the dedication and commitment Southwest places on their customers. And you don't feel like a customer, you almost feel like family.
Wearing Masks During Air Travel With Southwest Airlines
You must wear a mask at every airport and on every plane in the U.S. and in Mexico. It's a new way of flying-life. Accepting it and adapting to this will make traveling life much easier. The day before we left, Southwest changed their policy requiring all passengers ages 3 and up to wear masks. Flight attendants were really strict about everyone wearing masks (even the kids). They were also aware of the uncomfortable nature which comes along with traveling on a plane while wearing one. It's new territory for everyone. And they tried to make the best of it by telling cute jokes and lessening the seriousness of it all. At no point were we ever hounded by airport or airline staff about wearing masks. They weren't marching up and down the airports and airplanes like the mask-gestapos either. Want to know a little hack if the masks are bothering you? Eat and drink often ;) You were allowed to have your masks partially down while snacking.
COVID-19 Social Distancing While Flying To Mexico
In the airports, they did their best job to keep social distancing a priority. Through the entire process of checking bags in, checking in for flights, walking through TSA checks, waiting for the flights, and boarding the planes, social distancing was exercised. There were signs and notifications just about everywhere you went. In the gates, they even had painted reminders on the back of chairs to social distance. We boarded the flights in groups of 10 or fewer people. And it went smoothly. In the case of flying with Southwest, no one was allowed in the middle seat unless traveling with family. I asked a flight attendant about how long this policy would be in place, she said at least until October and most likely throughout the rest of 2020. She also told me most flights are around 66% capacity, which was a nice little bonus with flying. This meant fewer people boarding and getting off the plane, which sped up the entire process. You could tell Southwest was keen on helping everyone keep their distance:
Airport signage and floor markers encouraged physical-distancing
Plexiglass was installed in a lot of ticketing and gate areas
We boarded in groups of 10 and only on one side of the boarding areas
And just the gentle reminder from staff about keeping a safe distance between you and other travelers.
Miscellaneous Coronavirus Flight Information
My first observation with the flying component of our vacation was: there is no one here. The airports and airplanes really felt at about 50% capacity. We had to fill out the normal immigration forms, which you need to keep with your passport at all times. You will also have to fill out a questionnaire form from the Mexican government. Another important point to be aware of: when you come to Mexico during the pandemic, they have these cameras and heat sensory machines monitoring you when you come through customs. Very convenient. No lines. No deep swabbing up the nostrils with 10 inch Q-tips from health officials from another country. That process is explained in greater detail in the: Will I Be Tested For COVID Entering Mexico? section in our FAQs For Travelling To Mexico During COVID article.
Ground Transportation While In Mexico
The way you travel on the ground while in Mexico is an integral part of your vacation. As of right now, Uber is an option for travel, but not a viable one because there is still massive resistance between the taxi industry and those wanting to do Uber. We didn't travel anywhere by taxi. We used shuttle services taking us to and from the airport and to and from some of the major attractions (Xel-Ha, Xcaret and other parks).
Wearing Coronavirus Masks While Traveling By Ground
On every single ground transportation, we were required to wear a mask before we got on the shuttle and during travel. Even the shuttle attendants were wearing masks and most, if not all, were also wearing face shields over their masks. Small complaint: all of the mask-wearing did make it difficult to understand what anyone was saying, so we had to pay careful attention (and tell our kids a handful of times to be quiet) in order to hear instructions. This was one of the downsides, not just with ground transportation, but just about anywhere. Here's the thing though, while it's slightly annoying and can get in the way, wearing a mask is just one of those small contributions you can make to ease the spread of viruses and any other harmful bacteria we spread. 
Social Distancing While Traveling By Ground
Where it was feasible, shuttle attendants urged us to practice social distancing unless we were traveling with family members. Since all resorts, attractions, destinations, and restaurants are required to only operate at 30% capacity, social distancing wasn't even an issue. In most cases, ground transportation (especially on larger shuttle busses) was maybe at 15% capacity.
Miscellaneous Ground Transportation Information
One thing I recognized throughout our trip with transportation is the level of communication was very high. Attendants were always sincere and always diligent that we knew safety procedures. Furthermore, there were signs in the vans and busses to remind travelers of the current restrictions and general health protections. Some other items of notes with ground transportation while in Mexico:
There will be temperature checks before you enter any shuttle or vehicle
You will be required to rinse your shoes off in a sanitizing solution prior to entry (if you're wearing thin-soled sandals or flip flops your toes will probably get wet)
You will be required to wear a mask or face shield before you even enter
You will be required to apply hand sanitizer when you get on and when you get off any transportation.
As stated throughout this article, while taking precautions and adapting to safety measures to deal with coronavirus are a tad bit of a nuisance and a little annoying, they are what they are. I couldn't help but feel this is going to be part of a new normal. It wouldn't surprise me if some of these new COVID approaches and strategies remain permanently.
LEARN MORE: 7 Little Known Travel Tips That Will Improve Your Trip To Mexico During COVID-19
Staying At A Mexico Resort During COVID-19
Even though most of the all-inclusive resorts do a wonderful job of secluding guests and having everything readily available on-site, they won't be able to seclude guests from COVID-19. At the time of our visit to the Royalton Riviera Cancun, there had been zero COVID-19 cases at the resort. The resort had just opened about 10 days prior to our visit, which might have been why no spread had happened yet. But the Mexican-wide policy on everything being limited to 30% capacity (from restaurants, facilities, parks, resorts, etc), definitely had an impact on why infection was low. From the research we did leading up to our Mexico vacation, there had been no reported outbreaks or cases in any of the major resorts and hotels. Granted, hotels and resorts might be hesitant to publicize that information in the event of a positive case on their grounds. We gave them the benefit of the doubt and were confident in our resort's ability to handle this coronavirus situation. What gave us that confidence in the resort was their safety precautions and measures in just about every facet of the resort operations. 
COVID-19 Masks At Cancun Mexico Resorts
The guests weren't required to wear masks while at the resort; however, they were encouraged to wear them as often as they could. Where it made sense, we did our best to wear masks as often as possible (restaurants, at the beach, and swimming pools were a little more difficult places to wear masks). With that said, there were some resort patrons who wore masks just about everywhere. All employees were required to wear masks and they were super diligent about doing so. 
Whether it was the front-desk representative, the managing director, room service, cleaning staff, waiters, chefs, or the lifeguards by the pool, every employee wore a mask and wore them with a smile. Even the water aerobics instructors wore masks and face shields while in the water during their class. The most impressive display of mask-wearing was the Hibachi chef wearing his mask (with a smile) while cooking and entertaining with a 1,000-degree blistering grill right in front of him! Now that's dedication to policy!
Social Distancing At Resorts in Mexico
Unless you were with family, the resort did their best to make sure social distancing was practiced. In the restaurants, shops, spas, and pools, we were aware of social distancing. Even in the water fitness classes throughout the days, resort employees were constantly reminding us to keep social distancing. The resort's standard for social distancing was 2 meters (6 feet). There were floor stickers in restaurants directing traffic where to go and the restaurants did their best to keep us appropriately separated from other parties where we dined. With everywhere in Mexico being maxed at 30% capacity, it definitely made it safe and easier to maintain social distancing. 
Miscellaneous Resort Measures With COVID-19
Just like ground transportation throughout Mexico, anytime we entered a shop or a restaurant at the resort we had to have a regular temperature check, shoes rinsed with sanitizing solution, and a quick shot of hand sanitizer. I asked one of the receptionists what would happen if one of use measured a fever and she said the person wouldn't be allowed into the restaurant and the manager would be notified. What happened after that, she didn't know. Another interesting observation with restaurants was that all of the silverware was individually wrapped in a napkin and waiters/waitresses would place them on the table using tongs. You could tell they went the extra mile with being safe. There wasn't one time I entered a public bathroom at the resort and wasn't impressed by how immaculately clean every nook and cranny was. Another tidbit we noticed was there were hand sanitizer stations in almost every line of sight at the resort (minus pools and on the beach). The resort absolutely did their best to limit any kind of spread of the virus. Even the critters felt comfortable enough to come out during the pandemic ;)
Tour/Attractions/Destinations In Mexico During Coronavirus
It's always interesting when leaving an all-inclusive resort while traveling in Mexico. We felt relatively safe from the moment we left the airport to arriving at the resort. There are certain risks you take when touring off-campus, and even more so with the COVID-19 pandemic so prevalent. We had questions about whether some of these attractions and destinations would have the same or similar coronavirus policies in place for travel goers. To my surprise, everywhere we went had similar practices and policies in place to limit the spread of the virus. This was very reassuring.
Masks While Touring Mexico During COVID-19
Everyone is wearing masks. We snorkeled on the beaches of Tulum, visited Mayan ruins, recreated at Xel-Ha, parasailed on Maroma beach and one thing was constant...everyone was wearing a mask. Most of the time, when patrons were involved in their activities you could take your mask off (like snorkeling and zip lining over the ocean). And in most cases, employees of the attraction or park wouldn't harass you if you forgot to have yours on. That was nice. We even saw people wearing masks while swimming in the ocean and Cenotes. Even the lifeguards at Xel-Ha and the Cenotes we visited were constantly wearing masks. When talking to our guide, he said the people in Mexico haven't politicized masks and a small piece of material. "We've listened to the experts, the scientists and most of us have adapted. Every little bit helps." He even added, "We have more problems in life than a 5 inch piece of fabric." I appreciated this little gem of wisdom which gave me quite a bit of perspective on life and the virus. Even the dudes traveling in tandem on a motorbike on the highway were masked up.
Social Distancing While Touring and Visiting Attractions
Whether it was in the shops, at a park restaurant, waiting in line for a slide, the zipline, a tube, a picture with the Macaws, parasailing (albeit social distancing was pretty easy way up there), or waiting to see the dolphins...every attraction and destination made sure social distancing was practiced. Once again...there weren't people or employees hounding patrons to do so either. The nature of how the Cancun Mexico community is communicating safety measures of the virus plays a key role in how travelers adopt and implement the appropriate behaviors. 
Miscellaneous Mexico Attractions and Destinations Information
We were very fortunate that many of the attractions and destinations were opened during our vacation. There are still a handful of archeological sites closed and it remains unknown when the Mexican government will open them. But supporting the tourism community in Mexico is really important to their economy. One of our guides said he hadn't had tourists for his tour since March 19th of 2020. It had been several months since he had any revenue source come in. You can imagine his gratitude when we generously tipped him. Most tour guides are in the same situation. The region has been devastated economically because of COVID 19. Even with that said, as we traveled around Tulum to see some of the Mayan ruins from the sea, he was still diligent that we wore masks. We even wore them in his travel van to and from sites. It didn't matter if the attraction or tour was a high-end professional experience or just the local tour guide one-man-shop experience...they wanted to make sure we were safe and practiced safe behaviors with coronavirus.
Make The Most Out Of Travel To Mexico During COVID-19
Here's the biggest secret to traveling to Mexico during coronavirus: seize the moment even during these times of duress and stress. In this traveler's opinion: Mexico is taking COVID more seriously than the U.S. But they have to...right? Tourism is a major lifeforce of the Mexican economy, especially in areas such as Tulum, Cancun, and Cabo. It's interesting to observe the behaviors of not just people, but governments and businesses during this pandemic. A lot of behaviors are reactionary, but we couldn't help but feel what we experienced in Mexico was proactive. Did COVID-19 get in the way of our vacation? I'd be lying if I said it didn't. If you travel enough, you'd understand that vacation speedbumps rear their ugly head from time to time. Lost luggage, can't find your reservation, room changes, flight delays, cancellation of this, cancellation of that...these happen quite frequently. And those who get the most out of their vacations take these hurdles in stride. Keeping focus on the moments that matter is the secret to overcoming travel annoyances.
The same approach can also be taken with coronavirus. Was it a nuisance? Sure. Did it ruin the trip? Absolutely not. Prior to the trip, we were somewhat conflicted if we should even go and if we were being irresponsible in traveling during the pandemic. At one point, we were going to cancel the whole trip! And all of the measures and execution of safety protocols displayed by every facet of our vacation (especially by the Cancun Mexico tourism community) reaffirmed our decision to go, to make that leap. Made us feel comfortable in contributing to the normalcy of life. Was traveling to Mexico during coronavirus somewhat of a struggle? Absolutely. But as we watched baby sea turtles struggle to make their first journey to a scary and unknown life ahead of them, I couldn't help but think, 'Some struggles in life are necessary and totally worth it.' 
Right now might be the best time to travel to Mexico if you're thinking about it. The way Mexico is handling the virus (from the moment we got off our flight and touched-down on Mexican soil to the second our feet boarded our flights back home), we felt safe. And because we felt safety, our vacation to Mexico during COVID-19 felt like any other trip because we were able to focus on all the moments and memories we were creating, instead of feeling the fear and anger a lot of us have become accustomed to right now with coronavirus.
More Information On Traveling To Mexico....
FAQs On Traveling To Mexico During COVID