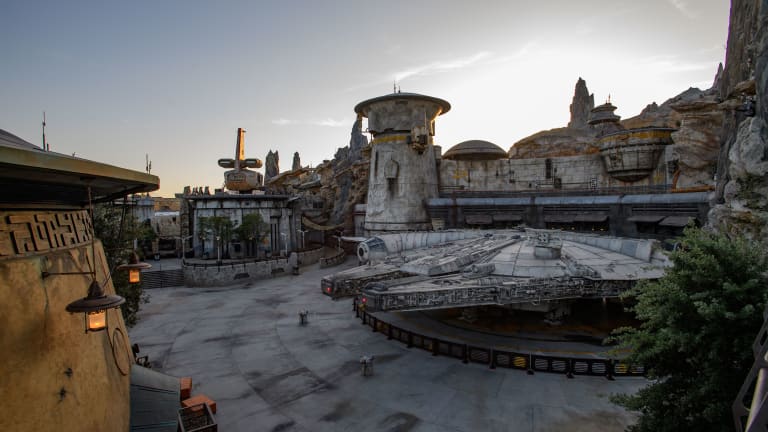 Star Wars: Galaxy's Edge at Disneyland — 12 Things You Need to Know
Planning a trip to Disneyland so you can get up close and personal with your favorite Wookie? Here's what you need to know.
My Star Wars loving heart LEAPED when I saw the Millennium Falcon.
It's impressive to see the "fastest hunk of junk in the galaxy"—built in its entirety for the first time ever as you weave your way into the farthest corner of Star Wars: Galaxy's Edge.
It's big. So big that it's hard to capture without a big fancy lens and a step-ladder.
It's what Star Wars fan dreams are made of!
Planning a trip to Disneyland so you can get up close and personal with your favorite Wookie? Been wondering about building your own lightsaber? Wondering if you're a blue milk person or a green milk person?
Here's what you need to know about Star Wars: Galaxy's Edge...
Star Wars Fans, Prepare to Be AMAZED
The smells, the sounds, the growls (yes, as I stood next to a planter, I heard something snarl) are all intended to give you the full Star Wars experience. As a die hard fan of the movies and cartoons (where are my Ahsoka loving fans at?!) I was in awe. The Disneyland and Lucas Films team have considered every detail and every opportunity to create an environment that truly honors the Star Wars storytelling universe. The planet Batuu and its Black Spire Outpost might be new to fans, the setting was created to give fans a unique and amazing experience across all timelines in the Star Wars story—for heaven's sake, John Williams even composed new music just for Star Wars: Galaxy's Edge!
The Millenium Falcon: Smugglers Run Ride is SO FUN
What do you get when you cross an extraordinary amusement park ride with an immersive and responsive 3D gaming experience? You get Millennium Falcon: Smugglers Run! The ride experience allows you to enter the interior of the Millennium Falcon with enough time to snap photos and take a seat at the Dejarik (chess) table before you enter the cockpit to pilot the ship that did the Kessel Run in 12 parsecs. Each Smugglers Run Ride is based on the idea that you and 5 other guests will be using the Millennium Falcon to smuggle supplies to The Resistance—2 people fill the pilot positions and are responsible for the actual flying and steering of the Millennium Falcon, 2 people are gunners and are responsible for fighting off The First Order, and 2 people are engineers and responsible for making repairs and providing assistance. We laughed, screamed, felt our bellies SWOOP, and laughed some more. I promise, you'll love this ride and experiencing what a jump to lightspeed feels like...
AND you'll love how Disneyland is accommodating the large crowds expected at Star Wars: Galaxy's Edge. According to Disney, "Guests who are in the queue at Millennium Falcon: Smugglers Run will have the ability to purchase snacks, utilize a continued process to visit the restroom, and enjoy cast interactions." That's huge!
Star Wars: Rise of the Resistance is now open!
Ready to join the chaotic battle between the Resistance and the First Order? The Rise of the Resistance is a completely immersive experience where you'll be able participate in one of the longest Disney attraction experiences ever. Forget what you know about roller coasters or ferris wheels—this isn't your average "ride"—it's a cutting edge attraction that blurs the lines between fantasy and reality with advanced technology that makes your feel like you've found yourself on the run from Kylo Ren onboard a Star Destroyer! Think of it like an intergalactic game of cat and mouse that will blow your mind!
As with every part of Star Wars: Galaxy's Edge this attraction is packed with all of the vivid and thoughtful detail that you've come to expect from Disney! 
The Disney Play App Is The Key To Star Wars: Galaxy's Edge
Galaxy's Edge isn't just an area of the Disneyland park that features Star Wars themed rides and scenery—it's an opportunity to fully interact with the inhabitants of Batuu. Using the app allows you to participate in the action between The Resistance and The First Order. Choose a side—will you fight for The Resistance, or help The First Order dominate this outpost? Using the Disney Play App inside Star Wars: Galaxy's Edge is so much more than a way to simply kill time when you're in line for Millennium Falcon: Smugglers Run—your participation in the gaming app will generate new interactive and organic situations on Batuu and effect which side wins. Play will allow you to interact with droids, hack door panels, participate in challenges to earn points, translate Aurebesh, scan cargo crates to collect virtual items, and even—depending on which side you fight for—being harassed by Stormtroopers. Woo! So decide before you arrive—which side are you fighting for?!
Experience the Droid Depot
You can build your own droid! This little robot isn't just some premium toy—it responds to elements of Galaxy's Edge such as other droids, door panels, and possibly even those pesky Stormtroopers. Think of this like Build-a-Bear, but for astromech droids! Patrons can pick pieces off the conveyor belt to construct one of two models (R-series or BB-series) with a limitless number of design configurations. (A droid will run approximately $100, with additional accessories such as backpack carrying cases costing extra. You can learn more here.)
Build Your Own Lightsaber at Savi's Experience Savi's Workshop
In the Star Wars universe, a lightsaber is so much more than just a weapon issued to you by the Jedi Order. Patron's at Savi's Workshop will have the opportunity to walk in the footsteps of Jedi Padawans to select and construct the elements of their lightsaber including hilts, decor, and the all-important kyber crystals. (Constructing your very own lightsaber will cost approximately $200.)
Come Ready to Engage a Stormtrooper
One of my very favorite parts of my trip to Galaxy's Edge was listening to the Stormtroopers playfully harass visitors. The Disney princesses are going to have to seriously up their game if they're going to keep up with these guys—constantly on patrol and never passing up an opportunity to give visitors a true Star Wars experience.
Keep Your Eyes Peeled for Easter Eggs
Before I toured Galaxy's Edge, I had the chance to hear from the Disney Imagineers that created this new area of the park with the team and Lucas Film and learned that it pays to keep your EYES PEELED! They took advantage of every opportunity to place items throughout the park that will delight die hard fans. Especially in Dok-Ondar's Den of Antiquities—there you'll find a wampa from the ice planet Hoth featured in "Star Wars: The Empire Strikes Back" along with countless other items. Imagineers took rubbings from the feet of the R2-D2 droid used in "Star Wars: A New Hope" and turned those into a set of three-dimensional wheels. Then they built a trolley with those wheels and rolled it through the land before the concrete pathways fully dried to leave behind authentic droid tracks that you'll see as you explore Black Spire Outpost.
The Blue Milk is So Good
Visit the Milk Stand to enjoy either the blue or green version this creamy, slushy drink—my favorite was blue, but both were delicious. The blue milk his a tropical flavor and the green has more a citrusy zing. (Word on the street, from an inhabitant of the Black Spire Outpost, is that it's best when you mix the two. I tested this theory. It's true!)
Every Element Fits Into the Star Wars Universe
More so than any other part of Disneyland, this area is intended to make you feel like you've traveled to a distant planet, the Disney team doesn't call the staff "cast members" as they do in the rest of the Disney parks, they call them "inhabitants." Which means that the elements such as restaurants and stores are also very in character—so you'll have a chance to pick up unique toys, costumes, and souvenirs. Along with enjoying delicious food!
Let's Talk About the Food
Disneyland is known for serving up delicious food, treats, and refreshments and Star Wars: Galaxy's Edge is no different. Inside this are of the park you'll find three eating establishments:
Oga's Cantina: this is the "watering hole" you'd expect in the Star Wars universe. It's a much classier version of the cantina we saw Luke and Obi Wan enter in a Star Wars: A New Hope and you can enjoy exotic beverages and concoctions (both non-alcoholic and alcoholic menu options are available.)
Ronto Roasters: walk up and grab a Ronto Wrap (an absolutely delicious pita filled with roasted pork, grilled sausage, and cool, creamy slaw) and wash it down with a Tatooine Sunset (ice tea, lemonade, and blueberry.) You can also get breakfast versions too!
Docking Bay 7 Food and Cargo; this is your cafeteria style spot to grab a variety of amazing meals, drinks, and treats and sit down and put your feet up for a bit. I'll take two Mustafarian Lava Rolls.
You can also pick up refreshments at the Milk Stand and Kat Saka's Kettle to pick up a bag of this sweet and spicy mix.
Wondering About Crowds and Reservations?
Reservations will no longer be required to visit Star Wars: Galaxy's Edge after June 23, 2019. As needed, to manage demand, Disneyland Resort will implement a virtual queueing system to visit the new land so guests can enjoy the rest of the resort while waiting to visit Batuu. The Disneyland app will have a dedicated module, Star Wars: Galaxy's Edge – Status and Access, available from the main page, on which guests can request to join a boarding group to visit the land, once they have entered the park. Boarding groups will be sent a push notification when it is their turn to enter the land and they can monitor status of boarding groups from the app. There will also be the ability to join a boarding group from select locations inside Disneyland Park, if a guest is not using the app. The boarding group is tied to admission media that will be scanned upon entry into the land. Signage throughout the park will also display boarding group status. Admission into Star Wars: Galaxy's Edge will be subject to capacity, and having an assigned boarding group will not guarantee entrance to the land.
What About Costumes?!
The current Disneyland Resort costume policy will be in effect in Star Wars: Galaxy's Edge. Costumes may not be worn by guests 14 years of age or older. Appropriate Disney bounding – dressing in outfits inspired by favorite characters – is permitted.
If you go, I want to know which milk flavor you liked best! Safe travels!    
Go back and look at the first photos from Star Wars: Galaxy's Edge at Disneyland. And relive the magic on our Instagram archive!