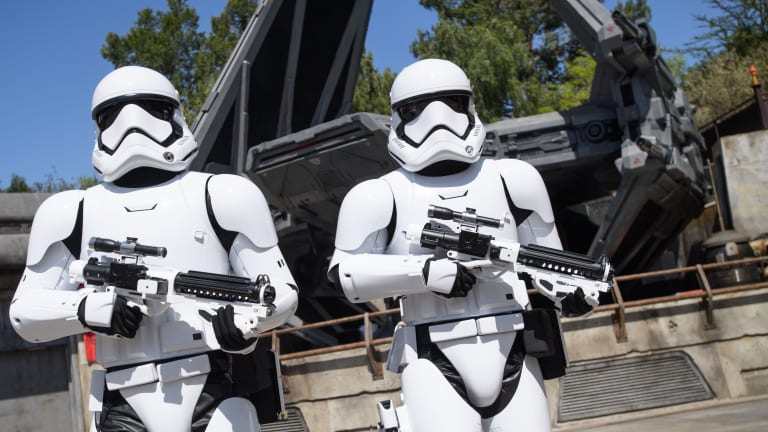 First Photos from Star Wars Galaxy's Edge at Disneyland
The Millennium Falcon! The droids! The blue milk! It's all here...
There are few things in life I enjoy as much as Disneyland and Star Wars. I've worked HARD as a parent over the years to lay the groundwork for professional obsessive level devotion to both of those entertainment hobbies for my children.
You're welcome, kids!
So when the call came to attend the preview day for Star Wars: Galaxy's Edge at Disneyland…well, I'm not gonna lie…I may have happy danced in my kitchen.
I've been working on my Leia buns for weeks.
Disneyland is straight up magic. I love it all. I'm here for the rides, the food, the Mickey ears, the characters, and the memories. And make no mistake, we've been counting down to the opening of Star Wars: Galaxy's Edge since it was announced years ago. Last spring when my kids and I visited Disneyland, we did our best to get a peek at the construction. (No luck!)
Tomorrow I'll be visiting Star Wars: Galaxy's Edge before it opens up on Friday, May 31st to the public, and I'll be sharing everything on the Today's Mama Instagram story (follow along @todaysmama) but today you can see the first batch of photos from this EPIC Disneyland expansion.
Star Wars: Galaxy's Edge at Disneyland (Sneak Peek!)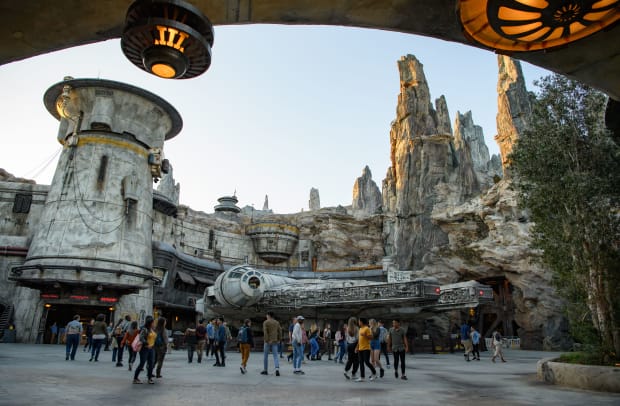 Star Wars: Galaxy' Edge opens inside Disneyland Park on May 31, 2019 and at Disney's Hollywood Studios in Florida on August 29, 2019.
Disney visitors will be transported to a 14-acre galaxy far, far away in the Star Wars themed area of the park. Batuu, the newest location in a story that began in 1977 with the first Star Wars film. You can enjoy galactic food and beverages (which look AMAZING, naturally.) Enter merchant shops (I'm gonna need my own lightsaber or maybe a Jedi robe so I can whip it off my shoulders like young Obi Wan when I'm about to lay the smack down…my kids would dig that.) And take the controls of the the most famous ship in the galaxy aboard Millennium Falcon: Smugglers Run.
Of course you can expect the same sort of immersive, entertaining, and fun interactions with characters in Star Wars: Galaxy's Edge that you've come to love from the Disney parks. (My son had an interaction with Tiana from Princess in the Frog a few years ago that remains one of the sweetest things I've ever seen. Ever.) Personally, I'm hoping to bump into Kylo Ren. I'll let you know how it goes.
Star Wars: Galaxy's Edge is will come alive for guests as they play roles in their own Star Wars stories via the Play Disney Parks mobile app, guests can engage with this new land in ways never experienced before in a Disney park—participating in group game challenges (you get to pick your side…The Resistance or The First Order), earning galactic credits, hacking park elements, interacting with droids, translating galactic languages and so much more.
Reservations are required to enter Star Wars: Galaxy's Edge at Disneyland Park between May 31 and June 23.* Guests visiting during this time will need valid theme park admission and a reservation to enter the new land. After June 23, reservations will no longer be required to visit Star Wars: Galaxy's Edge. As needed, Disneyland Resort will implement a virtual queuing system to visit the new land so guests can enjoy the rest of the resort while waiting to visit Batuu.**