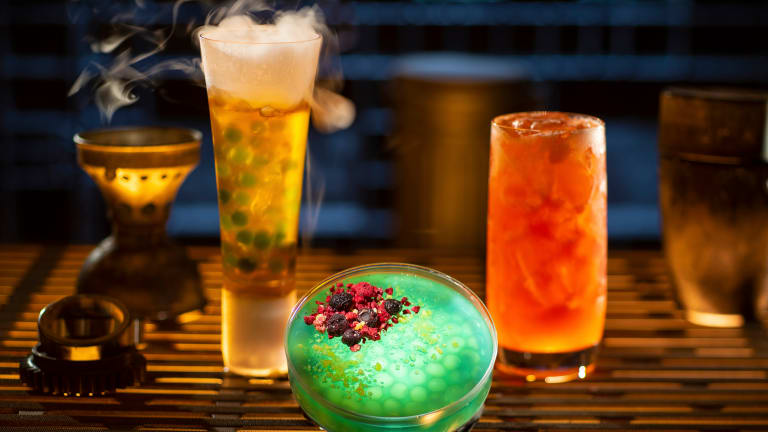 What to Eat at Star Wars: Galaxy's Edge in Disneyland
Move over churros, the food at Black Spire Outpost is here to rock your world.
Food is a HUGE part of the experience when you visit Disneyland! A knowing what to eat at Star Wars: Galaxy's Edge in Disneyland is a MUST...because there's so much delicious food lurking at the edge of the galaxy that you're going to want to plan ahead.
Do yourself a favor and save your Dole Whip, churro, or Matterhorn Coconut Macaroon for later, because you need to arrive at the Black Spire Outpost hungry. This Disneyland food list is LONG.
Every element of the food and drink is meant to fit into the Star Wars universe—even the Coca Cola products have been packaged to resemble droids and the labels are in Aurebesh.
Food and drink play an important role in making visitors truly feel like they've stepped into another world—and the Disney Parks food and beverage creative team worked with Disney Imagineering to develop a distinctive menu for the park that helps further the immersive storytelling and experience that Star Wars fans are looking for.
I mean, a droid that looks ridiculously familiar to one from Jabba the Hutt's compound is turning the roasting spit at Ronto Roasters!
The cantina is a lively place with music and beverages that look like something out of a science fiction watering hole...oh right, BECAUSE THEY ARE.
You're going to pick up your blue milk at a stand that pops and bubbles to give you the feeling of being in some sort of outer rim farmers market.
The best part? Mobile ordering through the Disneyland app will be available for Ronto Rosters, Milk Stand and Docking Bay 7 Food and Cargo, good news if you want to grab your food quickly so you can escape The First Order.
READ MORE | Star Wars: Galaxy's Edge at Disneyland — 12 Things You Need to Know 
Here's what to eat at Star Wars: Galaxy's Edge at Disneyland!
Oga's Cantina
This is the "watering hole" you'd expect in the Star Wars universe. It's a much classier version of the cantina we saw Luke and Obi Wan enter in a Star Wars: A New Hope and you can enjoy exotic beverages and concoctions (both non-alcoholic and alcoholic menu options are available.)
Ronto Roasters
Walk up and grab a Ronto Wrap (an absolutely delicious pita filled with roasted pork, grilled sausage, and cool, creamy slaw) and wash it down with a Tatooine Sunset (ice tea, lemonade, and blueberry.) You can also get breakfast versions too!
Docking Bay 7 Food and Cargo
This is your cafeteria style spot to grab a the largest variety of amazing meals, drinks, and treats and sit down and put your feet up for a bit. After the blue milk, I'll bet that the Mustafarian Lava Rolls become the "must have" treat from Star Wars: Galaxy's Edge.
Milk Stand
For everyone that wrinkles their nose at the thought of drinking "milk" while cruising through Disneyland, calm down. The Blue or Green Milk is a creamy, frozen drink that tastes refreshing and delicious. Blue has a tropical flavor and green has more of a citrusy zing to it. Both are dairy free and make with blend of rice and coconut milk, and are delicious.
Kat Saka's Kettle
Need a snack? Stop by Kat Saka's to pick up a bag of this sweet and spicy popcorn mix. Don't pick and choose, the magic happens when you enjoy the red and purple popcorn in the same bite.
Sorry all other Disneyland food...Star Wars is going to give you a run for your money!
But of course we got our Dole Whip! It might have been super late and we may have had the Enchanted Tiki Room all to ourselves, but we brought our Disneyland food experience full circle.
HAPPY EATING!