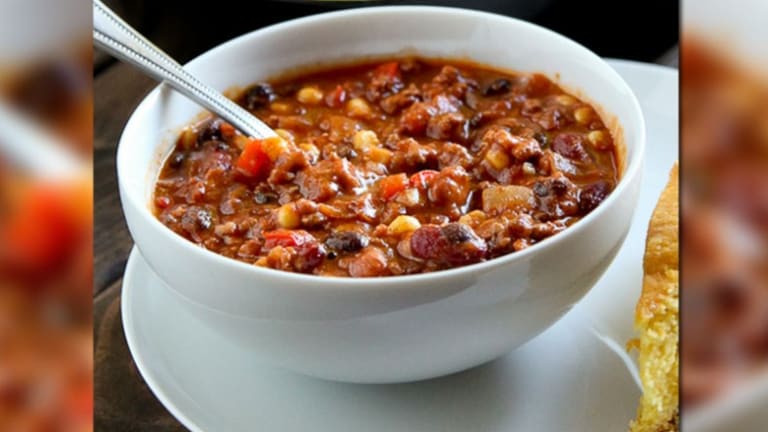 Walt Disney's Family Chili Recipe
Want to really get into the head of the original Magic Maker? Maybe it'll help to dig into a bowl of one of his favorite family dishes. This chili is just like what Walt himself ate, and now we can all make it and pretend we're as brilliant as he!
Walt Disney's Family Chili Recipe
Ingredients
2 lbs. coarse ground beef
2 onions, sliced
2 cloves garlic
1⁄2 cup oil
1 cup chopped celery
1 tsp. chili powder (depending on taste)
1 tsp. paprika
1 tsp. dry mustard
1 large can solid pack tomatoes
2 lbs. dry pink beans
Salt
For extra zest, add a pinch of the following spices:
1 little yellow Mexican chili pepper
Coriander seeds
Turmeric
Chili seeds
Cumin seeds
Fennel seeds
Cloves
Cinnamon
Dry ginger
Instructions
Soak beans overnight in cold water. Drain, add water to cover (2 inches over beans), and simmer with onions until tender (about 4 hours). Meanwhile, prepare sauce by browning meat and minced garlic in oil. Add remaining ingredients, and simmer for 1 hour. When beans are tender, add sauce to beans and simmer for ⁄hour. Serves 6 to 8.
The Mama's Guide to Soup
Soup! We all have our favorites. We all have our quick and easy soup recipes, our family favorites, the ones only you know about, and the side dishes that perfectly pair with that warm bowl yummy. Today's Mama wanted to share all of the soup recipes, tips, secrets, and hacks we've come to love and enjoy. The Mama's Guide to Soup is packed with recipes, tips, tricks, resources, and more! To learn more, check out our extensive guide to soups.
More on TodaysMama.com: