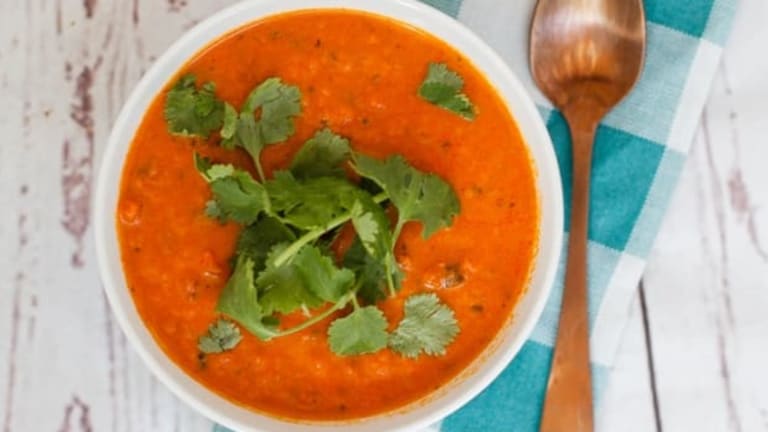 The Mama's Guide to Soups
Here's what every Mama needs to know about Soup! The Mama's Guide to Soup provides the best soup recipes, side dishes, soup tips, and more!
Why Is Soup So Popular?
Soups have been around for a really long time. Many scientists believe humans have been making soup for thousands of years. No wonder most soups always taste amazing. We've been working on recipes literally forever. One reason soup is popular is because we've been making soup for a long time. For the most part, soup is extremely popular because it is relatively cheap to make, relatively easy to make, and soups are one of the most nutritious meals for an individual. 
According to Taste Atlas, the most popular soups in the world are (in this order): 1) Ramen, 2) Pho, 3) Borscht, 4) Miso Soup, and 5) Laksa. For us though, we have a different take on our favorite soups. None of these popular soups are on this list, but we wanted to share our favorites we've come across over the years. We've learned these soup recipes from the web, from our friends, and more importantly from our families (so you know they're good). We have quick and easy recipes, the classics, soups for the fall and winter, soups to warm the soul, the best chilis, slow cooker styles, specialty soups, and the best sides for soups.
Quick and Easy Soup Recipes
One of the draws of making soup is they're easy. Measure and chop up the ingredients. Throw them in a pot and bam...you're got a delicious meal! On the flip side, some soup recipes require meticulously timed steps and unique ingredients that your local grocer probably doesn't carry. In this section, we wanted to focus on the recipes that are quick, easy, and taste good.
Easy Taco Soup Recipe
This easy taco soup recipe is a crowd-pleaser that only takes 30 minutes to get on the table. Plus it's packed with flavor healthy stuff you don't need to tell your kids about. Need to make dinner in 30 minutes flat? When I'm rushed for time, dinner has to be quick and still be a healthy meal. One of my family favorites is this Easy Taco Soup Recipe. Soup is a miracle dinner – one pot, throw it in, simmer… and viola!
>> Get The Easy Taco Soup Recipe Here <<
Busy Family Food: Soup Sundays
In a perfect world, every night would be an exercise in homemade culinary delight, but in the real world, we need a meal plan that gives options AND gives an opportunity to enjoy something truly wonderful at least once a week. Here are our favorite soup recipes that mean Soup Sunday at my house.
>> Get The Soup Sunday Recipes Here <<
Tomato Basil Parmesan Soup Recipe
We've created easy printable versions of the famous Tomato Basil Parmesan Soup recipe for your culinary convenience! We have two versions of this tasty recipe: one of the stove-top and one for the slow cooker! And...we have printable versions of each too! Enjoy!!
>> Get The Tomato Parmesan Soup Recipe Here <<
Mustgo Soup Recipe
This must go, that must go...Inevitably, we end up with things in the fridge that have to be used up or they'll go to waste. We hate wasting food! What better way to use the odd zucchini, yellow squash or bell pepper that's sitting in the bottom drawer on its last legs, right?
>> Get The Mustgo Soup Recipe Here <<
No Peek Stew Recipe
This recipe was a family favorite growing up for us when we were little. We would actually call it "no puke stew" instead of "no peek stew" because we thought it tasted great! It is such an easy beef stewish recipe and there were never leftovers because everyone ate it all. It's not your traditional beef stew recipe, but it still packs all that delicious beef stew flavor.
>> Get The No Peek Stew Recipe Here << 
Classic Soup Recipes
They're classics for a reason. Like a good book, you can feast on them over and over again and very rarely get bored with it. Creamy broccoli, chicken and dumplings, hearty vegetable soup, and an array of tomato soups...it's all here in our classic soups section.
Cream of Broccoli Soup Recipe
We heart broccoli. We even have a broccoli Christmas ornament! You might say broccoli fan-boys. If you're looking for a way to get your green on, this could be just the ticket. To view this healthy and amazing Cream of Broccoli Soup recipe, check it out below.
>> Get The Cream Of Broccoli Soup Recipe Here <<
Chicken and Dumplings Recipe
Some days just require comfort food. Insert chicken and dumplings. When we were visiting a friend in California, she made a great big pot of it or dinner. We fell in love right there. One of the best aspects of this soup recipe is the big, fluffy, light dumplings. We were lucky enough to score the secret to this dumpling magic and we share it all here in this chicken and dumplings soup recipe.
>> Get The Chicken and Dumplings Recipe Here <<
Hearty Vegetable Soup With Chicken Recipe
Give your family a full serving of veggies with this Hearty Vegetable Soup recipe. Potatoes, carrots, and mushrooms? Yes, please. Looking for a one-pot wonder for dinner? Hearty Vegetable Soup will fill up your family and utilize all the healthy veggies you have on hand.
>> Get The Hearty Vegetable Soup With Chicken Recipe Here <<
Roasted Tomato Soup and Grilled Cheese Croutons Recipe
A brilliant yet simple take on the classic tomato soup and grilled cheese combo! These sourdough grilled cheese croutons just might be the best thing ever created!
>> Get The Roasted Tomato Soup And Grilled Cheese Croutons Recipe Here <<
Classic Soups Galore!!
Could it be due to the fact that we have cold winters or the fact that we're getting older and always cold, or maybe it's just because we have finally found some good, wholesome, healthy, soups?! Who knows? But man we are loving them! These are some of our family favorites.
>> Get Our Soups Galore List Here! <<
5 Best Tomato Soup Recipes
Do you feel it? There's a bit of a chill in the air, and that calls for soup! We've got 5 of the best tomato soup recipes that you'll be happy to stick inside for! Tomato basil? Tomato parmesan croutons? Roasted tomato soup? Cream tomato soup? If you want to try them all, you'll be doing yourself a massive flavor favor!
>> Get The 5 Best Tomato Soup Recipes Here <<
Best Fall and Winter Soup Recipes
When the temperature falls, our interest in warm food rises and soups are typically right at the top of everyone's cold weather meals list. Cold weather and soup are perfect partners and we feature over ten incredible soup recipes made specifically for those colder weather times.
Soup Recipes For The Soul
A big chill has set in across the nation; lift your spirits and your internal temperature with hot and healthy soups. Simple, comforting and delicious, these soups offer contentment in every lovin' spoonful. We have collected 4 hot and healthy soups guaranteed to warm your tastebuds and satisfy your appetite.
>> Get The Soup Recipes For The Soul Here <<
Cozy Homemade Chicken Soup Recipe
Homemade Chicken Soup with thick noodles and tender carrots is just what your family needs to warm up on a cool, autumn evening. What's your favorite part of Homemade Chicken Soup? Soup is wonderful to have ready in the fridge for a quick and healthy family dinner or a cozy, at-home lunch. This recipe calls for thick, egg noodles you can typically find in your local grocery store's freezer section.
>> Get The Homemade Chicken Soup Recipe Here <<
Fall Chicken Orzo Soup
Have you ever bought a whole chicken from the grocery store or made one and then wondered, what am I going to do with the rest of this chicken? Well we have the perfect recipe for you! We were in this same predicament and found a delicious soup. We gobbled this healthy soup up in minutes! Easy to make and easy for the whole family to enjoy.
>> Get The Fall Chicken Orzo Soup Recipe Here <<
5 Fall Soup Recipes
We love autumn and the easy dinner option - Soup! These fall soup recipes can warm you up, make a complete meal and bring your family together for a cozy dinner. What's not to love about soup in the fall?!?
>> Get The 5 Fall Soup Recipes Here <<
Winter Soup Roundup
Wondering what to make for dinner when you're freezing from the inside out? Soup. LOTS of soup. Cheesy potato soup, baked potato soup, roasted corn, tomato cheddar...we have 8 inspirational winter soup recipes you'll want to throw on your soup radar this winter!
>> Get The Winter Soup Recipes Here <<
Three Warm Winter Soups
The bitter cold that a polar vortex is pushes into the United States each year is not just another winter storm. It's the frigid cold system that is becoming all too common. It breaks temperature records and feels like it breaks our bones when we are forced to go out in it. New York City's certified nutritionist, fitness trainer and exercise physiologist Franci Cohen shares these warm winter soups to help you through those arctic weather moments.
>> Get The Warm Winter Soup Recipes Here <<
Posts Of Note: Soup Especially For You!
When our soup Sunday schedule had become a bit boring, we thought it was time to mix it up. Here are a few soup recipes that we've had on our radar. Let's all try them together.
>> Get The Soup Recipe List Here <<
Best Chili Recipes
Since most chilis don't have broth or a some kind of stock, they aren't "technically" soup. But how could we feature a soup guide and NOT have chili as a main section of our list? Veggies, proteins, tomatoes, and spices...yeah...chili functions exactly like a soup. We've rounded up our favorite chili recipes. We have nearly a dozen wholesome chili recipes and we promoise to forgive you if you try them all ;)
Walt Disney's Family Chili Recipe
Want to really get into the head of the original Magic Maker? Maybe it'll help to dig into a bowl of one of his favorite family dishes. This chili recipe is just like what Walt himself ate, and now we can all make it and pretend we're as brilliant as he!
>> Get The Walt Disney Family Chili Recipe Here <<
Chicken Leek And White Bean Chili
That one time we bought some leeks and had in mind that we would make a soup of leeks with some chicken thrown in. What happened? We ended up with a delicious chicken leek and white bean chili that was filling yet light enough for Summer. This white bean chili recipe serves eight and is about 175 calories per serving. It's great for low carbers too because it has about 21 grams of carbs per serving. The best part is that it's super easy to make!
>> Get The Chicken Leek And White Bean Chili Recipe Here <<
Red Wine Chili From The Vine
It's time to pull out the big pot and make the first batch of chili for the season. There are undoubtedly a bazillion ways to make chili. If this chili recipe didn't include wine we would've ordered a pizza for dinner. Fall is finally setting in, and during that first day below 60 degrees, we pulled out the big pot and made our first batch of chili for the season.
>> Get The Red Wine Chili Recipe Here <<
8 Hearty Chili Recipes
Pick one of these eight chili recipes and you've just upgraded a baked potato to a meal or turned nachos into a gourmet appetizer. Bring on a hearty meal! When temperatures fall, we reach for the fleece pullovers and look up new chili recipes to warm up our insides. For an easy weeknight dinner, pair one of these chili recipes with a stack of baked potatoes for a gourmet potato bar meal. You can also make a batch to dress up nachos for a big football game. Using lean cuts of meat can also help you keep your new year's resolution to eat healthy.
>> Get The Hearty Chili Recipes Here <<
Slow Cooker Soup Recipes
The slow cooker is our best friend in the kitchen. It's the original set it and forget it appliance and very rarely does something come out of the crock pot that isn't amazing. Add soups to that list. Beef enchilada soup, tomato basil parmesan, baked potato soup, wheat chili...are you hungry yet?
Tomato Basil Parmesan Soup In The Slow Cooker
One of the most effective methods for delicious tomato basil parmesan soup is the slow cooker. We have the details here PLUS one incredible easy recipe hack to take your tomato basil soup to the next level of flavor. This is the most delicious soup ever! Whenever we make it we get tons of compliments. Serve alone or with grilled cheese sandwiches for an appetizing, comforting meal. Best of all, you can make this soup ahead of time and save it for a rainy day.
>> Get The Slow Cooker Tomato Basil Parmesan Soup Recipe Here <<
Slow Cooker Beef Enchilada Soup
You are going to love this easy slow cooker beef enchilada soup! It is as simple as stirring a few ingredients together in the slow cooker in the morning and enjoying a satisfying bowl of soup for dinner.
>> Get The Slow Cooker Beef Enchilada Soup Here <<
Slow Cooker Baked Potato Soup
We admit, we're kind of Pinterest recipe junkies. But here's our one Pinterest complaint. You see these amazing recipes that look DELISH when you pin them, and then you get all excited, make the recipe, serve it up for dinner and meh. Drives us nuts! We quickly pinned this recipe when a Facebook friend who actually works in the culinary industry posted that she was deleting pins when she didn't love the recipe and said that this was a keeper. Even better...you make it in the slow cooker.
>> Get The Slow Cooker Baked Potato Soup Recipe Here <<
Slow Cooker Wheat Chili
This slow cooker chili recipe is not a regular chili recipe because instead of normal kidney beans, uncooked wheat is utilized. There's not a lot of prep for this slow cooker recipe, but there's a lot of flavor. Hands down one of our favorite slow cooker recipes on the web!
>> Get The Slow Cooker Wheat Chili Recipe Here <<
Slow Cooker Chicken Lemon Orzo Soup
A simple, delicious soup with plenty of bites of pasta, chicken and a vibrant flavor of lemon in every bite! Even if you don't like lemons, don't shy away from this easy slow cooker chicken soup.
>> Get The Slow Cooker Chicken Lemon Orzo Soup Recipe Here << 
Slow Cooker Copycat Olive Garden Pasta E Fagioli Soup
We once again are calling on our friends over at 365 Days Of Crockpot to try out this slow cooker copycat Olive Garden soup recipe. They say it's a crowd favorite. Add breadsticks or homemade rolls to serve with this soup and you'll be a soup hero.
>> Get The Copycat Olive Garden Pasta Soup Recipe Here <<
Slow Cooker Chicken Corn Soup
In central Pennsylvania, they love their soups and one of the most popular that comes around every Fall is chicken corn soup. It's a very simple soup that is slightly sweet and salty. An Amish version calls for Rivels which is a small dumpling made with flour and milk. This version is simple and can be made anytime with a few ingredients and little effort thanks to the slow cooker!
>> Get The Chicken Corn Soup Recipe Here <<
Slow Cooker Meal Plan For An Entire Month!
No matter the season, slow cooker meals make life SO BLISSFULLY EASY! Make it easy on yourself and use your slow cooker. Better yet, use this slow cooker meal plan to schedule out a month of meals that are easy to make and help you get dinner on the table without adding extra stress to your life and schedule.
>> Get The Entire Meal Plan Here <<
Specialty Soup Recipes
Some of the best soups are the ones off the beaten path. And many times those specialty soups can only be found in your mother's recipe box. The specialty soup recipes featured here are just that. These are family-favorite recipes inherited from generation to generation so you know they need to be on your list for soups to try.
Okra Soup Recipe From The Kitchen of Kita Bryant
From the kitchen of Kita Bryant, comes a recipe close to her heart. This was one she inherited from here mother. Kita says,"Cooking this now for my family makes it feel as if my mom is always right there eating with us."
>> Get The Okra Soup Recipe Here <<
West African Peanut Soup Recipe
From the kitchen of Susan Silverman, This is a favorite dish at the Silverman home and blends their sons birth country with their own family traditions. If you want a taste of West Africa and want to excite your taste buds, give this specialty soup a try.
>> Get The West Africa Peanut Soup Recipe Here <<
Roasted Butternut Squash Soup
In celebration of all things orange, it's time for Butternut Squash Soup! Now that it's finally getting colder, we can bring out our stack of soup recipes. We love Butternut Squash Soup when it's sweet and has a little kick. This recipe originally called for 3 squash, but unless you're planning on feeding 40 people, a single gourd will do.
>> Get The Roasted Butternut Squash Soup Recipe Here <<
Chicken Bacon Corn Chowder Recipe
Maybe it is the chilly weather, but we have been making soups like it is going out of style! One recipe that we make is easily on the top 10 list of soups for our families. It is this Chicken Bacon Corn Chowder recipe. Sometimes, we just laugh because we make this at least once every other week. Yes...it is that delicious!
>> Get The Chicken Bacon Corn Chowder Recipe Here <<
Cheesy Vegetable Soup Recipe
From the kitchen of Shannan Martin, comes this easy cheesy vegetable soup which is a family favorite. Shannan loves to cook and bake and stresses the importance of eating together as a family most nights. This cheesy vegetable soup recipe leverage good, wholesome ingredients with virtually zero processed ingredients.
>> Get The Cheesy Vegetable Soup Recipe Here <<
The Best Soup Side Dishes
Often the neglected part of soup is the side dish. We didn't make that mistake. Grilled cheese sandwiches, rolls, salads and even roasted vegetables are perfect combos for the perfect soup recipe. Try any of these soup side dishes with any of the soup recipes above. You can thank us later ;)
Grilled Cheese Favorites
After looking at our Pinterest food boards, we decided it's time to round-up the old grilled cheese sandwich. They are our FAVORITES, and we can't get enough. Guacamole on grilled cheese? Tomato on a grilled cheese sandwich? Yes, please.
>> Get Our Grilled Cheese Favorites Here <<
Disney's Toy Story Land Grilled Cheese Recipe
This one is for the kids. Anytime Disney releases a recipe, we are there for it. Disney's at it again—creating magic for us all, even when we can't get to the Kingdom for the foreseeable future. This time the magic takes the form of the recipe for their mouthwatering grilled cheese sandwich found at Woody's Lunch Box in Toy Story Land.
>> Get The Disney Grilled Cheese Recipe Here <<
Potato Roll Recipe
From the kitchen of Raquel Lynn, comes this family favorite recipe she inherited from her mother. She says, "This recipe is for my mom's overnight potato rolls. She has been making these ever since I was a little girl. She brings them to every holiday dinner, and the whole family loves them. They are soft and delicious—no recipe can compare! I have fond memories of baking with my mom before a holiday and making these rolls along with other desserts and dishes. They are memories I'll always cherish."
>> Get The Potato Roll Recipe Here <<
Homemade Rolls Recipe
We often wonder: Why homemade rolls? Typically we think homemade rolls are easily substituted for store-bought brands. We ask "why bake if you have a great local bakery? Store bought will do just fine!" We think we will save time buying rolls. When push comes to shove, a meal goes on without homemade rolls, but if you're missing the main dish, it may be time to hide. So why homemade rolls? A meal that is well timed with all the sides and entree coming to the table simultaneously AND a pan of rolls just coming out of the oven is worthy of an Oscar.
>> Get The Homemade Rolls Recipe Here <<
Pull-Apart Rolls Round-Up Recipes
You're going to want to put that Atkins diet or low carb diet on the shelf for a little bit because we have an amazing list of pull-apart rolls recipes. One evening, we were playing around on Pinterest and started to making a list of pull-aparts we wanted to test out. Here's what we found…
>> Get The Pull-Apart Rolls Recipe Here << 
Spinach Salad Recipe
Soup and salad. There's a reason these two are frequently paired together. They make tasty and nutritious meal together. Here's one spinach salad recipe that is perfect in the winter and perfect with soup. Sometimes we call it the "P" salad. Can you guess why?
>> Get The Spinach Salad Recipe Here <<
Easy Southwestern Salad
Need an easy-to-make salad that's full of flavor and ready for a glamour shot? Try this take on the traditional cobb salad, Mexican Cobb Salad. We added a side of Blackened Chicken to make this a meal for our Today's Mama staff meeting. You could also make individual servings for your next family dinner.
>> Get The Easy Southwestern Salad Recipe Here <<
House Salad With Lemon Dressing
The perfect summer salad that goes with so many soup recipes. This salad recipe has become one of our favorite go to salads of summer. It is quick and easy to put together and the light lemon dressing makes it oh so lovely and healthy. It's not a protein-heavy or carb-heavy salad, so you feel great after eating it.
>> Get The House Salad With Lemon Dressing Recipe Here <<
Easy Roasted Vegetables Recipe
Looking for an easy way to make a boring dinner seem gourmet? Looking for a nutritious way to liven up a soup dish? Try adding roasted vegetables. Super easy and healthy too! One of our favorite side dishes for nearly any meal is roasted vegetables. Our boring dinners and soups feels gourmet in seconds plus we can always use an extra serving of healthy vegetables in our day.
>> Get The Roasted Vegetables Recipe Here <<
Roasted Broccoli Recipe
Many wouldn't consider broccoli as a side dish for soup. But pair this recipe with one of our cheesy soup recipes and you have a flavorful duo. In what is probably one of the easiest roasted vegetable recipes, this one has a unique addition you add at the end which makes that delicious vegetable flavor of broccoli pop! Check it out!
>> Get The Roasted Broccoli Recipe Here <<
Roasted Maple Dijon Brussel Sprouts
If you think you don't like Brussel Sprouts we strongly urge you to try this recipe. We started making this recipe about a year ago when we were trying to get the family to expand their vegetable taste buds. Brussel Sprouts have always been the dreaded vegetable in many homes throughout the years but we always tell our children if they don't like the taste of something try it in a new way and they may be surprised. We're sure you'll be surprised by this recipe too ;)
>> Get The Roasted Maple Dijon Brussel Sprouts Recipe Here <<