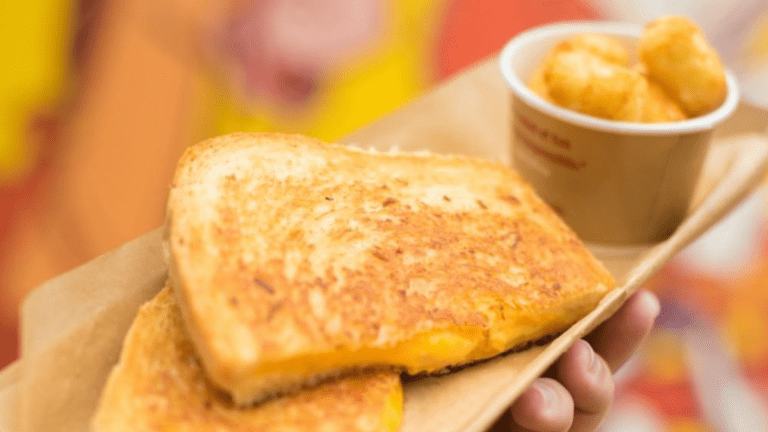 Disney's Toy Story Land Grilled Cheese Recipe
Disney's at it again—creating magic for us all, even when we can't get to the Kingdom for the foreseeable future.
This time the magic takes the form of the recipe for their mouthwatering grilled cheese sandwich found at Woody's Lunch Box in Toy Story Land.
Woody's Lunch Box Grilled Three-Cheese Sandwich Recipe
Makes 4 sandwiches
Cream Cheese Spread
½ cup cream cheese
½ cup shredded Double Gloucester or cheddar cheese
2 T heavy cream
¼ tsp coarse salt
· Combine cream cheese, Double Gloucester or cheddar, heavy cream, and salt in food processor. Blend until smooth. Set aside.
Garlic Spread
1 cup mayonnaise
1 ½ tsp minced garlic
½ tsp coarse salt
· Combine mayonnaise, garlic, and salt in small bowl and stir until blended. Set aside.
Grilled Three-Cheese Sandwich
8 slices artisan bread
8 slices cheddar cheese
8 slices provolone cheese
· Lay out artisan bread slices on parchment paper or large cutting board.
· Places 2 slices of cheddar on each 4 of bread slices. Place 2 slices of provolone on each of the remaining 4 bread slices.
· Equally spoon cream cheese spread on slices with provolone and gently smooth out the spread.
· Press cheddar side and provolone side together.
· Heat a large skillet over medium heat for 5 minutes, until hot.
· Brush both sides of the sandwiches with garlic spread.
· Grill sandwiches for 2 minutes on each side, until cheese is melted through and bread is golden brown.
The Mama's Guide to Soup
Soup! We all have our favorites. We all have our quick and easy soup recipes, our family favorites, the ones only you know about, and the side dishes that perfectly pair with that warm bowl yummy. Today's Mama wanted to share all of the soup recipes, tips, secrets, and hacks we've come to love and enjoy. The Mama's Guide to Soup is packed with recipes, tips, tricks, resources, and more! To learn more, check out our extensive guide to soups.
More on TodaysMama.com:
17 Reasons to Go to Disneyland with Your Grown-Up Friends