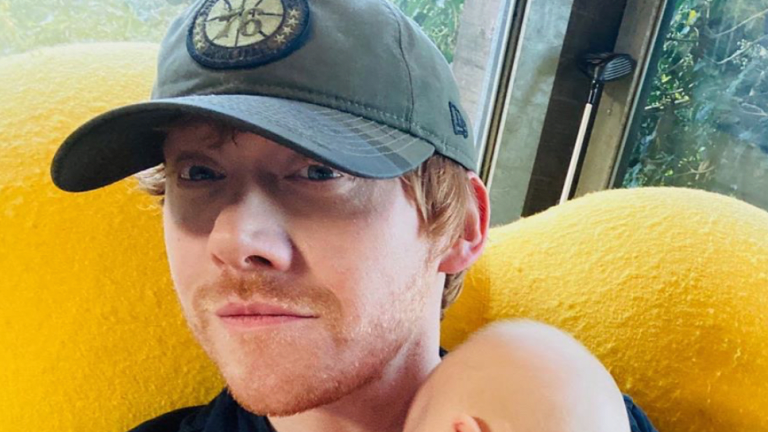 Rupert Grint Shares First Pic of Daughter on Instagram
Hey there, baby Wednesday!
With very little Harry Potter news to power our broomsticks these days, we're over the Lupin-loving moon to hear news of Rupert Grint's new baby girl.
He may be ten years late to the Instagram party but he's coming in hot with the news we all simultaneously NEED and CAN'T believe is true.
I mean, how is it possible that our very own tiny Ron Weasley has now helped create another human??
I'm not sure, but thankfully the 32-year-old actor seems to be handling it better than he did the Mandrakes back at Hogwarts.
Rupert and his girlfriend, Georgia Groome, welcomed their baby girl in May but have been extremely private about their sweet bundle of magical joy.
But FINALLY, we get a tiny peek into their lives as the actor took to Instagram for the first time ever with a pic of him snuggling his daughter, whom they named Wednesday G. Grint.
And I know we can't see her face back there (here's to famous parents protecting their littles' privacy!) but I can't help but wonder what her expression will be when she finds out she's a Weasley.
What I do know is that I'm here for Rupert's new Insta account, much like some other Weasley fans I know...
Looking for more Harry Potter goodness? Try these on TodaysMama.com:
This New Harry Potter Dance Routine Will Make Your Magic Eye Swivel
Harry Potter Fans Recreate Theme Song With a Washing Machine
The Ultimate Harry Potter Vacation Rental Is Nothing Short of Magical