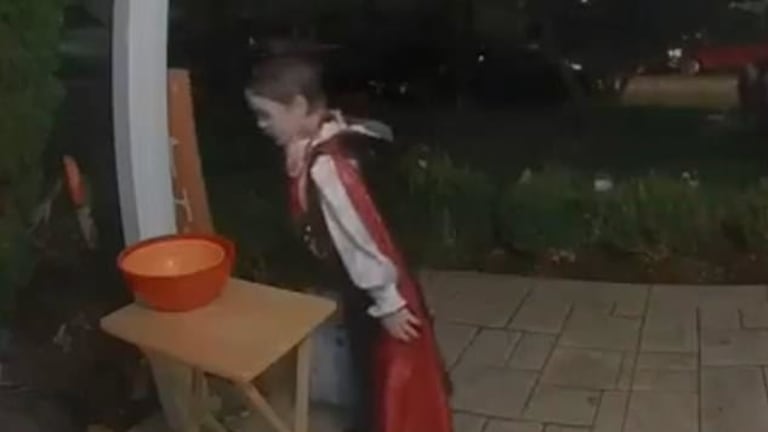 Watch What Happens When Young Dracula Discovers an Empty Candy Bowl on Halloween
Kids these days!
No candy? No problem.
No tricks here—just this adorable little treat! Watch this Young Dracula (LOVE his costume, btw) discover an empty candy bowl and fill it right back up.
One of the cutest things I've ever seen. My Halloween heart just grew 5 sizes!
Listen, I've left bowls full of candy on my porch while I've got out trick-or-treating with my kids and I've never returned to find any candy left. I'm positive there are kids who've taken fistfuls. There's got to be a kid or two over the years who's seen the opportunity to dump the whole bowl in their bag.
It's cool, it's the price I'm willing to pay to hit the streets with my own kids on Halloween.
But this little video totally warms my heart! When previous kids made have grabbed and dashed, this sweet Young Dracula *selectively* grabs some candy from his own stash to share with other kids. Someone raised him right!
(And if I'm being totally honest, this also inspires me to get myself a doorbell/porch cam. Think of all the brilliant Halloween moments captured right there on your porch! A little creepy to stalk your trick or treaters? Nah, it's Halloween!)
What can you hand out instead of candy?
Interested in a few options of what to hand out instead of candy this Halloween? Kids don't have to come across an empty candy bowl if you fill it up with some of these fun goodies instead!
Non-Candy Halloween Snacks
Try fruit leather, veggie chips, crackers, yogurt pretzels, or even apple cider or hot cocoa packets. The kids are still getting a goodie for trick-or-treating but maybe it won't send them straight to the dentist...
Non-Candy Halloween Toys
The list of non-candy Halloween treats endless but here are a few suggestions: Halloween theme pencils and erasers, bouncy balls, glow sticks, vampire teeth, spider rings, play dough, keychains, bubbles, small activity pads, and stickers!
What can I do instead of trick or treating?
Hey, getting all dressed up and trick-or-treating may not be for everyone! But there are plenty of options for fun, family-friendly Halloween activities.
How about a glow-in-the-dark dance party?
Or a spooky movie marathon with homemade treats!
What about making your own (tame or not-so-tame haunted house and having kids search for a bag of their favorite candy indoors? You could even do it like a glow in the dark Easter egg hunt.
Our personal favorite? A full-on family Halloween party, complete with bobbing for apples, donuts-on-a-string, and "fishing" for little toys and treats.
How can you make Halloween more fun?
Still searching for more Halloween fun? Try having a costume building competition! Or make a Halloween maze in your own yard. What about a Halloween-themed murder mystery dinner? You could always carve or paint pumpkins together, too!
Halloween is an absolute treasure trove for holiday fun!
Happy Halloween!
The Mama's Guide to Halloween
Halloween can be busy. Halloween can be fun. Halloween can be extremely stressful. The costumes, the decorations, crafts, activities, school parties, trick or treating, kids safety, food, recipes,...we get it. You're most likely feeling overwhelmed with this spooky holiday. We've been there before too. Halloween is meant to be fun for everyone, not wear you down with all the minutiae of the holiday festivities! We're here to help! Here's what every Mama needs to know about Halloween. The Mama's Guide to Halloween provides Halloween tips, tricks, resources, recipes, activities, costume ideas, and more!