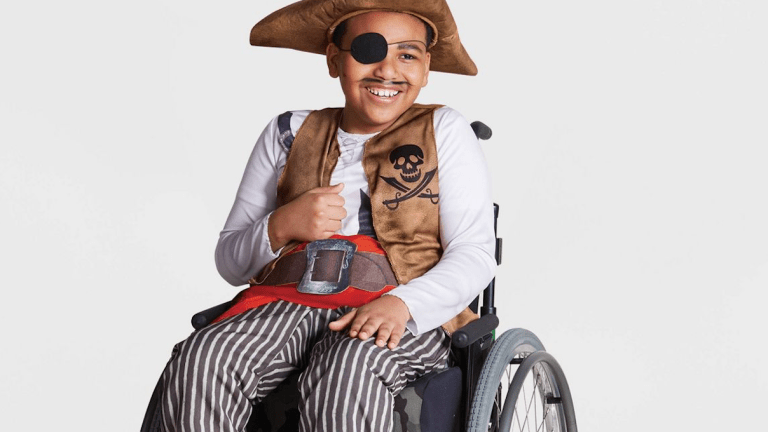 Target is Releasing Adaptive Line of Kids' Halloween Costumes
As if we needed any more reason to shop there!
I'm not sure you're a real human in today's world if you don't at least love walking the aisles of Target, especially come Halloween time.
The costumes are always widely varied and they always have the cutest selection. But now, things are getting even better because the 2019 Hyde and Eek! Boutique collection will include adaptive costumes for kids with extra sensitivities or who are in wheelchairs.
Win-freaking-win.
So far there are only 4 choices, but that goes beyond what we've seen anywhere else, EVER.
Kids can choose from shark or unicorn costumes, both made to accommodate extra sensitivities. Both outfits have been designed with extra care and versatility.
"This kids adaptive Halloween costume is thoughtfully designed with the utmost comfort in mind — it features an allover plush construction for a soft and cozy feel, and it has flat seams with no tags for a sensory-friendly design they'll love. The hood, tail and wings can remain attached to the costume for authentic unicorn flair, but to accommodate kids with sensitivities, all three pieces can be removed for added comfort — they'll remain sporting a simply enchanting look either way! There's even a hidden opening in the front pocket for convenient abdominal access, making this a costume both you and your kiddo will love."
But it doesn't end there. Hyde and Eek! Boutique is also offering two outfit sets specifically designed to incorporate a child's wheelchair into the costume to make it even more magical.
Kids can rock the trick-or-treating block as either a pirate or princess, with wheelchair attachments designed to make the look truly come alive.
"Shiver me timbers! He'll be all set to conquer the seven seas searching for buried treasure when he wears the Adaptive Pirate Halloween Costume from Hyde and Eek! Boutique™. This boys' pirate costume is thoughtfully designed with openings in the back that lend ease of dressing, along with leg openings that are wide enough to put the pants on while keeping shoes on — perfect for giving kids who use wheelchairs an extra hand and a sense of comfort. The fun detailing, complete with stripes on the pants and a Jolly Roger on the vest, adds to the authentic look, and he'll love topping things off with a hat and eye patch for an arr-some costume he can sport with his shipmates."
I love that companies are thinking more and more this way and providing opportunities for kids who sometimes get left out of the fun because of their differences.
Here's to an awesome Halloween for everyone!