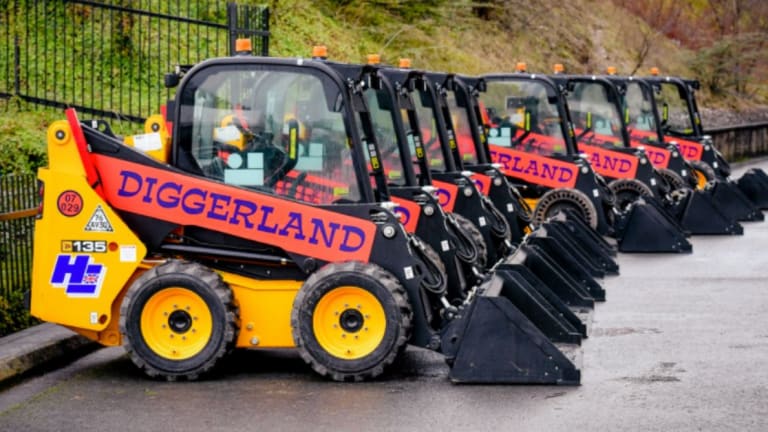 You Can Let Your Kids Operate Real Construction Vehicles at this Amusement Park and I Want In!
Welcome to Diggerland USA where you can let your kids safely operate construction equipment!
The best thing in the world happened to us when my 2nd child was born. There was new construction across the street from us. Some of you might think this could be torture with a newborn baby. But with a 20-month-old little boy as my sidekick, it was hours of happy entertainment. He would park his little self next to the front window for hours watching the "diggers" work as I cared for his newborn little sister.
Now if only there were a place for little kids who love trucks and diggers to go and experience them in real life . . . oh wait . . . there is such a place! Welcome to Diggerland USA where you can let your kids safely operate diesel-powered, full-size pieces of construction equipment. 
You'll need to journey to West Berlin, New Jersey but once you're there you have arrived in construction vehicle heaven! Diggerland USA is home to 40+ attractions all focused on, you guessed it, construction equipment!
Your little ones have never been happier (and maybe you too). 
Diggerland Rides and Attractions
You can check out all of the attractions HERE.  A quick sampling of what you'll find at Diggerland:
Backhoe Adventure
Barrel Train
Battle Trucks
Big Diggers
Bumper Cars
Dig-Around (like a merry go round with backhoe bucket)
Dumper Trucks
Elevation Station 
Excavator Express
Farm Tractors
Greased Beast (a big demolition trailer)
Micro Diggers
Skid Steers
Off-Road Vehicles
The Spin Dizzy
The World's Fastest Backhoe
The Tractor Pull
And more! 
Diggerland USA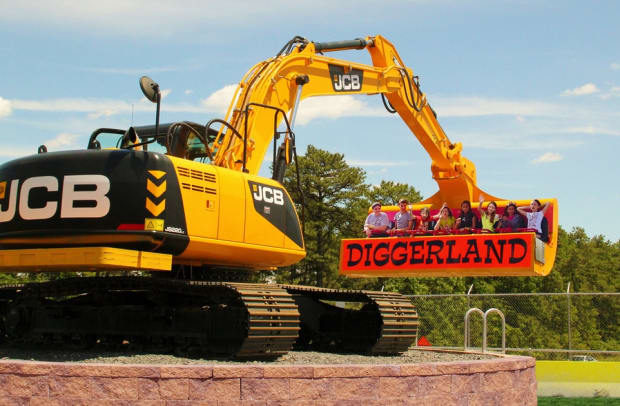 Your little one has got to be at least 36 inches tall for most of the rides. They'll be able to safely operate some of the equipment all on their own and other pieces with just a little help from a grown-up
"Guests who visit Diggerland can drive full size backhoes, dig giant holes with real excavators, and operate just about every sort of construction machine you might imagine – from the skid-steers to the recently unveiled ARGOs, made famous by their amphibious qualities."

- Diggerland USA
New for 2020 at Diggerland: The Water Main
What else could you possibly need? A water park to go with it. The "Water Main" is a construction themed water park and it's the perfect place for your little construction workers to cool off from a hard day's work. 
Digger River & Vortex
Bulldozer Bay
Digger River
Jackhammer Bay
Slide Tower
Wibit-Brand Challenge Course
In-Pool Basketball Area
Themed Splash Park
Fun Family Splash Activities
Family and Leisure Swim Zones
Cafe with Food, Snacks & Beverages
Cabanas for Rent
Diggerland For Grown Ups
In case you were feeling left out parents . . . there is a Diggerland XL!  Mom and Dad, you too can operate heavy machinery on your very own! Whether it's team-building exercises or just for the pure joy of digging and demolishing. 
Operate unrestricted, full-size construction equipment at Diggerland with one on one instruction from our heavy machinery instructor. Packages offer several durations, three machines, group experiences, bachelor or bachelorette parties, corporate team-building exercises and can even include a car crush! 

You'll be guided through your adventure via radio communication. Unleash the full power of these excavators, loaders and dozers! Diggerland XL is awesome – it's also only for adults, 18+.

- DiggerlandUSA.com
Would Your Kids Dig This? 
We'd love if we had a bulldozer theme park in our neck of the woods! Would you kids "dig" this? 
If not, what kind of theme park would your kids love?