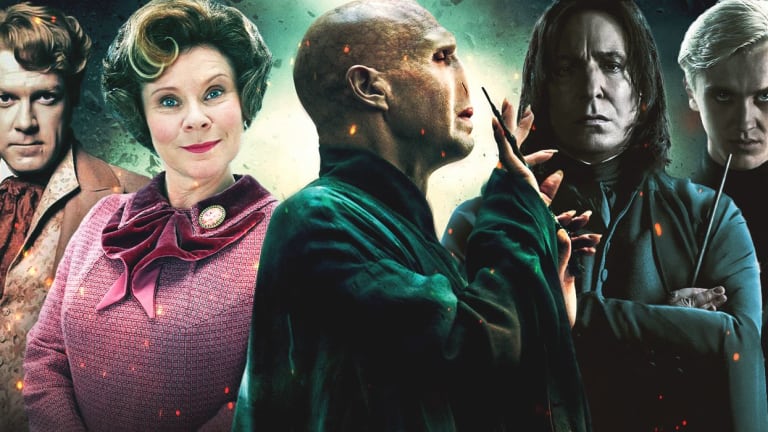 You Won't Believe These Magical(ly Evil) Harry Potter Baby Names
We get naming your baby Harry, Hermione, Ron—even Sirius is a baby name we can get behind. What we can't believe is that people are naming their children after these straight up corrupt Harry Potter characters.
Naming your baby is one of the exciting things about creating new life. I mean, is there a greater power than giving someone the name they'll be forced to go by for the rest of their days?
Well, yes. But naming another human is still a pretty big deal.
Many people name their sweet bundles of joy after beloved grandparents, dear family friends, and heroic historical figures. They want to give a name that means something like full of might or blessed by God or pointed nose (sorry to all those named Suri out there…).
And you all know the flip side of the coin, too—you must at all costs avoid naming your child after your middle school bully, the neighborhood spoiled brat, and every overly-flirtatious coworker your husband has ever had so as not to visibly cringe every time you speak your offspring's name.
So what's with these crazy parents who are naming their kids after the magical world's most evil characters?? I mean, did they even watch the movies (Merlin knows they can't have read the books) before putting their tiny babies in league with the likes of Lucius Malfoy?
I know, I know. Technically the name Lucius means light, but anyone who's been alive for the last 20 years knows better than to bring such darkness into their child's life by legally naming them that. Except for the 2,647 lunatics across the US and Britain who belong in Azkaban right alongside Mr. Malfoy himself apparently.
But those aren't the only parents who admit to naming their children after popular tv and movie villains. Draco (661), Bellatrix (227), Severus (108), and Narcissa (32) have all inspired a host of children to be named after questionably-moral Harry Potter characters—though we real HP fans know the true character of most those redeemable "baddies."
The people we can't make excuses for? Those who named their poor, sweet daughters Dolores—yes, after that demonic child-abusing maniac introduced to us in Harry Potter and the Order of the Phoenix. A whopping 1,238 girls in the US and Britain are now carrying the weight of pure evil on their shoulders for the rest of their lives. Unless they're smart enough to legally change it to something much more appealing, like say, Ginny or Luna, perhaps.
Listen, we get that we're not in charge of telling you what to name your children, but you don't have to be an expert to know exactly what not to when staring your newborn in the eyes and promising to love and care for them forever. And when it comes to naming them after Harry Potter villains—that sure doesn't sound like love to us.
More on TodaysMama:
New Harry Potter Dance Routine
Harry Potter Fans Recreate Theme Song