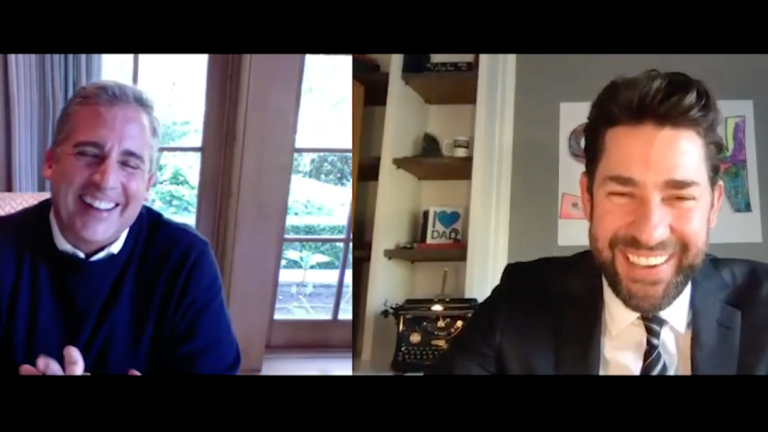 John Krasinski Brings Us Some Good News We All Need Right Now
We all need something positive amidst the madness that is 2020. And John is bringing it.
As we all hunker down in quarantine for week 3, many of us notably NOT starving despite the local grocery store shelves being empty for a month—we find that what we're really starving for is some good freaking news.
I long for the days when someone will again say to me the once-tired phrase, "What's up?" rather than the constant sea of "How's quarantine?" and "Got corona yet?" we're all presently drowning in. I want to get on Facebook, Instagram, YouTube, ANYTHING and not be bombarded by the endless messages of despair. I want to just freaking hear something positive amidst the madness.
And I'm certainly not alone.
For one, John Krasinski agrees with me. (Great minds thinking alike and all that.) And apparently so does the rest of humanity because having just posted his first episode of Some Good News via YouTube 18 hours ago, it's already the number one trending video out there with over 2.7M views.
In front of a logo backdrop adorably painted by his daughters, JK announces that he too has been longing for some good news and took to Twitter to find it.
And find it he did.
From cheering on healthcare workers to a MUCH-needed reunion (albeit via Zoom—thanks Nancy!) between him and Steve Carrell, John fills us all with hope and a little distraction from the craziness that is 2020.
As Office fans celebrated the show's 15 anniversary this week, we all got the fix we've been dying for as John and Steve banter in true Jim/Michael fashion about the show and some of their all-time favorite moments. Plus, John interviews an adorable and ultra-courageous 15-year-old girl who just finished chemo and has a message for all of us amid #corona2020.
Ultimately, the world is what it is at the moment, but when awesome people find it in them to spread the good they find, we can all find it a little easier see that goodness and spread a little more of our own.
Thanks, John—and keep Some Good News coming!