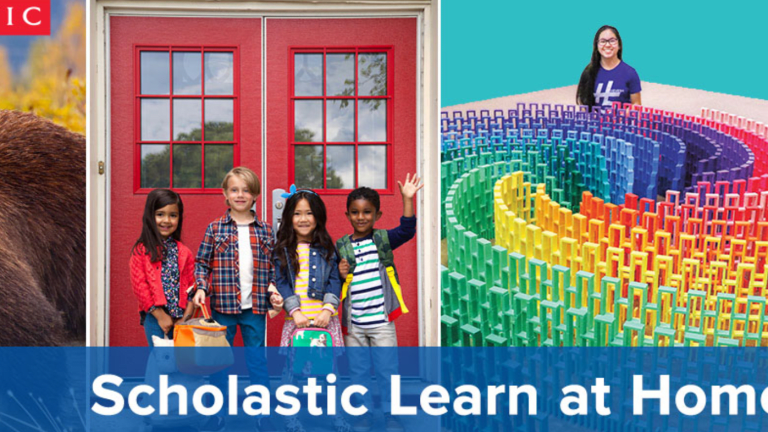 The Coolest Online Classes Your Kids Can Take During Quarantine!
The house may be feeling small, but the world of virtual learning is HUGE right now.
Once upon a time, we all thought it was awesome when school got canceled...
But when it's for weeks at a time with no end in sight, it may feel a little daunting. And honestly at this stage, we never know when crap is going to hit the virtual fan for good.
So, we've prepared a little Virtual Learning Basics here so that we can all feel a bit more prepared to do this online learning thing together. Plus, incredible people from every conceivable realm of the workforce have been putting together truly awesome resources for our kids so that they'll learn something more than just Yardwork 101 during all this craziness—though, hey, we're definitely here for that class, too.
How do I prepare my child for online classes?
Listen, for most of us, this world of online learning for kids is brand new. We were feeling a little shaky at first, too! But by implementing a few tried and true tips and tricks (borrowed from our now-solid WFH lives), we're certain you AND your kids are going to rock this online classes during quarantine thing.
Have them help create a designated "school" space. Whether that's a corner of individual bedrooms, a redesigned part of the playroom, or at the kitchen island, make sure the kids know exactly where they should be each day for school. And make it theirs! Let the kids help customize their space so it's inviting and comfortable but still structured enough that they know it's business time when the proverbial school bell rings.
Help them reduce distractions. It's important for kids to be able to zone in on schoolwork and not have to worry about a loud television or mom on her own Zoom call every afternoon. Online learning is distracting enough as it is! Try to limit devices (other than the one they're using at the moment). Consider extra tricks like noise canceling headphones so houses with multiple kids and working parents can still get schoolwork and online classes accomplished effectively.
Work with them to create a kid-friendly schedule. This will likely include some color-coding or another effective method for kids to easily decipher where they need to be and when. But it also means scheduling in plenty of body and brain breaks since we know the effect screen time can have on kids and adults alike. Make plenty of time for moving bodies and resting eyes in between classes and homework!
Get excited together. Hey, it may not be what we all expected our lives to look like, but adaptability, resilience, and dealing with failure are some of the greatest things we can be teaching our kids right now. Celebrate that you get to spend more time together, that you might have a little more flexibility now, and get excited about conquering something new!
How can I motivate my child for online learning?
Getting prepared is the first step, but how do you keep your kids motivated for online learning? Here are some of the best ways to support online learning for our kids:
Cheer them on. This is new, but that doesn't mean it's bad! It just takes some getting used to, and our kids need our encouragement when they encounter the unknown. Make sure they know you recognize and appreciate their efforts daily.
Teach them to motivate themselves. Easier said than done, right? Well, stick with me here. What I mean is, teach them about intrinsic value and motivation. Kids will soon learn that being proud of their own efforts is far more valuable than a couple of bucks for scraping out an A in History.
Reward them. There's no need to lavishly shower them with gifts but a little reward now and then never hurt anyone. But use things like a new hiking trail, plenty of friend time, and other personal favorites like family game or movie nights to sweeten the study pot.
Make it fun. No one wants to trudge through something they're dreading every single day. Whether fun includes dress up days, themed classes, or dance party breaks between Zooms, make school something to look forward to for everyone!
How can I teach my child at home?
If you're one of the brave souls actually spearheading your child's homeschool journey, good news! Many of the same rules as mentioned above apply to you. It's important for homeschoolers to still have some semblance of structure, as few distractions as possible, and plenty of enthusiasm from their new parent+teacher.
There are plenty of ways to school, and even UNschool your kids, but it's a good idea to have some sort of curriculum to follow along with. But the beauty of full on homeschool is that you have a lot of freedom to supplement the basics with lots of alternative options, especially when it comes to virtual learning.
Check out these awesome online classes and other valuable learning activities for your kids below!
SCIENCE & MATH
Imagineering in a Box
Imagineering in a Box is designed to pull back the curtain to show you how artists, designers and engineers work together to create theme parks. Go behind the scenes with Disney Imagineers and complete project-based exercises to design a theme park of your very own.
>> Access Imagineering in a Box <<
Virtual Marine Biology Camp
Upcoming broadcasts include a conversation with an Oceans Initiative scientist who's studying the region's struggling orcas. They've scheduled a shark expert to join them next week. They're planning to talk to a wildlife photographer colleague who uses images to find unique, identifying features on marine life in order to count and track individuals.
>> Access Virtual Marine Biology Camp <<
Kennedy Space Center
"We are giving lessons on rocketry, from the Saturn 5 center. We're teaching people how to make rockets at home from recycled materials that are probably lying around the house." Parents also have online access to activity sheets and experiments, making spare time educational but fun. The sessions will take place Monday, Wednesday and Friday at 9:30 a.m. ET for young kids. For older children, including those in high school, there will be programming starting at 1 p.m.
>> Access Kennedy Space Center <<
NatGeo Kids
A veritable catch-all for learning about the earth and all its inhabitants, National Geographic Kids is great for quick lessons with littles or more in-depth research for middle-schoolers.
>> Access NatGeo Kids <<
SkypeAScientist
Talk with a real scientist about whatever you're interested in! This is one of the coolest resources out there and can be a great activity for the entire family to learn something new together.
>> Access SkypeAScientist <<
ST Math
ST Math is a PreK-8 visual instructional program that leverages the brain's innate spatial-temporal reasoning ability to solve mathematical problems. ST Math's unique, patented approach provides students with equitable access to learning through challenging puzzles, non-routine problem solving, and informative feedback.
>> Access ST Math <<
LANGUAGE & ART
The Globe Theatre
Globe Player has paid-for recordings of many of the theatre's Shakespeare adaptations spanning more than 10 years, including Twelfth Night, Merchant of Venice, and Romeo and Juliet.
>> Access The Globe Theatre <<
Story Pirates
Their video library features standards-aligned writing curriculum and livestream classes, all hosted by expert teachers. Story Pirates will lead students through a collaborative writing exercise, which students can then use as a model for their own writing along with tools they provide.
>> Access Story Pirates Here <<
Duolingo
Learn essentially any new language for free with Duolingo. It's fun and effective, and can be done in bite-sized lessons, easy enough for toddlers to follow along with.
>> Access Duolingo <<
Photography and Photoshop
Karen Alsop, former teacher and photography+Photoshop expert is offering six months of free access to her incredible educational videos so students can learn the creative powers of both mediums.
>> Sign up at StoryArt <<
Pay It Forward Concert Series
Okay, so it's not technically a class, but you'll be exposed to some great music a couple times a week for a great cause. The series starts off with Dave Matthews and there will be plenty more stars to follow.
>> Watch the series on Twitter or Yahoo <<
PHYS ED
P.E. with Joe
Joe Wicks, famous as The Body Coach, has said he will become 'the nation's P.E. teacher' by giving daily online P.E. classes for kids! He will be holding kids' workout classes on YouTube, and he will be doing them every weekday at 9am during the school closures. The workouts are designed to be kid friendly, will last half an hour, and won't need much space so they can be done indoors if you're self-isolating.
>> Access P.E. with Joe <<
Cosmic Kids Yoga
The Cosmic Kids Yoga YouTube channel focuses on yoga, mindfulness and relaxation—designed specially for kids aged 3+. They work to make your kids stronger, calmer, and wiser...can I get an amen!?
>> Access Cosmic Kids Yoga <<
GEOGRAPHY & SOCIAL STUDIES
Virtual Field Trips
Thanks to WeAreTeachers.com, field trips are no longer out of the question! Thanks to technology, it's now possible for kids to visit all kinds of places from the comfort of their home. They've compiled a list of the best virtual field trips for you from volcanoes around the world to Ellis Island to the Louvre, so enjoy your "visit"!
>> Access WeAreTeachers.com Field Trips <<
American History
NewAmericanHistory.org has intuitive tools and resources that are free and available to all, intended to uncover new ways to teach the past in light of the present. You can refine topics by grade level, learning strategies and more.
>> Access NewAmericanHistory.org Here <<
HOME EC & LIFE SKILLS
Quarantine Cooking
Chef Joe Baker has started a Facebook Live series called "Quarantine Cooking with Joe the Baker" that features his son, Blais, who will be turning 6 in a few weeks and enjoys wearing a fun costume while he helps cook. Each video includes kid-friendly recipes that are also useful for families struggling to find foods and ingredients that are in high demand right now.
>> Access Quarantine Cooking With Joe the Baker <<
Rebel Girls Guides to Life Skills
Covering everything from how to plant a garden to how to climb a mountain (plus tons of lessons on art and even programming and business plan writing!), Rebel Girls will email you PDF guides for these "classes".
>> Access Rebel Girls Here <<
Typing Class
TypeTastic is offering their free typing skills class (ad-free!) for a while during quarantine, too. There are several games and practice activities to keep the kids learning in a fun way!
>> Access TypeTastic Here <<
Harry Potter Themed Escape Room
Okay, while it's not technically a class, it does teach problem solving and teamwork—plus, it's just awesome. Make sure to try it out during quarantine because once the crisis is over, the fun digital escape room will be taken down forever!
>> Access the HP Escape Room Here <<
OTHER RESOURCES
Outschool
When in doubt, Outschool offers over 10,000 online classes ranging in topic from chickens to Chinese, and from Aesop to animation.
>> Access Outschool <<
Education.com Free Resources
Education.com houses tons of resources for all ages of learners, but is especially full of quick visual lessons in simple math and grammar, along with easy, printable worksheets.
>> Access Education.com Free Resources <<
Scholastic
Scholastic is offering day-by-day projects to keep kids reading, thinking, and growing during this odd time out of the classroom and it's easily organized by age and subject.
>> Access Scholastic's Learn At Home Resources <<
Beanstalk
Interactive and on-demand classes for kids ages 1.5-6 can be found on topics ranging from how ooblek works to how love works!
>> Access Beanstalk.co Here <<
Complexly
Complexly creates and hosts tons of educational videos on every topic you can imagine and is great for kids of all ages. You'll never run out of these short, informative vids.
>> Access Complexly Here <<
Circle Time
Offering everything from yoga to cooking with your 0-6 year old on Circle Time. Plus, they have story time and color play classes!
>> Access Circle Time Here <<
TinkerGarten
More interested in outdoor, play-based learning for your pre-k kids? TinkerGarten is a great option that provides a huge array of activities that will keep the kiddos happily learning outside (with you!).
>> Access TinkerGarten Here <<
Masterclass
Great for your teenagers (and parents)!
Watch hundreds of lessons from the best as they share their stories, skills, shortcuts, failures, and successes.
It's $15 a month (and so worth it).