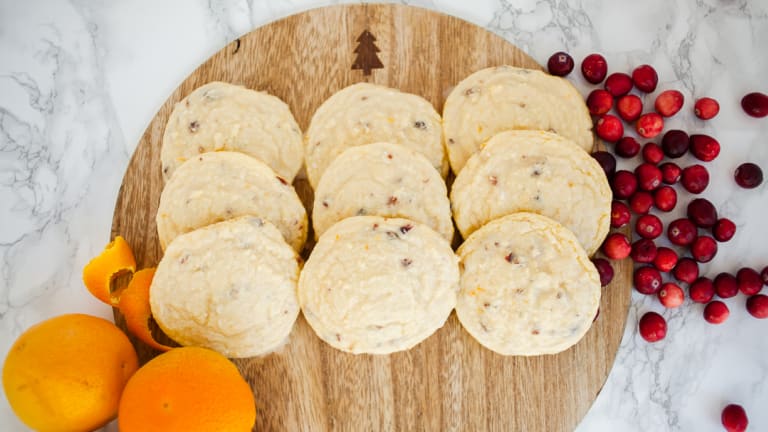 Cranberry Orange Cake Mix Cookies
Craving a cookie, but want something with a little sweet zing? We got you.
Looking for a cookie that is sweet, tart, and will look like you spent WAY more time in the kitchen than you actually did? Our Cranberry Orange Cake Mix Cookies are easy enough to be an everyday cookie, and fancy enough for your next party.
Back in the day, "the day" being when I had the sort of financial flexibility to roll through the Starbucks drive through any old time the urge struck me, my favorite pastry to accompany my morning coffee was a cranberry orange scone.
Have you had one? The were so yummy—citrusy orange, the zing of dried cranberries and just enough glaze on top to bring the whole thing together. Delicious!
The combination of orange and cranberry go together like chocolate and peanut butter, and I never turn down the chance to enjoy it—in scones, muffins, and now Cranberry Orange Cake Mix Cookies!
The ease of using a cake mix to bring this recipe to life means that you can whip these up anytime. Yummy food in my tummy...quickly? I'm sold! This recipe also made our list on our guide to Christmas recipes. 
Let's do this.
Cranberry Orange Cake Mix Cookies
INGREDIENTS
1 Box of Yellow Cake Mix
1 Egg
8 Tablespoons Butter (Melted)
¼ Cup Dried Cranberries (Chopped)
Zest of 1 Orange
For the glaze:
1 Cup Powdered Sugar
1 Tbsp Butter (Melted)
1 tsp Vanilla
¼ Cup Water
DIRECTIONS
Preheat oven to 350°.
Mix cake mix, egg and butter until just incorporated.
Add dried cranberries and orange zest to the batter and mix until well blended.
Using a small cookie scoop, scoop cookies onto a parchment lined baking sheet.
Bake for 9-12 minutes.
GLAZE (the best part!)
Allow cookies to cool.
In a bowl, beat glaze ingredients, adding more water if it's too thick and more powdered sugar if it's too watery.
Dip cookies top down in glaze.
Of course you can skip the glaze, but why would you? Glaze is just light frosting. These are basically diet cookies. No. I'm kidding, that's not a thing. *wink*
Yellow Cake Mix Cookie Variations
You can do SO MUCH with a Yellow cake mix! The only limit is your creativity...and whatever seasonal M&M is on store shelves right now. Add chocolate chips to a yellow cake mix cookie and you have your standard chocolate chip cookie with just four ingredients! The next time your favorite neighborhood grocery store has a sale on cake mix, stock up! Here are a few ideas to add to your yellow cake mix cookies:
Chocolate chips (regular or mini)
White chocolate chips
Half chocolate and half white chocolate chips (Today's Mama favorite)
M&M's (plain, caramel, or seasonal varieties)
Chopped Reese's Peanut Butter Cups
Chopped chocolate candies (Snickers, Milk Way, Twix)
Caramel bits and pecans
Chopped Oreo cookies
Sprinkles / Jimmies
You can also decorate yellow cake mix cookies by melting chocolate candy melts, placing the warm mixture in a plastic bag, snip off the end and use it like a piping bag to drizzle a pattern on the cookies. If you want to be as extra as possible, add sprinkles.
Want more? Try our lemon cookies from cake mix or our funfetti cake mix cookies—two of our most popular recipes!
Can You Make Cookies from Cake Mix
Yes! You can make delicious cookies using a box of cake mix. Most simple cake mix cookie recipes start with either chocolate cake mix or yellow cake mix and with a few simple additions—an egg and butter—you can have cookies in and out of the oven in no time! You aren't limited to yellow or chocolate cake either. We've had great success using Red Velvet, Devil's Food, Funfetti, Spice Cake, Lemon, and Strawberry. They always turn out great and they always taste delicious!
How to Make Cookies from Cake Mix
Is your stomach growling? Are your culinary creative juices flowing? You might be wondering, "If I can do all of this with a simple box of yellow cake mix, what else can I do?" The truth is, you can use any box of cake mix to whip up a batch of fantastic simple cake mix cookies. The ingredient list is short and the instructions are easy.
Mix the following:
1 Box of Cake Mix
1 Egg
8 Tablespoons Butter (Melted)
2 Cups of...anything you want. Chocolate chips never disappoint.
Bake at 350° for 9-12 minutes on a cookie sheet.
You can also check out our HUGE list of Cake Mix Cookies recipes here.