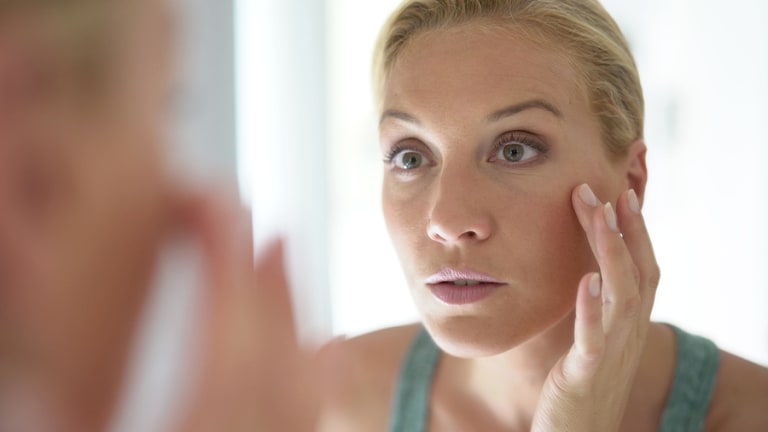 It's Time We Wage a War on Snapchat Dysmorphia
Next time you think of picking up your phone to filter out reality, maybe go to the bathroom mirror instead.
Remember the good old days when women were only haunted by the wildly faked "perfection" presented to them on magazine covers at the grocery store? It was a great time to be alive, no?
Okay, so it wasn't awesome. But it feels more and more like something to long for when Western society's persuasive—and again, unrealistic—view of beauty is so close to home that it's literal in all of our hands, staring us in the face all day long.
Your phone. It's the culprit.
And social media, specifically.
Those "good old days" are long gone—the ones where you only had to compare yourself to ridiculously smoothed and thinned out models. And even the days when we longed for the appearance of those few incredibly attractive friends. Now…now social media has made it so we ourselves are the enemy.
Snapchat and Instagram filters have made it so looking in the mirror is no longer an opportunity to present or enhance our best selves, let alone see our true worth. Rather, it's become a full-blown war on self-love and acceptance, often mutating into body dysmorphia—a flat out incapacity to see reality.
I mean, how unfortunate is it when a generation of young women is seeking plastic surgery, not to ask for lips a little more like Angelina, but for the impossibilities of nonexistent pores, enlarged eyes, and restructured skulls?
THIS ISN'T REAL LIFE! And praise people like Zendaya who are willing to point it out.
Snapchat dysmorphia goes beyond the excitement of an enhanced and filtered profile pic on a day when you're feeling less than stellar. It's a disease that's eating away at generations of powerful women who are otherwise fighting innumerable uphill battles for this and future generations. It just doesn't make sense for the women of 2019.
So let's turn away from our vulnerability to unrealistic expectation and comparison and wage this crucial war—as powerful and worthy individuals—together.
Next time you think of picking up your phone to filter out reality, maybe go to the bathroom mirror instead. Don't work your angles, don't find the best lighting, and please don't practice your smize. Look at what is really there. Embrace the beauty that goes deeper than skin color and blemishes and eyebrow shapes and nose width and age spots.
Because hiding underneath all of that is the only beauty that actually matters.
And it's time to let it show.