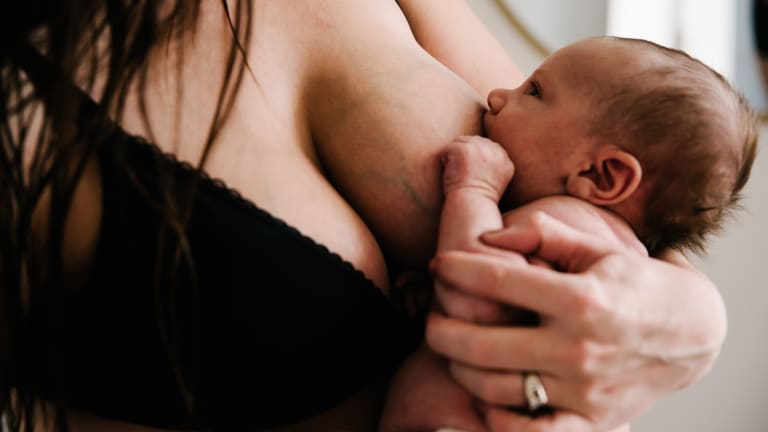 Feeding Your New Baby and Essentials for Postpartum Recovery
Essentials every mama needs to feed their newest babe and give the lady bits a little postpartum love.
Guys. Mommin' is hard work. This little boyfriend is a full time job, and when he's not busy spooning my sore, milky boobies, I'm juggling snuggling, showering, working, and most importantly (right up there with sleeping), taking care of my warrior lady parts. Going into all this nursing and bottle-feeding was INTIMIDATING. I remember sitting in our apartment, a couple weeks before Compton was due, when I realized in a moment of hot panic that I HAD NO IDEA WHAT I WAS DOING. I started pouring through breastfeeding books, baby books, the INTERNET, ANYTHING that could teach me in approximately 14 days how to be a new mom. And I learned REALLLL quick, from other mamas and friends, that the feeling of panic of the unknown was totally normal. All the stress that I didn't know what to do with him, how to PUSH HIM OUT OF MY BODY, how to keep him alive and learn to swaddle and nurse and heal and RAISE A HUMAN hit me all at once, but luckily I scored on some top products that gave me peace of mind in all the panic. And I figured, we mamas gotta help each other out. So HERE WE GO:
Products to make feeding your new babe a WHOLE LOT EASIER
Nursing
The Willow Breast Pump
First and foremost, THE WILLOW BREAST PUMP WILL CHANGE YOUR LIFE. There is no better breast pump out there. I PROMISE. I've tried. Not only does it FIT IN MY BRA, it also HAS NO CORDS. Totally hands free. I am not kidding. The milk bag is inside the pump, so you align your nipple with the pump, tilt it and clip your bra over to secure it, and GO TO TARGET. GO TO WORK. GO PHOTOGRAPH PEOPLE. HOBBY LOBBY. GO BACK TO YOUR NEW ROUTINE AND KICK A$$ all while making liquid gold to sustain LIFE. As a working mom on the go, this was a MANDATORY item to get for myself, and I cannot express how worth your money this product is. Come on over, I'll crack you open a diet coke, let you latch onto my regular, corded, plug-in, HUGE, awkward three-hand-requring pump I started with, and then slip this life-changer on and I swear you'll never go back. It even connects to your phone from the Willow app and KEEPS TRACK OF EVERYTHING: Suction, times on each side, ounces pumped, even a pumping history, and GUYSSSSS it is so amazing. The bags are so easy to pop in and out, they charge SO fast and last for SO long, and just getting to drive or shop or write emails or even PHOTOGRAPH while pumping milk to feed the baby I made in my body is the most bad-A WOMAN EMPOWERED thing I have ever done. No more hiding in bathrooms, you are out in the open with a rad little QUIET secret, and it'll feel GOOOOOD . Go buy it HERE and let it change your life. #treatyoself 
Love Youtoo Nursing Bras
A rockin' nursing bra… or seven (these milk puppies are messy). I learned realllll quick that I needed a good stockpile of quality nursing bras to help support my newly engorged, leaking boobies, and to give me any possible comfort I could have… all while trying to feel like I could return to feeling like a real woman ever again. But the best thing was these bras aren't made JUST for once your babies get here! They are designed with one-of-a-kind UGrow™ fabric to provide a custom fit for both your growing pregnant boobies, AND for the expanding and contracting that your breasts do during nursing your new little one after they arrive! They are wire-free. and STILL give you awesome, comfortable support. My favorite is The Everyday Yootoo Maternity Bra, the most comfortable, supportive, cozy bra, followed by a close second, The Beautiful Yootoo Maternity Bra. The Beautiful Youtoo bra is a sexier version of their Everyday bra, and adds a little va-voom to the girls, giving you a lift for your first date night away, or the most SPECIAL occasion of putting actual pants on for the first time.
Bamboobies
These little, angelic nursing pads are AMAZING. I loved that they are washable, dry-able, SO absorbent (they don't leak and it's a BIG deal compared to other pads!), and the softest, thinnest material my nursing boobs could ever dream of. They are also shaped like a heart. All the love for those milky olympic champs under your shirt.
Como Tomo Bottles
I will never love another bottle again. These are the nicest, breast-like bottles, and have made going back and forth from bottle-feeding to nursing the EASIEST. It has helped SO much to prevent nipple confusion, because of their nipple and material design, and the wide neck makes it a breeze to clean. The soft texture is easy for his little, uncoordinated hands to practice holding, and all their bottles are made with a hygienic silicone material so that you can rest easy knowing you're staying away from toxic chemicals. And, if you ask my tiny tittie-loving boyfriend, it feels like a boob and he is IN. We love them SO much and you absolutely will too.
A High Chair that is cute AND affordable: Enter Ikea.
As always, we love Ikea and their modern furniture that fits our style and our budget. Their Antilop high chair is SERIOUSLY only $22.99, is so easy to clean and use, and doesn't take up half the kitchen. Easy peasy, lemon squeez-y.
Other fun feeding products
Although we are too early on right now to use the high chair and these next fun things, we stocked up early so we'd be prepared once babe is ready! Bubs and Me is an awesome baby product company that has FUN, parent-friendly products, for feeding, baby carrying, dressing, wearing, you name it, and we are hooked! Our favorites so far are their Baby Fruit Pacifier (freeze fruit for your older babes, click the lid on, and BAM you have a safe, yummy binky-treat for the littles! SO easy! Their no-spill stretch lids make any cup an instant elephant-shaped sippy cup, and LAST BUT NOT LEAST: Their Magical Anti-Spill Baby Gyro Bowl. This spill-proof bowl would survive a sprinting toddler or a snack on space mountain, and somehow, NO SPILLS would happen. Try it and be amazed.
Okay, Mama. Real talk. Products for YOU and your healing body.
Birth is no joke and neither is postpartum recovery.
So sit down and get comfy, while I split this next chunk into three categories: Boobie care, Tummy time, and Lady bits.
I cannot say ENOUGH about Earth Mama Organics. They are the CUTEST, mama-run company, and genuinely care about their mamas. Their customer service cannot be matched, their products are good for YOU, BABY, and the WORLD, and everything they write on their packaging has been carefully written just for you and your healing body, heart, and mind.
Their Perineal Balm box made me cry, but more on that later.
FOR THE BOOBIES:
-My all time favorite product of theirs is the Organic Nipple Butter. It smells good, feels good, is safe for little babe to have in his mouth, and prevented cracked, dry nipples for me completely. This stuff is pure gold. And not only do I love it for my body, I love it for HIS body. Dry nursing lips, chapped red cheeks, you name it, this is the miracle cream and I take it everywhere with me for the both of us. I even use it on my husband's cracked knuckles in the winter-time and it works SO GOOD.
-Earth Mama's booby tubes are these magical, flax seed filled tubes of happiness that you can either microwave and put on your sore, swollen ta-tas, or pop in the freezer to do the same and cool those tired baby feeders down. I underestimated how much I would love them, but I was hooked instantly. It's like a little spa break in between feedings and helps mama and her soaked sacks feel a little more love.
-Milkmaid Tea. SO AWESOME. It is a Fragrant Fennel Herbal Tea to give your milk supply a boost (only for use after your baby is born), and not only is it SO YUMMY, it actually works! Keeps the girls well fed and my baby chunky! They also have a "No More Milk Tea" for once you finish nursing, and I can't wait to try that out too, once I'm ready!
TUMMY TIME:
Even at almost three months postpartum, I'm still hooked on these two products: Earth Mama's Organic Skin & Scar Balm, and UpSpring's Shrinx Charcoal Belly Band. 
Just like everything Earth Mama makes, this balm is GOLD and free of chemicals, and has helped me tone down my stretch marked baby tattooed tummy and my marks from my EVER_SO_EXPANDING nursing boobs. I've heard it's also AMAZING on C-Section scars! Seriously amazing.
The UpSpring company has so many awesome products for women, postpartum or not, and I TRULY noticed a BIG difference from when I started using their tummy wrap, up to now! I felt like this band helped my guts know where to go back in and snuggle, and it helped me feel a little sexier on the jeans-and-bra days when I needed a boost. I saw real results, got the sweetest comments on how fast my tummy was bouncing back, and felt back on track to feeling like myself a little quicker. These photos below were taken at 1 week out and 5 weeks out, using the band 6-8 hours a day, 5 days a week, and I am SO excited about the results!
LADY BITS:
The lady damage is hard core! Not for the faint of heart. But you BIRTHED a human, and I promise you can handle this. I had no idea what I was in for with my healing, bleeding, pooping, stitches, sex-life, or anything else after he was born, but the Earth Mama products helped me feel loved down there and helped me bounce back quicker.
Earth Mama Wins again:
Herbal Perineal Spray: I tried both this spray and another popular cooling spray after Compton's birth, and this EASILY takes the cake. It's made with cucumber, organic witch hazel, and other awesome organic herbs, and it cools the bits like NO other with relief and no harsh chemicals. And I smelled like a fresh summer's day, which is a big deal while you're in the smell-like-a-rust-dumpster phase of healing.
Herbal Sitz Bath: SO GOOD. The only time I felt TRULY clean and normal through the first 6 weeks of recovery was when I was in the bathtub. I felt good, my bum didn't hurt (even after the dreaded pooping we've all gone through), and I SMELLED GOOD. CLEAN. NORMAL. And this Sitz Bath is like a fancy warm tea for your lady loins, and it is GOOOOD. You can either brew it like tea and pour into your bath, just throw it in with you like my lazy self did, or stew and refrigerate the pouches to place in your mesh panties like a little vagsicle, and I PROMISE you will feel like a whole new woman so soon. Light a candle and maybe take a nap in there. You do you, boo.
Organic Perineal Balm: This box made me cry. It was during my first few days home from the hospital. I was on ice diapers, sleeping on chucks-pads, wearing mesh undies and HURTING. I opened this box and there it was, the first peek into the future of healing. It had all the cutest instructions and pep talks, and then at the bottom it said: "Remember, your body WILL go back to normal - a new normal, but normal nonetheless. PROMISE." I lost it. I had hope of a dry bottom and a little box that promised I would heal, and that made all the difference. And a fresh, creamy, cooling, soothing balm that made my bum believe it, too.
GUYS….. These panties are reusable, CUTE, comfy pairs of absorbent underwear that will make everything start to feel normal again. You just wear them for the day, rinse them in the tub, throw them in the washing machine, and the transition from mesh undies to real undies will happen. Cannot say enough about this RAD company. No odor, no leaks, no bulky pads, this underwear handles postpartum bleeding like a CHAMP. And you'll feel cute, too.
And just remember. Just like my best friend told me: "9 months in, 9 months out". These little humans we make take a long time to grow, and our bodies take a long time to heal. I promise SOMEDAY you will feel back to normal. So give yourself grace. You have stretch marks and soft skin because you are a WARRIOR, and your little one wants to snuggle their soft mama and loves every second of it. Give yourself time. Nobody wants to come into a new, cold world and spoon a six-pack. Your body was made for all of this. To grow them like this, to birth them like this, and to heal like this. It is slow. It is hard. SO damn hard. Any other big day up until now, you would go home and fall into bed and sleep till noon the next day, but in the world of being a new mom, there is feeding and snuggling and holding and rocking and singing and SO MANY IMPORTANT THINGS that you do for this little one who needs you. 
I still cry about all the changes, I have good days where I wear jeans and I put on a little mascara and feel more normal. And then other days where I don't shower or put on shoes or brush my teeth and have to cry a little because I am TIRED and my body HURTS and this takes TIME. But as a new mom who's been through it all so recently, I promise it will get better. I've only been doing this for thirteen-and-a-half-weeks, and I don't know much, but I do know you will feel better. Soon. You'll blink and he'll be laughing and smiling and getting man boobs, and this postpartum, bleeding, hurting chapter will start to close. You will feel better, you will have rest and joy and feel normal again. And all of the pain is SO. DAMN. WORTH. IT.
So here's to healing vaginas and c-section scars and swollen perineums. Here's to the days of stool softener and Lexapro and crying over perineal balm boxes. Here's to a list of products that will not only help you take care and feed your little one whether you are home with them full-time or away working to pay for groceries and insurance, and products that will also help you believe that you will HEAL and you have this HANDLED. Here's to 3 am feedings and 5 am rockings and frozen burritos and tears. Here's to the little one who loves you more than anything in the world. To future first laughs, first steps, first trips to the ocean, future sneak outs and kissing stories and college and walking them down the aisle. Here's to the work you're doing for the little one who needs it.
You are doing a good job.
You will feel normal someday soon.
And You. Have. Got. This.
Disclosure: TodaysMama.com uses affiliate links on their site (Mama's gotta pay the bills!) 17 products were provided at our request for review. Every product we included in this post is there because we love it and all opinions, editorial and images are our own.