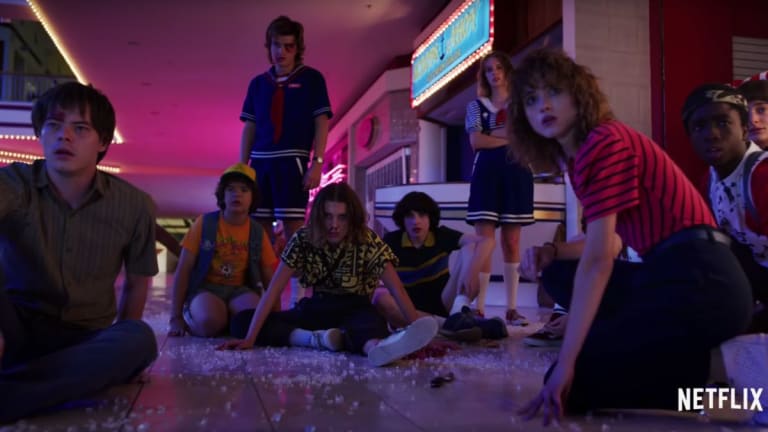 The Full Length Trailer for Stranger Things 3 IS HERE!
Please tell me this means we get to see Hopper in some classic 80's short shorts!
OMG. The first full Stranger Things 3 trailer is out and it looks like I'm going to need to sleep with the light on.
So that was intense.
LET'S DISCUSS!
STEVE! You're still everyone's favorite Dad!
I love how truly authentic those 80's clothes are. Hopper's pastel tropical shirt? Eleven's bright geometric print. And sorry for all of your perms ladies of Stranger Things! (I got one from Fantastic Sam's, yo! I feel your pain…)
Did you see how pumped Eleven was to roll into a MALL? Same, girl. SAME.
Billy as a lifeguard is quite possibly the worst case of a hiring manager using their intuition to realize that they are about to hire a straight up monster. This guy better end up as demogorgon chow this season.
Hopper is clearly on a date. I'm here for this. Please let it be with Joyce. I am also here for that. Hopper is my official Stranger Things Crush and I cherish every second that adorable beefcake is on screen.
Joyce is looking like maybe she's not leaving the house much. CAN YOU BLAME HER? But come on Joyce, it seems like the toughest guy in the town wants to take you out for a steak. GO.
Dustin, Will, Lucas, Mike, Max...I love these kids. Please protect them.
Jonathan and Nancy. These guys have been through A LOT. And they're old enough to know how much...they're looking a little shell-shocked, no?
Cary Elwes, your dream pirate from The Princess Bride is Mayor Kline. But I'm getting icky vibes from him, so that's a bummer. (Can someone please cast this guy in a grown up rom-com? I want this guy to have his Patrick Dempsey/Grey's Anatomy moment.)
Oh great. There is a giant monster at the end...that seems to be morphing from a smaller form. Maybe it's Billy! That would be...fitting. 
Stranger Things holds such a special place in my heart. And that place is "show that I stayed up for two nights straight so I could binge-watch." 
So mark your calendar for July 4, 2019!
PLEASE TELL ME THIS WILL MEAN WE'LL GET TO SEE HOPPER IN SOME CLASSIC 80'S SHORTIE SHORTS! 
To recap, here are the teaser promos and in classic Stranger Things fashion the teaser promos have not given away much, or really ANYTHING about the upcoming third season, but OOOOH ARE THEY SPOOKY and BOY DO THEY EVER MAKE ME SO HAPPY. 
Any other child of the 80's unreasonably wigged out by the "no signal" rainbow TV bars? 
Yeah, it's just episode titles and that deliciously spooky theme music, but I'll take it. 
Sorry, July 4th fireworks, I'll have to catch you in 2020. I'm going to be parked in front of my TV with my blankets pulled up to my chin. 
Who's with me?!