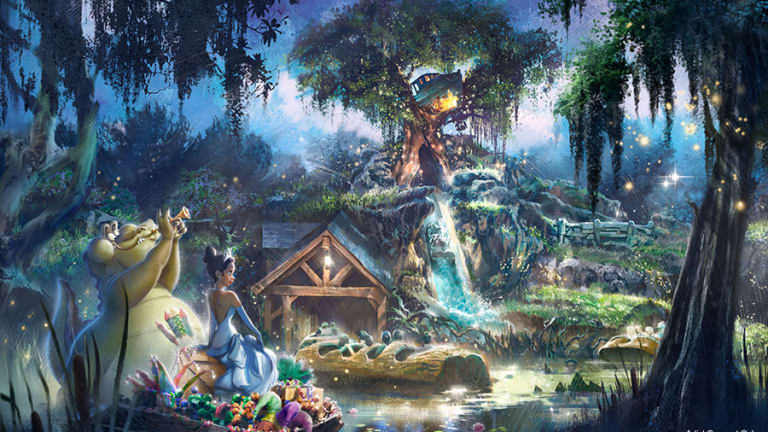 Disney's Splash Mountain Will Soon be Re-Themed as "Princess and the Frog"
Disney just announced Splash Mountain in Disneyland park in California and Magic Kingdom park in Florida will be re-themed to feature "Princess and the Frog" characters and a Mardi Gras motif.
Disney fans have been abuzz ever since the Disney Parks Blog announced that Disney's Splash Mountain will soon take on a "Princess and the Frog" theme. While the timing of this announcement seems especially relevant today, concept development for the project has actually been in the works since last year. No official timeline has been set at this point, but Disney says, "conceptual design work is well underway" for the projects at both Disneyland park in California, and Magic Kingdom park in Florida. The Imagineers will soon start conducting reviews and developing a timeline for the project.
As for what this new theme will include, Disney says it will "pick up this story after the final kiss, and join Princess Tiana and Louis on a musical adventure – featuring some of the powerful music from the film – as they prepare for their first-ever Mardi Gras performance."
The process of re-theming attractions is not new. Walt Disney himself referred to it as "plussing." Disney says it "begins with Imagineers asking the question, how can we build upon or elevate the experience and tell a fresh, relevant story?" Imagineer Tony Baxter will be taking the helm as a creative adviser for the planning and design of the project. You may recognize Baxter's name, as he developed the original Splash Mountain attraction, which first opened at Disneyland park in 1989.
Disney's announcement stated that they chose "The Princess and the Frog" for the new theme because, "Tiana is a modern, courageous, and empowered woman, who pursues her dreams and never loses sight of what's really important. It's a great story with a strong lead character, set against the backdrop of New Orleans and the Louisiana bayou. In 1966, Walt himself opened New Orleans Square when it became the first new "land" added to Disneyland park, so it feels natural to link the story and the incredible music of "The Princess and the Frog" to our parks."
Park closures due to the Covid-19 pandemic have slowed the development process a bit as Imagineers were unable to access the attraction for awhile, but the project is still progressing, and we hope to hear more updates soon.