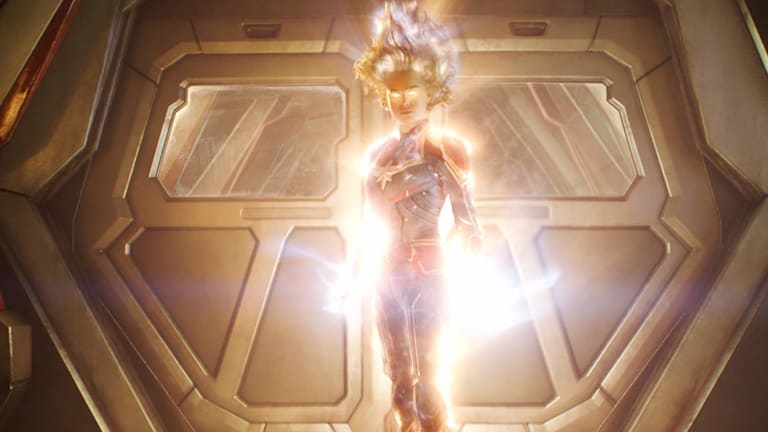 Oh you bet, I saw Captain Marvel on opening night.
Because I have still not recovered from the end of The Avengers Infinity War, OF COURSE I was eager to find out more about Captain Marvel and her apparent next-level-super-gifts.
Because if THIS is the person that Nick Fury is calling when the going gets real tough then she gets my vote.
THE MOVIE WAS SO GOOD. SO. GOOD.
I loved the humor. I loved the twists. I loved that just when I think the Marvel Cinematic Universe (the MCU to nerds like me) can't possibly add more characters that I can love with my whole heart, THEY DO IT.
Because just when I think, "I have seen the most amazing warrior men and women that an imagination can dream up." We get more.
I was struck by something as the credits rolled on Captain Marvel…
I just watched a movie with a female superhero lead...and I didn't see her cleavage once.
Nor her thighs. Or her abs. Or her perky tushy.
Now before you go clicking away and writing me off, hear me when I tell you I've loved every dang lady superhero. I loved Wonder Woman (SO MUCH!) Around my house we talk all the time about how cool Black Widow is because her superpower is how smart she is. So help me, I will never not love Jennifer Garner, and I will sign up for her as Elektra any day even if the Daredevil movie was kind of awful.
Sexy and powerful? I'm here for it.
But recently, we've been given opportunities to cheer on some seriously amazing women that have been able to kick ass while staying reasonably clothed.
Exhibit A:
Black Panther's Dora Milaje army of warrior women and these two "princesses" are the reason I loved that movie so much. And why I loved that my kids enjoyed that movie so much.
Exhibit B:
Oh Rey. Never has a heroine been so sweet and so capable of laying the smack down.
Exhibit C:
I'm not going to spoil Captain Marvel for you, but this woman is the queen of the "COME AT ME BRO" stance.
And I'm loving the variety that we get to enjoy (and share with our kids) at the movies.
And I'm loving that I don't have to be distracted by thinking, "Um, how did she roundhouse kick that guy in that outfit without getting a wedgie?"
OH YOU KNOW YOU'VE WONDERED IT TOO.
And because I'm willing to acknowledge that sexiness goes both ways in the superhero genre…
Carry on...