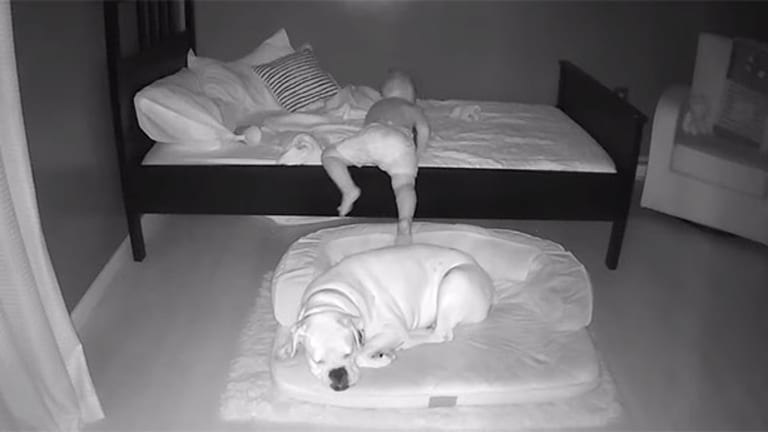 Camera Captures Toddler Crawling Out of Bed to Snuggle His Best Friend—Just Wait 'Til You See Who It Is
They say dogs are a man's best friend, but from the looks of it, that friendship starts in infancy.
At least for 23-month-old Finn Knudston and his trusty boxer Brutus, that is.
Apparently the two have been inseparable since birth, possibly because of the dog's intuitive desire to protect the boy. Finn was born with a serious heart condition and Brutus has been watching over him from the moment he left the hospital.
Even during sleep, they can't get enough of each other.
One night, Finn's mom Paige found them curled up on Brutus' floor mat next to Finn's bed and was curious enough to know how it happened that she checked the monitor footage—much to our delight.
The camera caught Finn grabbing his blanket and climbing out of bed, then struggling to find a comfy position for nearly 5 minutes before resting easy with his best buddy for the remainder of the night.
Now, for anyone who has ever co-slept with a toddler, you can attest to the fact that the flail is real and this dog deserves an award for extraordinary patience and unconditional love. But while someone casts that medal for the pup, we'll just be over here watching the hilarious video on repeat.