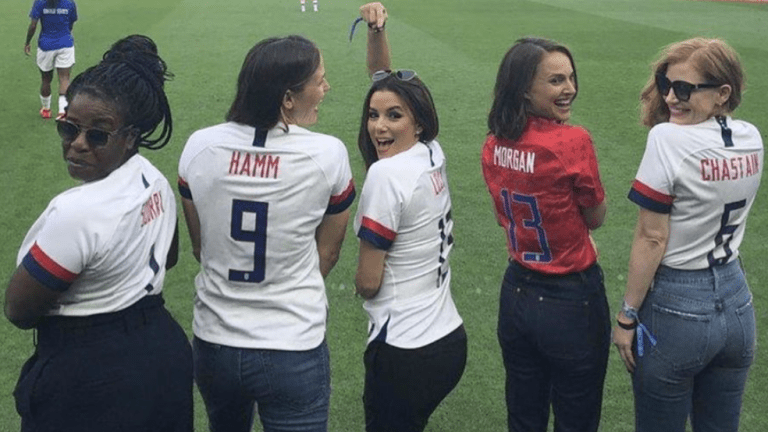 Abby Wambach, Jennifer Garner, Serena Williams and More Are Starting a New Women's Soccer Team
Is there anything more beautiful than kickass women supporting one another?
Maybe there is, but it's probably just more kickass women supporting one another in front of a sunset or something.
As is, we'll settle for the incredible powerhouses that are coming together to create a new soccer team in Los Angeles and fighting for things to be done the right way as they do it.
Who are the powerhouses and what is the right way to create a new team to be included in the National Women's Soccer League (NWSL)?
For starters, founders of what they're temporarily calling Angel City include Academy Award-winning actress, director, and activist Natalie Portman, alongside L.A.-loving venture-capitalist Kara Nortman and L.A.-native athlete and one of the 100 Most Creative People in Business Julie Uhrman.
But that's not all. They're joined by other modern queen part-owners like Serena Williams—and her two-year-old daughter Alexis (start 'em young, mama!), Jessica Chastain, Eva Longoria, America Fererra, Jennifer Garner, and Uzo Aduba…PLUS 14 former members of the U.S. Women's National Team.
Because don't you think that women who have already taken their turn crushing the international soccer world should be in on the success of future teams? Uh, yeah. I do.
Julie Foudy, Mia Hamm, Rachel Buehler, Shannon Boxx, Amanda Cromwell, Lorrie Fair Allen, Ronnie Fair Sullins, Joy Fawcett, Angela Hucles, Shannon MacMillan, Tisha Venturini Hoch, Saskia Webber, Lauren Cheney Holiday, and Abby Wambach all own part of the new NWSL team coming to L.A. in the spring of 2022.
Olé.
But how did they get together?
Well, read what Abby Wambach recalls as the beginning of it all:
So, wolfpack assembled—they set out to do things the female way. Why? As Portman put it, "Sports are such a joyful way to bring people together, and this has the power to make tangible change for female athletes both in our community and in the professional sphere."
"We come together with a collective passion for bringing about change," Founder & President Julie Uhrman said. "Change for our players, change for our fans, and change for our community. Change that begins today. In addition to announcing the rights to an LA NWSL team, we are thrilled to officially announce our partnership with the LA84 Foundation to help us build out our community relations foundation from the very start. To kick off our relationship, WFC LA/Angel City is now a formal supporter of the Play Equity Fund. The Play Equity Fund is committed to leveling the playing field to help ensure that all kids across Los Angeles have access and the opportunity to experience the transformational power of sport."
So, what happens when women do things their way? Oh, you know…they win World Cups and other such trifling matters.
Double olé.
So bring it on, Angel City. Bring us equality in pay for women. Bring us more professional sports for women. Bring us workouts actually designed for women. Bring us respect. Bring us fun. Bring us more kickass women supporting other kickass women, proving that we're the gamechangers everyone is looking for.
Because #WeAreAngelCity!