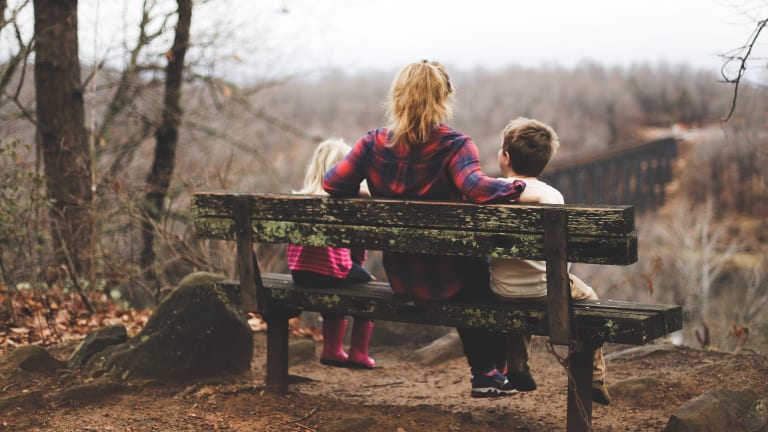 Waiting
Parents live for that sh*t. It's so worth the wait.
First, we wait to find out. You are a maybe, then a probably, and then a definitely. You are you, but we don't know you yet. You are growing, while we wait.

We wait in doctor's offices. We wait in sonogram rooms. We wait for test results. We wait for answers.

After nine months, give or take, you arrive! We have waited long enough to meet you, to greet you, to pull you out into the world, a sweet screaming bundle of a million coordinated miracles, our baby. Your very first cries are the cries of fruition. And we cry along with you, because we are happy, and yes, we also cry because the waiting almost took us to the brink. We were so tired of waiting.

Then we wait for the doctor to tell us you are healthy, you are normal, you are "just fine." If you are not normal, healthy or just fine, we wait for opinions, procedures, and plans of action. We wait for good news. We want what's best. We pray. We cry some more, and we hope. But, mostly? We wait it out. We wait for things to change for better, or worse.

Before you turn one, we wait and wait and wait for you to just go the f*ck to sleep. Then, we wait for you to wake up. We wait for you to eat. We wait for poopy diapers. Your first words, first steps, and first everything's. We wait for you to come back to us when you decide that you prefer the other parent instead. This hurts a little, it's like a stab after all we've done for you, but you are one so we wait patiently for you to change your mind, and when you do it's like the sun has come out again, so precious is your attention. We crave it because we love you so much.

We wait for you to crawl, and then walk.

We wait for the first day of school. We've tried not to wish this time away, this time of "being little," but you are ready because you are five, so here we are now, waiting for the school bus. Some of us, and I won't name names, will drive behind the bus just to make sure you get to school okay. And then, as you can very well guess, you will find us waiting in the same spot for you to come home. When you leap from the bus, we hope your face is filled with wonder, with dancing, lively eyes. We hope your knees are dirty from all the fun. We hope you behaved, and we hope you learned, though we cannot be sure, because you have been gone for an entire day, but we wait for you to tell us all about it.

And then, suddenly.

Band practice, soccer tryouts, piano lessons. Tennis, robotics club, basketball, and dance class.

We wait in parking lots. We wait in driveways. We wait in the bleachers, the stands, and on the sidelines.

We stand. We sit. We pace. Some of us bring a little flask for sips of booze, but only on Saturdays when there is a double header and honestly it helps with the nerves when you are pitching.

Through cheers, tears, fears, and switching countless gears through the years, we simply wait.

We wait for you to strike out the side. We wait for you to give your presentation. We wait for you to come out on stage in your makeup and killer costume and tear the whole place down with your show-stopping voice. The other kids are great, but let's be real here, you, my love, are the absolute best!

We wait for you to see yourself the way we've always seen you. This is difficult, we know, but it will happen and it's our job to wait a bit longer. We wait for you to make up your mind about yourself, and we try like hell not to do it for you.

In high school, we stay up late waiting. We do not sleep. We wait for you to text us back, to let us know you are still alive and well. We wait to hear the door close behind you, and your feet on the stairs. We do not close our eyes until we hear these sounds.

In college and beyond, we wait for you to simply come home. We wait for your flight, which will be late of course. We wait while you drive many hours to reach us. We picture accidents and traffic and that does not help one bit. You visit, you flutter back to our nest every once in a while and that's when all is right with the world. When you tell us you are coming we scream, "we can't wait!" but we do. We have to. We have no other choice.

During these years, you will have your secrets, but every once in a while you'll let one slip. And that's when we'll wait for you to realize it's okay for you to tell us the grown up things, the hard things. We wait for you to remember how much you are loved, without conditions.

When you've done something wrong, we wait for you to apologize.

When you've done something amazing, we sit back, push you forward, and beam with pride. We watch you glow. We wait for that pivotal moment, the one where your expression changes, the one where your body language crosses from self-consciously unsure to quietly confident.

Parents live for that sh*t. It's so worth the wait.

And, now, you have a special someone in your life. Your heart has been duly captured and that's all she wrote. This extra beautiful person looks at you with love, looks at you like you are the creamiest, dreamiest bubbling macaroni and cheese casserole with buttery bread crumbs on top, so please try not to wait too long, dear. Try not to doubt anything, and just go for it. We are waiting for you to tell us something, to break the news.

Have I mentioned that we're a little tired of waiting, and wrinkle creams are expensive?

And now, inside these laborious days, we must all wait together, for this virus to roll on through, to abate, for "normalcy" to return – whatever that means. But, my babies, we are used to waiting. Waiting is something we are good at, and you can be good at it too.

So, when we are old, and our knees are creaky and we can barely move, and you have to maybe feed us a little, you have to mop the front of our top, and you have to explain things more than once, and you have to make sure you remember to call and visit, and you have to take us to the doctor's office and just sit there and wait, please be patient with us.

We want you to ask yourself...what would my phenomenal, giving, loving, tenderhearted, still fairly attractive parents do?

If you dig deep enough, my loves, (before you sigh or roll your eyes), you'll remember all the times we waited for you.
_
Kimberly Valzania practices mindful gratefulness. She is creatively driven to write about and share her personal experience and opinions on weight loss, fitness, life changes, adventures in parenting, day-to-day triumphs (and failures), and the truth-seeking struggle of simply being human. As words tumble out, they are sorted into cohesive piles and delivered via poetry and short essays. Her articles are featured on Scary Mommy, Rebelle Society, The Elephant Journal, BonBon Break, The Minds Journal, The Manifest-Station, and Imperfect Parent. Read more at her website eatpraypost.com.