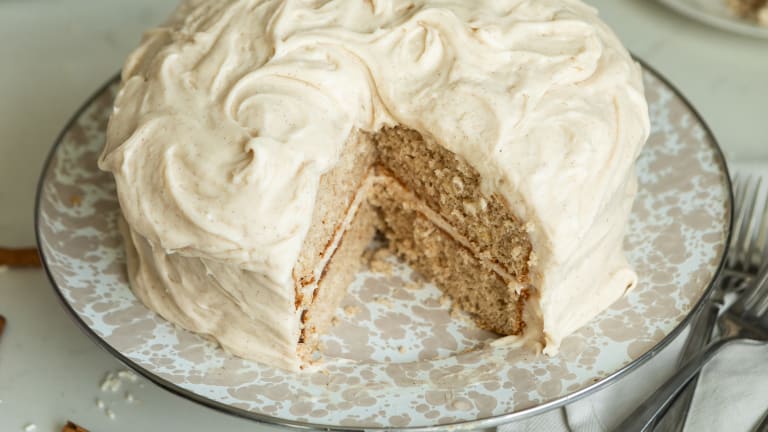 Snickerdoodle Cake with Cinnamon Cream Cheese Icing
Give me this cake, or give me death.
Yes, it's that freaking good AND it's easy. Praise be. Because when you find something as delicious as a snickerdoodle, you turn it into every other cinnamon + sugar treat you can. Like seriously, there is no end to what you can do with the timeless combo of cinnamon and sugar.
But back to the snickerdoodle cake at hand!
Snickerdoodle Cake from Scratch
Listen, I love a good made-from-scratch cake as the next mom. But, first, ain't nobody got time for that. And, second, I have yet to find one as fluffy and tender as one that comes from a box. (What kind of magic do they put in those things??) So next time you're in a pinch but still want to wow the crowd—or just sit alone in front of Netflix with a cup of tea and a slice, I'm not judging—THIS doctored up box cake is the recipe you're going to pull out.
And yes, that's an order.
It's a cinnamon-flavored white cake with the absolutely perfect crumb (yes, I do my fair share of Great British Baking Show binging) and absurdly creamy, eat-it-by-the-bowlful cream cheese frosting. Trust me, you will never regret this decision.
Snickerdoodle Cake Recipe
Snickerdoodle Cake Ingredients
1 plain white cake mix
1 cup whole milk
8 TBSP butter (melted, not hot)
3 eggs
1 tsp vanilla extract
2 tsp ground cinnamon
Snickerdoodle Cake Directions
Line two 9-inch or three 6-inch round pans with parchment and non-stick baking spray.
Blend all ingredients with a mixer for 2-3 minutes until well combined.
Bake for 27-29 minutes at 350 degrees Fahrenheit.
Cinnamon Cream Cheese Frosting
Cinnamon Cream Cheese Frosting Ingredients
1 package (8 oz) of cream cheese (softened)
8 TBSP butter (softened)
3 cups powdered sugar
1 tsp vanilla extract
1 tsp ground cinnamon
Cinnamon Cream Cheese Frosting Directions
Blend cream cheese and butter until well combined.
Slowly add sugar, blending until smooth.
Add vanilla extract and blend completely before adding cinnamon.
YUM!
What Is a Good Substitute for Cream Cheese Frosting?
I personally prefer the tang that comes with a well-made cream cheese frosting, but if you're not a fan of cream cheese you can opt for a whipped cream or buttercream option on this snickerdoodle cake. A cinnamon-spiced whipped cream would make a nice, light frosting, whereas the buttercream is going to be a sweeter, thicker choice.
You could even take that buttercream one step further and turn this thing into a white chocolate snickerdoodle cake!
Is Buttercream or Cream Cheese Frosting Better?
Better for what? That's the real question.
As I mentioned, the cinnamon cream cheese frosting brings a bit of rich tang to this snickerdoodle cake. It's creamy and delicious, but also a little bit of a looser frosting if not overly sweetened.
Which means that if you're looking to get sturdy layers and crisp edges on your frosted snickerdoodle cake, buttercream is probably a really good choice. Just be prepared for a sweeter cake experience!
How Do You Know When Your Snickerdoodle Cakes Are Done?
While every oven is going to be different, baking these at 350 for exactly 28 minutes did the trick for me. But that will also change based on how many pans you choose to use (the two 9" rounds or the three 6" rounds).
I've found that the best way to tell if your cakes are done is to lightly press the center and watch for it to spring back to place. You can also use the skewer or toothpick method by inserting your tool into the center of the cake and seeing if it comes out clean. Clean = ready!
Another important key is to make sure you aren't opening the oven and checking on your cakes too early or too often, both of which can result in uneven baking, longer baking times, and—the worst—a sunken cake.
Why Is a Snickerdoodle Called a Snickerdoodle?
The history of the snickerdoodle is a bit of a mystery actually.
Some think the name snickerdoodle is derived from the German Schnecke Knödel which can be translated as "snail dumpling" or "snail noodles". Others say that schneckennudeln are actually German cinnamon rolls—which obviously look more like the snail that the name implies.
Yet another set of cookie experts claim that these delicious cinnamon sugar drop cookies are actually of Dutch origin and were brought over to the United States by immigrants.
Aaaand another subset of cookie historians believes that the snickerdoodle cookie as we know it was born on American soil sometime in the 19th century—early enough for it to have made its way into an American recipe book in 1898. And why the name? Apparently New Englanders were known for christening their dishes with names full of whimsy and apparent randomness...just for the heck of it!
Regardless, a snickerdoodle by any other name would taste as sweet!
What Does A Snickerdoodle Taste Like?
Snickerdoodles can best be compared to sugar cookies with one major difference in the recipe: cream of tartar. It might seem strange, but cream of tartar helps the cookies retain their chewiness, instead of crystalizing into a more classic and snappy sugar cookie.
And, most importantly, snickerdoodles are famously rolled in a mixture of cinnamon and sugar prior to baking for that perfect blend of sweet and spicy.
Which is also the thing that makes the snickerdoodle so versatile for incorporating into other desserts—like this incredible snickerdoodle cake with cinnamon cream cheese icing.
Seriously, go make it!
Find more things to eat up on Today's Mama: