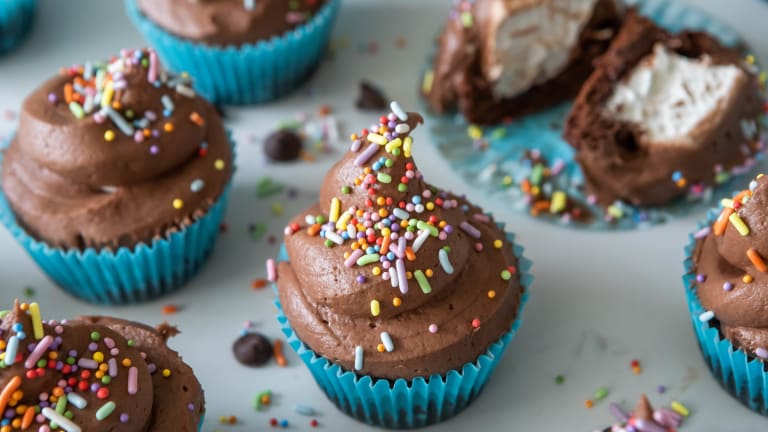 Best Chocolate Cupcake Recipe
Marshmallow Stuffed Chocolate Cupcakes
Need a blue-ribbon chocolate cupcake recipe? After testing nearly every cupcake cookbook and recipe out there, my mom and I agreed this is the best chocolate cupcakes recipe. Period. Moist chocolate cake with just a few chocolate chips mixed in — Mmm Mmmmm!
Sometime between batches 423 and 425, we discovered another chocolate cupcake recipe with a marshmallow center– Brilliant! Only the cupcakes were hollow and hard.. a total disaster!
What to do? We used this favorite and created our own chocolate cupcake recipe by adding a large marshmallow after it comes out of the oven. Be sure to cover the marshmallow completely with frosting to keep your secret. Voila! Marshmallow Stuffed Cupcakes!
​BEST CHOCOLATE CUPCAKES RECIPE
1¼ cups flour
½ cup cocoa powder
¾ teaspoon soda
¼ teaspoon salt
1 cup sugar
1/3 cup vegetable oil
1 egg
1 teaspoon vanilla
¾ cup buttermilk
½ cup semisweet chocolate chips
(12 large marshmallows)
Combine dry ingredients. Beat together sugar, oil, egg and vanilla. Whisk in dry ingredients and buttermilk, alternating, beginning and ending with the dry ingredients. Beat until smooth. Stir in chocolate chips. Scoop into prepared muffin pan. Bake at 350 for 20-25 minutes or until tops of cupcakes spring back lightly when touched. Let cool in pan on rack for 10 minutes; remove and cool completely on rack. Frost with Chocolate Buttercream Frosting.
MARSHMALLOW STUFFED CHOCOLATE CUPCAKES
*Want to make the best chocolate cupcakes recipe even better? After cooling 5 minutes spoon or scoop small indent in center of cake and insert large marshmallow. Marshmallow Stuffed Cupcakes!
​
Makes one dozen cupcakes.
Adapted from 125 Best Cupcake Recipes
CHOCOLATE BUTTERCREAM FROSTING FOR MARSHMALLOW STUFFED CHOCOLATE CUPCAKES
1 cup butter, softened
1 tablespoon plus 1 teaspoon milk
1 teaspoon vanilla
6 ounces semisweet chocolate, melted and cooled
1 ½ cups powdered sugar
Blend until spreading consistency.
From The Buttercup Bake Shop Cookbook
Enjoy this marshmallow stuffed chocolate cupcake recipe!
2 Simple Steps for Marshmallow Center
Scoop out the center of the baked chocolate cupcake.
Place full-size marshmallow in the hallowed out section of each chocolate cupcake.
Add a marshmallow to each cupcake!
Top the Best Chocolate Cupcake with Chocolate Buttercream Frosting
Swirl your perfect chocolate buttercream frosting around the marshmallow center.
Top with your favorite sprinkles!
Share the Best Chocolate Cupcakes with your friends!
More Dessert Recipes from Today's Mama!
Magnolia Vanilla Cupcakes
Best Easy Bundt Cake Recipe
White Chocolate Decadence