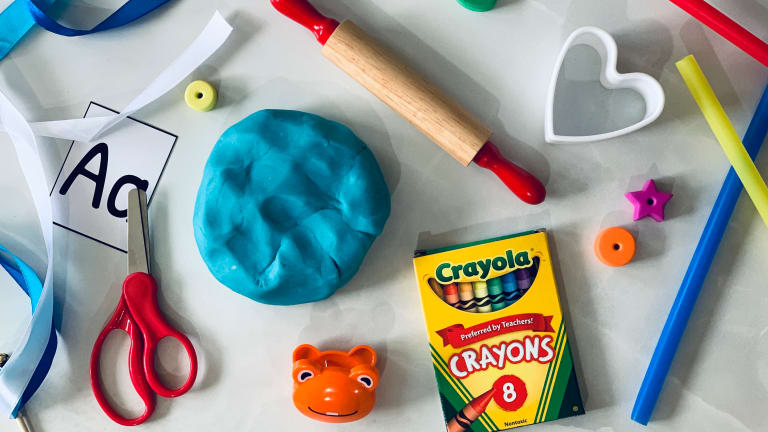 Joey School: The At-Home Preschool Program That'll Save Your Sanity During COVID
A monthly at-home learning subscription box for preschoolers that does all the heavy lifting for moms and makes learning fun for littles? Sign us up.
You guys, I thought when all this madness with Covid-19 started that I'd somehow dodged a bullet. All of my mama-friends were agonizing about how to school their kids this year and I just...wasn't. My son is young enough that I didn't have to worry about his school being open or closed, online or in person, masked or unmasked—in fact, he didn't have a school at all! And I was so relieved.
BUT.
My kid still needs some sort of education...right?
Well, I'm a wholehearted play-based, outdoor-learning believer, so avoiding the rigors of formal education for the time totally appeals to me. But you know what else appeals? Raising a kid who passionately loves to learn and gets excited about it every day.
Enter Joey School.
The first day I showed my son the Joey School box his face broke into a huge grin. He wanted to discover every single surprise the box had to offer right from the beginning. And trust me, there are plenty of good surprises.
This box had everything from new crayons (who doesn't love a brand new box of perfectly sharpened Crayolas??) to the most fun book that had my boy rolling with laughter and begging to read it again and again.
I won't give away everything that it contains but rest assured that your preschoolers will find endless entertainment and diverse opportunities for learning in any box if this one is any kind of pattern for the rest.
Each week of the month is set up for three days of learning with three lessons each day, but I'll pay money to the kid who can stop there. Because here's the thing: Joey School was created by teachers with over 15 years of preschool experience who've refined the lesson plans in their classrooms and have figured out what works. And not just what works to entertain, but to really drive home a concrete lesson within the fun.
That tried and tested curriculum is easy to follow and doesn't feel like a big chore for a busy working mama to bust out any time of the day. All the things you need are right there in the box—they've legitimately taken all the hard work out of it for you! They're easy to take to the yard with or set up on the kitchen counter. Because flexibility.
Some lessons are just 10 minutes long and incorporate math, science, language, and art among other meaningful concepts with colorful paints, magic playdough, eye-catching flashcards, and much, much more. Each month the box will change and bring more fun lessons and excitement into our home. Plus, they have additional online resources associated with each box that my son absolutely loved. (Hello dance parties with magic wands!) And all you have to do is subscribe. Love that.
I've found that one of the best things about Joey School is that it encourages littles to utilize their newly learned skills beyond the short lessons. It helps them to exercise their own creativity and independence. And it fosters confidence and connection—two of the most important skills I need my little one to learn before he heads out into the world's classroom. Joey School is helping to successfully set the stage for when my preschooler goes off to formal school and won't have to feel intimidated or overwhelmed because he has the firm understanding that LEARNING IS FUN.
All in all, Joey School has been a blast at our house and something this non-teacher mama can totally handle. And I know my son agrees because every single day the words I hear are, "Can we do more Joey School?"
And the answer is always yes.
--
The lovely people at Joey Box sent us a box to review. But as always, the opinions and thoughts are all mine.