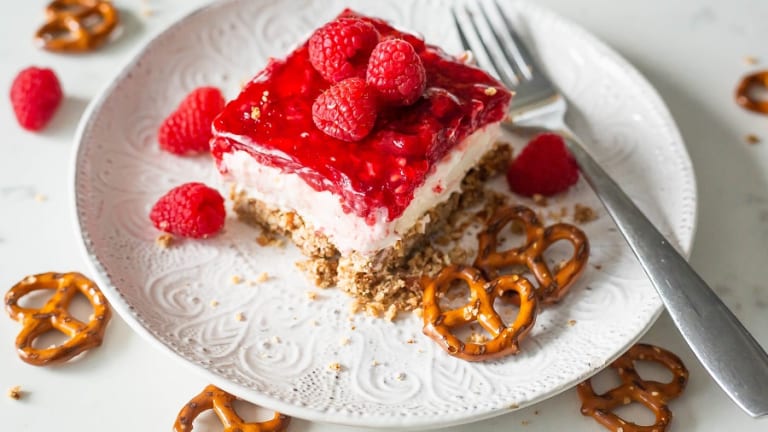 The Last Raspberry Pretzel Jello Salad Recipe You'll Ever Need
Incredible Raspberry Pretzel Jello Salad Plus 5 Quick and Easy Ways To Avoid Making The Most Common Pretzel Jello Salad Mistakes
Every holiday season, Rachael would tell me about a delicious Raspberry Pretzel Jello salad that she makes for her family get-togethers. I mocked her mercilessly. After years of harassment from me, she laid down the gauntlet, "I'm bringing the Raspberry Pretzel Jello to your BBQ. You're going to eat it."
Fast forward to the BBQ and I rolled my eyes as she unveiled the dish. I took a bite. Then another.
"WELL?"
"I am embarrassed by how much I love this."
I made her leave the leftovers and ate all of them later than night while standing in front of the fridge.
My point is that, if you're like me and roll your eyes at the thought of Jello salad, then get right over it and make this. If you love Jello salad, then let me apologize for being a snotty ass about the whole thing. I've seen the error of my ways.
Raspberry Pretzel Jello Salad Recipe
Pre-heat oven to 350 degrees
Pretzel Crust
2 Cups Crushed Pretzels (can use gluten free pretzels to substitute)
3/4 Cup Melted Butter
1/4 Cup Sugar
Combine pretzels, butter and sugar. Press into 9×13 baking dish and bake at 350 degrees for 10 minutes. Cool to room temperature.
White Layer
1, 8-Ounce Container of Cool Whip
1 Cup Sugar
8 oz. Cream Cheese
Cream together cream cheese and sugar. Fold in Cool Whip. Spread over cooled pretzel crust.
Red Layer
6 oz. Package Raspberry (or Strawberry) Jell-O (or 2, 3 oz. packs)
2 C. Boiling Water
1, 16 oz. Package Frozen Raspberries (or Strawberries)
Dissolve gelatin in boiling water. Stir in frozen berries, chill until partially set (about 1 hour). Spread over white layer.
Chill until set and serve!
​ PIN THIS ONE FOR LATER! You're gonna want to keep it handy!
You will be the hero of any family party with this dish!
Can I Substitute Whipped Cream For Cool Whip?
Yes you can substitute whipped cream for cool whip, but it is NOT recommended. Out of all the different white layer options you can try, cool whip is going to give you the best results because it's more stable and sets more firmly. This recipe has been tested with stiffly beaten heavy whipping cream and stabilized whipped cream with cream cheese and sugar. Both those options still taste great but here's the downside to using something besides cool whip: the other options soften the pretzel crust and it affects the texture of the overall dessert.
What Kind Of Pretzels Are Good For Pretzel Salad?
The best pretzels to use for any pretzel jello salad recipe are the Rold Gold original sticks. If you don't have this exact kind of pretzel that is completely okay. Don't worry. Any pretzel works fine. You are, however, going to want them salted. The salt adds an extra flavor layer for the dessert.
What is the Easiest Way To Crush Pretzels?
This raspberry pretzel jello salad recipe calls for 2 cups of pretzels that are moderately crushed. You'll first measure out 2 cups of pretzels, place them in a heavy duty Ziploc bag, then crush them using a rolling pin. If you apply too much force when crushing with a rolling pin, you can rip the bag, so use a little caution. Another effective way is to place the full 2 cups of pretzels in the glass baking dish and use the bottom of a Pyrex measuring bowl to crunch up the pretzels.
How Do You Keep a Pretzel Crust From Getting Soggy?
No one likes soggy pretzels in the pretzel jello salad. It's off-putting and texturally will ruin your dish. When it comes to ensuring your pretzel crust won't get soggy for your pretzel jello salad, there are five important things you must do.
Soggy Pretzel Crust Prevention Tip #1
Don't crush the pretzels too much. If you mash your pretzels into a fine dust or powder you are allowing the pretzel layer to become more absorbable. This is one of the more common mistakes people make when making a pretzel crust for jello salad.
Soggy Pretzel Crust Prevention Tip #2
Make sure you use cool whip for your white layer. I alluded to this earlier. Whipped cream and other substitutes tend to soften the pretzels at a quicker rate than cool whip. Even if you stabilize your whipped cream with sugar and cream cheese, this substitute still has the tendency to soften (and potentially sog) the crushed pretzels.
Soggy Pretzel Crust Prevention Tip #3
This one is easy: Do not apply the white layer to the pretzel crust until the crust has completely cooled. If the white layer begins to melt, you can create an extra layer of moisture that gets trapped in the pretzels.
Soggy Pretzel Crust Prevention Tip #4
This is another common mistake when making pretzel jello salad. This one is really important. Make sure you spread the cool whip cream cheese layer completely all the way to the edge of the baking dish to prevent the pretzel crust from becoming soggy. If there are exposed pretzels, gaps or entry points where the gelatin can come into contact with the pretzel, you'll increase the likelihood of a soggy crust.
Soggy Pretzel Crust Prevention Tip #5
Another easy tip and another easy solution. After you stir in your frozen fruit into the dissolved gelatin, make sure you chill the mixture until it is partially set. This usually takes around an hour. If your gelatin mixture isn't partially set and if it comes into contact with the pretzel crust layer, you'll have a greater chance of soggy pretzels.
Fresh Fruit vs Frozen Fruit?
There are a couple of reasons why you will want to use frozen fruit instead of fresh fruit. Despite what you might be thinking, you cannot tell the difference in flavor between fresh and frozen fruit. There are so many different textures and flavors with this dish that the subtle difference fresh fruit gives you over frozen won't even be noticed.
For other dishes, fresh fruit is going to be the better option. But for raspberry pretzel jello salad, frozen raspberries is actually a better option. Why? When the frozen raspberries are added to the boiling hot jello, it instantly begins cooling down the jello, helping it set up quicker. With fresh fruit, you'll wait about 30 minutes longer for the gelatin mixture to cool enough to pour over your white layer. And it takes longer for the entire dessert to chill after you've finished combining all the ingredients. For this dish specifically, the biggest reason to use frozen fruit is because it saves you time.
Don't miss out on more delicious recipes—follow us on Pinterest and Facebook to see the newest recipes.
See More on Today's Mama: