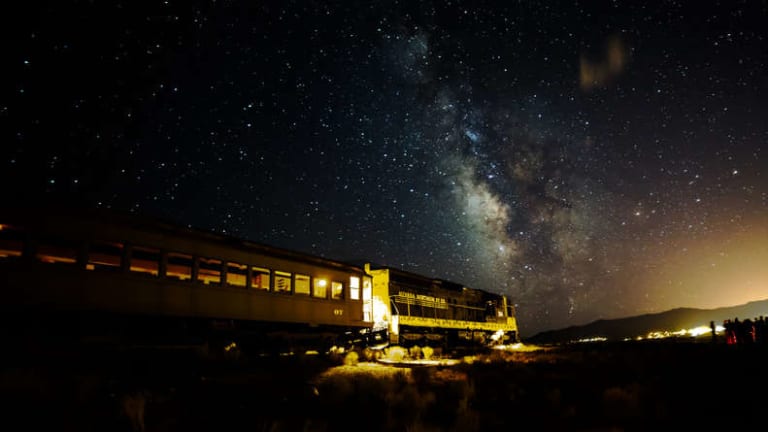 The Star Train Will Take Your Family Deep Into the International Dark Sky Park to Stargaze
If you've been searching for the best stargazing spots, we're pretty sure we have hit the jackpot! We're talking bucket-list-worthy location and views.
In search of stars? Us too. 
If you've been searching for the best stargazing spots, we're pretty sure we have hit the jackpot! We're talking bucket-list-worthy location and views. 
Add the Nevada Star Gazing Train to your list of must-do's with your family (or a quick weekend away with your favorite grown-ups). 
Nevada Northern Railway's Star Train pulls out of Ely on selected Summer evenings with the Dark Rangers of Great Basin National Park aboard. These rangers love the night sky as much as we all do, but they probably know a whole lot more about stars than all of us put together. They will guide us on our journey to find interesting things up in the Heavens on this journey. We will stop the train away from town to take full advantage of the dark night skies. The National Park Service Rangers will be taking us on our own special tour of the celestial constilations.

- Nevada Northern Railway
Where is the Star Train in Nevada? 
Ely, Nevada. In case you are wondering where Ely, Nevada is . . . we were too. 
Ely is roughly 244 miles away (3 hours 42-minutes drive) from the bright lights of Las Vegas.  
Flying to Ely, Nevada? You'll want to head to the Elko Regional Airport.
When is the Star Train? 
"Select Friday evenings in the summer." - NNRY.com
Be sure to check their website for more info on dates, times, and options. 
Nevada Star Train Tickets 
Prices: Adult: $41 Child (4-12): $20 Infant (not yet 4): Free
The Star Train ($41 per adult) sells out up to a year in advance. 
Group discounts are available for groups over 12.  Members receive 10-90% discounts on train tickets depending on your membership level. Memberships start at $40. Call (775) 289-2085 for more info. 
BONUS: You might even catch a glimpse of the famous "Dirt the Cat" at the train station at no extra charge!
Sold Out? 
Here are some options listed on NNRY.com:

Come to Ely and use that as your base-camp. There is plenty of lodging in town

Enjoy riding one of our other trains, either the regular excursion trains, or the special/theme trains
Drive out to Great Basin to attend one of their other evening Star Programs. It is only an hour's drive. Ely is the closest city to Great Basin. 
What is an International Dark Sky Park?
According to DarkSky.org:
An IDA International Dark Sky Park (IDSP) is a land possessing an exceptional or distinguished quality of starry nights and a nocturnal environment that is specifically protected for its scientific, natural, educational, cultural heritage, and/or public enjoyment. The land may be publicly owned, or privately owned provided that the landowner(s) consent to the right of permanent, ongoing public access to specific areas included in the IDA designation.About International Dark Sky Reserves.
Where are the International Dark Sky Reserves and Sanctuaries?
I can find over 10 locations within driving distance of where I live! How about you? 
International Dark Sky Week
What is International Dark Sky Week? 
From DarkSky.org:
Created in 2003 by high-school student Jennifer Barlow, International Dark Sky Week has grown to become a worldwide event and a key component of Global Astronomy Month. Each year it is held in April, from Sunday to Sunday, the week of the new moon – when skies are darkest.
You can find more detail HERE and be sure to follow the International Dark Sky Association on Instagram. 
Happy stargazing!