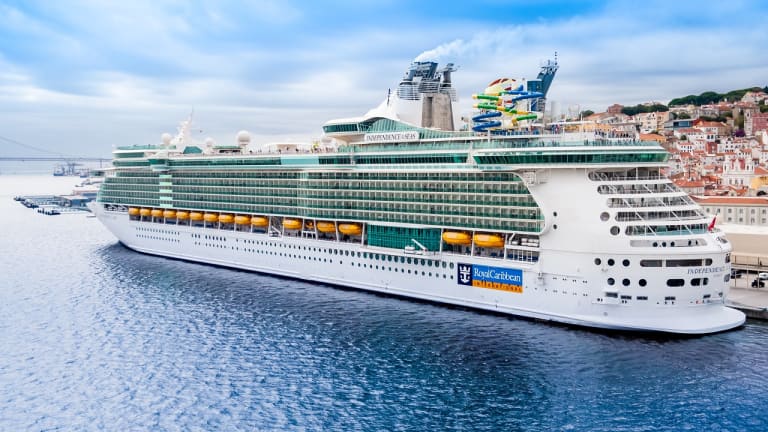 The Mama's Guide To Royal Caribbean Cruises
Are you thinking about a cruise for your next vacation? Do you need some advice and tips? The Mama's Guide To Royal Caribbean Cruises has planning, travel tips and tricks, flight hacks, and more!
Don't even think about going on a Royal Caribbean cruise until you read this! Our guide breaks down everything you need to know about Royal Caribbean cruise vacations.
What Is The Mama's Guide To Royal Caribbean Cruises?
What Is The Mama's Guide To Royal Caribbean Cruises?
There can be quite a bit that goes into organizing a Royal Caribbean cruise vacation. And there's so much noise and competing ideas about cruises all over the internet. You might be questioning: How do I plan a Royal Caribbean cruise? Where do we go once we're there? What should I expect? Should I take the family? What is there to do on a cruise? What kind of entertainment will we get? Are there family friendly amenities? What should we see? Where should we eat? What airline should we use? How do I score cheap flights? These are the questions a lot of Mamas are asking. We bet you're feeling overwhelmed. Don't worry, we've been there too! And...you might possibly be wondering if a Royal Caribbean cruise vacation is even worth it. Today's Mama is here to let you know that it is TOTALLY worth going on a cruise! The Mama's Guide To Royal Caribbean cruises provides everything a Mama needs to know about taking a cruise vacation to the Caribbean: planning, airlines, family travel tips and hacks, must-see attractions, resources, and tons more!
Royal Caribbean Cruise Travel Trips
First Time Cruisers
Are you a first time cruiser? Maybe feeling a bit unprepared for what you're about to experience on a cruise? There's no need to worry. First time cruiser, Rachael Herrscher, set sail with Royal Caribbean. Hilarity and valuable travel lessons ensued. She explores tips, resources, travel odds and ends, the food, what to expect and more.
>> Tips For First Time Cruisers <<
Planning a Caribbean Cruise With Your Family
Looking for great tips on planning a cruise to the Caribbean? We have three tips to make planning your Royal Caribbean Cruise with your family a breeze. With the increased popularity of family cruises, the cruise lines are offering increased family-friendly amenities and activities. Cruising with kids has never been easier, and there are lots of different options – from cruise lines to itineraries. Many families choose a Caribbean cruise, because they are usually shorter duration and have many family-friendly activities at the ports-of-call. There are definitely some things to consider when choosing a cruise and ways to prepare so that you have the most successful trip possible.
>> Planning A Caribbean Cruise <<
How to Score Cheap Flights to the Caribbean
The Caribbean is exotic but paying for a family vacation doesn't have to be exorbitant. Time it right and you can score cheap flights to many of the Caribbean islands from the Bahamas off the coast of Florida down to Trinidad. Discerning travelers know they can get good travel deals during the Caribbean's low season – April through December.
>> Find Cheap Flights To The Caribbean <<
Thinking of Europe With Teens? Think About a Cruise. Seriously. Here's Why...
A quick tour on board Royal Caribbean's Symphony of the Seas and all the reasons to choose a cruise for your teenagers! There are an array of reasons, but we hit the 5 reasons a cruise is the best way to see Europe with your teenagers.
>> Best Cruises For Teens <<
Planning a Family Vacation – When Should You Begin?
Planning a vacation, especially with the family, is so much different than planning a honeymoon or a business trip. Not only is there school to plan around (which means homework and study), but believe it or not there are some times during the year where it is REALLY expensive to take a family vacation. On the flipside, there are some weeks where you'll spend 50-70% less for the same vacation if you just spend a little more time planning.
>> Tips For Planning A Family Vacation <<
7 Brilliant Ways to Find Cheap Flights
For the seasoned traveler, there's no greater thrill than booking a cheap flight. Visits to Asia, Europe and other distant locales for a fraction of the cost—what could be better than that? Better still, doing so allows you to splurge during your actual getaway. We've hacked the system and have found 7 incredibly brilliant ways to find cheap flights.
>> Best Way To Find Cheap Flights <<
Science Shows How A Trip To The Beach Actually Changes Your Brain
As if you needed another reason to visit the beach. Did you know our brains are wired to rejuvenate when we visit the beach? Is it the sounds, the people, the scenery, the smells? Believe it or not, it's all of the above. Discover the scientific reasons why tripping to the beach is better for your brain than what you might think.
>> How The Beach Benefits The Brain <<
Royal Caribbean Cruise Reviews
We've been involved with a lot of cruises in the past. We know what to look for: the amenities, the food, the activities, the entertainment, the value, and the fun. We take an in-depth look at a handful of Royal Caribbean cruises and review them based on our experience with them.
Royal Caribbean Cruise Excursions: Allure of the Seas Review
Ever been on Royal Caribbean cruise excursions? We went on board Royal Caribbean's Allure of the Seas and we've got the lowdown on our favorite excursions. This was the very first cruise for Cass so the expectations were high and so were her demands. Follow along with her on her first journey and first review of Royal Caribbean's Allure Of The Seas.
>> Allure Of The Seas Review <<
Oasis Cruise Review
The location. The ship. The kids' programs. The entertainment. And everything in between. We boarded Oasis by Royal Caribbean and hit up St. Martin and more. We were amazed at how prepared Oasis was for kids and families. They thought of everything! The Oasis cruise is one of best cruises for families. Period. Find out why and more in our full review.
>> Oasis Cruise Review <<
Cruising at New Heights: Quantum of the Seas Review
Quantum of the Seas completely changed cruising. It started even before you board. This ship had been hailed as the world's first Smart Ship. So what that translates into is more time for leisure and less time waiting. Big thumbs up. We reviewed Quantum of the Seas and hit on all the pain points which might be floating around in your head as you determine which Royal Caribbean cruise is best for you. The entire plan of this ship is to cut down on that "waiting" and get you playing using technology. Did they accomplish this smart goal? Find out more in our Quantum of the Seas review.
>> Quantum Of The Seas Review <<
24 Hours On Board Royal Caribbean's Symphony of the Seas
We recently went on board Royal Caribbean's Symphony of the Seas cruising through the Mediterranean. We met up with the YouTube Stars "The SlyFox Family" on board and interviewed them on the Today's Mama Podcast (start at the 3 minute mark). They put together a pretty great highlight reel of all the things you can do on a cruise ship and tried to pack it into 24 hours.
>> Royal Caribbean's Symphony Of The Seas <<
>> Hannah Slyfox On The Today's Mama Podcast <<
Traveling With Kids
Are you thinking about travelling with kids? We can understand why you might be a little hesitant to commit to a vacation with the family. There's a lot of planning involved. And if you skip out on the planning process, you'll reap those painful rewards in the long run. But travelling with the kiddos is quite easy. We've got some tips and tricks to help you along the way as you get prepared for vacationing with the family.
Trending on Pinterest: 12 Tips for Traveling with Kids
It seems there's always another road trip to look forward to with children and we've found a few things that have worked amazingly well to keep everyone happy when we go. Pinterest is an amazing resource for fun travel ideas with kids and certainly helped add to this list of tips and hacks. Here are 12 tips for traveling with kids, in no particular order...
>> Traveling Tips On Pinterest <<
Best Family-Friendly Airlines, According to Family Travel Experts
Is booking a flight for your family vacation a dreaded activity? As you peruse the available options, do you wonder which are the best family-friendly airlines? Are they worth the extra money over budget-friendly flights? What airlines offer the best service for families? Are there any airlines that really welcome children? And which airlines do the experts choose to fly? With these questions in mind, we reached out to a few well-known family travel bloggers and editors, all frequent travelers, to get their insight on the best airlines—both domestic and international—for families.
>> Best Family Friendly Airlines <<
11 Tips for Flying Alone with Kids
The airport is stressful. Planes are stressful. Parenting can be stressful. Let's make this combo easier, shall we? We dive into 11 of the best tips on the web when it comes to flying alone with the kids.
>> Tips For Flying With Kids <<
Family Travel Safety Hacks
Are you hitting the road with your family this summer?! Your brain is likely abuzz with the constant hum of that running list of things to do and things to pack. Does everyone have a swimsuit that fits? The right shoes? Did we pack enough snacks? Do I have all of the chargers? Where is the must-have blankie? Is there enough sunscreen? Did I pack all the vitamins and medications? We got our hands on some really fantastic travel safety advice which make for some of the most helpful tips you've most likely never heard of.
>> Travel Safety Hacks <<
15 Reasons to Travel More With The Kids
By being a little organized, utilizing practical gear and gadgets, and making the most of all the services available now, traveling with kids has never been easier. There are plenty of good philosophical reasons to do it, too. Here are 15 reasons why you must travel more with the kids, while they're still young.
>> Reasons To Travel With Kids <<
Checkout More Today's Mama Guides
The Mama's Guide To Disneyland