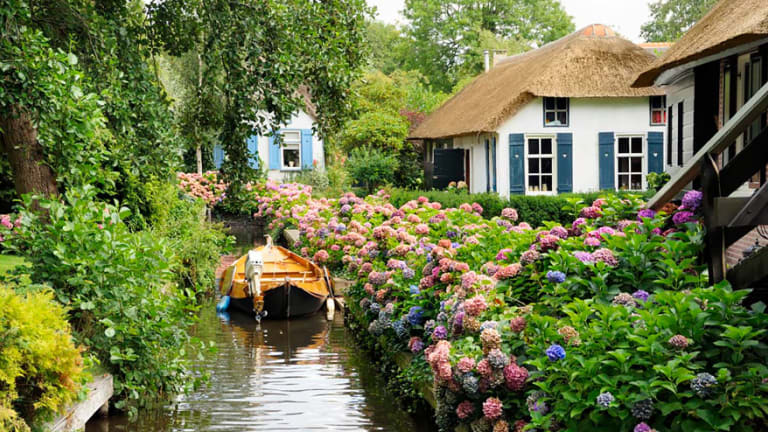 This Village Without Roads is the Thing of My Daydreams Right Now!
This place is straight out of a fairytale! If you're looking for simpler times and storybook scenery this little village is meant for you.
Are you ready to daydream a little? If you could design your very own village from scratch, what would it look like? How would you get around? I think I've found the real-life village that I would design from scratch! 
Welcome to Giethoorn.
Giethoorn is a mostly car-free village in the northeastern Dutch province of Overijssel. It's known for its boat-filled waterways, footpaths, bicycle trails and centuries-old thatched-roof houses. It borders a section of the Weerribben-Wieden National Park, a marshy area once popular for peat and reed harvesting. - Google
Known as the "Venice of the North" or the "Venice of the Netherlands" this quiet little village was founded in 1230 and is home to 2,620 lucky people. I want in. 
So How Do You Get Around in Giethoorn? 
Boats of course! In case you are worried about the noise, rest assured, residents travel on noiseless "whisper boats" to get around. 
Traveling on foot? 
Giethoorn, the "Venice of the North" is connected by 176 footbridges.
But What About the Wintertime? 
Lace-up those skates! You can take the footpaths around the village, or hit the ice and glide your way to wherever you're going. 
There's still plenty of color to catch in the wintertime. Check out this sunset in nearby Weerribben-Wieden National Park.
Those Flowers Though!
I mean the rivers are cool and so are the boats, but are you peeping these hydrangeas?!? I'm dead. Take me to the flowers! 
Siri, Show Me the Fall in Giethoorn
If the flowers are that beautiful, show me that fall foliage! 
Yep. Giethoorn wins again. 
Thatched Roof Magic
Does this feel like a fairytale yet? Because I'm pretty sure Snow White and her seven dwarves lived here. 
Love It? You Can Stay There!
Just for kicks, I popped over to Airbnb to see if I could actually stay in this little water village of my dreams. The answer is YES. Look at these adorable places!
Planning my trip NOW. Hydrangea Heaven here I come!