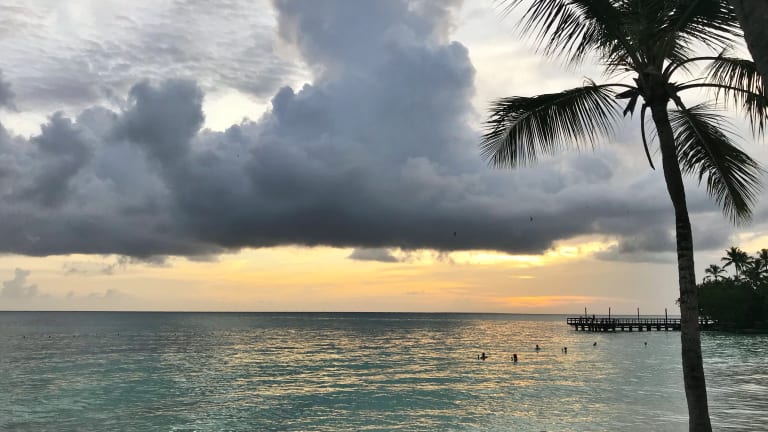 5 All Inclusive Dominican Republic Resorts To Add to Your Travel List
Dominican Republic + All Inclusive Resort = Best Beach Trip Ever.
This post is in partnership with Playa Resorts. All of my opinions and photos are my very own. 
I waved goodbye to the cold weather and hopped on a plane to enjoy the Dominican Republic to check out not one, but five all inclusive resorts.
Here's the scoop:
Why Visit the Dominican Republic?
The Dominican Republic is a stunning Caribbean destination that offers travelers a wide variety of options for adventure, recreation, entertainment, and relaxation. If you live on the East Coast there are so many direct flights right to Punta Cana Airport...so maybe take Friday off and hop down for a quick weekend in the sunshine? Yes. Do that. This is a Caribbean destination that truly has something for EVERYONE.
And the question everyone asks? Did I feel safe. Yes. I absolutely did feel safe in the Dominican Republic and I'd go back in a heartbeat.
How Do All Inclusive Resorts Work?
You pay one fee—a per night amount, just like when you book any other lodging—and staples like your food and drinks are included during your stay.
At the Playa Resorts in the Dominican Republic here's a sampling of what else is included in your all inclusive stay:
Dining at the onsite restaurants.
Unlimited drinks at the assorted bars (including the swim up bars at the pool!)
24-Hour room service
Access to the fitness center and classes
Access to so many beautiful pools
A private beach exclusively for resort guests
Your in-room mini bar will be stocked daily
Daily resort activities
Nightly entertainment
Complimentary Wi-Fi
Some of the Playa Resorts in the Dominican Republic include additional facilities and your all inclusive stay also includes:
Beach Butlers
Poolside or Oceanfront Beach Cabanas
Oceanfront Dining
Non-Motorized Water Sports
Scuba School
Cooking Demos
At the all age Playa Resorts (meaning family friendly) in the Dominican Republic the all inclusive amenities include:
Kids and Teens Clubs
On-Site Adults Only Night Club (for when you want a "date night")
Theme parties
Kid friendly menus
You can always add extra activities like golf, boat tours, spa treatments for a separate fee.
Here's Why All Inclusive is The ONLY Way to Go
You know how, after a big family trip, everyone says, "I need a vacation from my vacation!" Not so with a trip to an all inclusive resort. Oh, the liberating BLISS of leaving my hotel room with my book and my room key!
Imagine it, heading out for the day to sit on the beach with the lightest load imaginable. Obviously you've pre-sunscreened yourself and you're sporting your sensible wide-brimmed hat to cover your face, but otherwise, you get to just WALK OUT OF THE ROOM with that room key and the book that has been collecting dust on your nightstand for a year. Because when you arrive to the pool (one of many) or the beach, the towels are fluffy and plentiful, and there are snack bars and refreshments galore just waiting for you to enjoy.
Now imagine how this translates into your dining! Each Playa Resort hosts a collection of fantastic restaurants, snack bars, coffee shops, and bars and it's all included in your all-inclusive stay.
Ready to pack your bags?
I thought so...
Time for a Girl's Trip!
Think how much fun you have when you manage to get all your ladies together for dinner and a movie? Now multiply that joy times approximately one million. Uninterrupted time together in which no one has to clean, cook, or answer work emails. Or if you absolutely have to answer work emails, you could do it from your luxury cabana. My BFF's and I have enjoyed few things as much as our time staring at the Caribbean sea, while reading magazines, and eating chips and guacamole delivered to our lounge chairs by a friendly member of the staff, followed up by a trip to the spa. TRY IT.
Imagine walking out of this bungalow…
To sit here…
Send this post to your girls ASAP and book your trip!
Gather all the funnest couples you know.
Maybe you're one of those lucky couples that has a gaggle of other couples that you love to spend time with. Perfect! The Dominican Republic is calling your name. Enjoy bike tours, water sports, or just lounge by the pool or beach during the day and get your party on each night with live entertainment, karaoke nights, beach parties, or dancing.
Pack up your family.
Playa offers two all inclusive family resorts in the Dominican Republic. The brand new Hyatt Ziva Cap Cana (open November 2019) and the Hilton La Romana both include kid friendly entertainment and activities along with pools and water features that cater to families. Kids Club activities serve kiddos ages 3-12 and Teens Club activities are for 13-17 year olds. 
Kids Club Activities Include:
Arts & crafts
Indoor game room and playground
Storytelling. treasure hunts, and musical activities
Ocean trampoline, pool inflatable iceberg and Euro-bungee
Sandcastle contests
Video games, board games, and indoor game room
Field trips and weekly campout adventure
Teens Club Activities Include:
Social events including weekly bonfires, disco mixers and foam parties
Snack bar with non-alcoholic drinks
Baseball cage and archery
Plasma televisions, video games including Xbox 360®, Wii® and Play Station 2®
Pool, ping pong and foosball tables
Water activities
The best part? If you're staying at these resorts and you'd like to enjoy a grown up date night, you can send the kiddos to enjoy their time at the kid's camp while you head off to enjoy a quiet, luxurious dinner at the neighboring adults only property.
Pack up the WHOLE family.
Great news! An all inclusive, all ages resort is a WONDERFUL vacation option for you and your extended family! Everyone from Grandma to the littlest kiddo in the bunch can enjoy activities and meals together. Or apart. You do you. You can gather the whole family, spend time in smaller groups, and have the flexibility to enjoy the things you love —whether that's a plethora of entertaining activities, or laying on the beach all day. Imagine how handy it would be to be able to take a little one back to the room for nap time while everyone else stays at the beach making memories.
Get Some Cozy 1-on-1 Time with Your Person
A couple needs to get away and get cozy! Especially if you are parents, or have been married long enough that people say "WOW, really?! High five guys." Some one-on-one time, relaxing, sight-seeing, hitting the spa is just the ticket for reconnecting and returning home to cooking dinner, carpool, work, and crazy schedules nice and rested.
I mean. IMAGINE waking up in this bed...to this view.
What Dominican Republic Resort is Best?
Playa Resorts has FIVE amazing resorts in the Dominican Republic. Three adults only all inclusive resorts, and two all ages all inclusive resorts. I toured all five of the resorts and I couldn't possibly pick just ONE, they are all gorgeous and full of incredibly friendly and helpful Playa Resort staff.
Sanctuary Cap Cana Adult Resort 
Sanctuary has a variety of lodging options including a variety of hotel rooms and luxury suites, to family style bungalows.
Hyatt Ziva Cap Cana and Hyatt Zilara Cap Cana Adult Resort are neighboring properties that are brand spanking new (they opened November 2019) and are packed full of the amazing all inclusive amenities listed above, restaurants, pools, and a of course beautiful beach views.
The resorts in Cap Cana are a quick 10-15 minute ride from the airport.
Hilton La Romana and Hilton La Romana Adult Resort are also neighboring, beautiful all inclusive properties. These resorts offer easy access to cruises and catamaran rides to Isla Saona.
What You Can Look Forward To on Your Trip to the Dominican Republic
Everyone KNOWS they would love a trip to the beach. But we know this in a vaguely aspirational way. Let me tell you why you specifically need to go on a vacation to the Dominican Republic.
Nothing tastes better on a hot day than a fresh squeezed fruit juice.
Lunch is an occasion when you dine on a pier over the Caribbean.
Up your lounge chair game. Fill your bag with books and camp out here. Bring a friend. There's room.
Enjoy the resort culinary experiences—like rum tasting.
Or learn to make your own Mofongo with a small army of talented chefs—which was a ridiculously delicious experience.
Enjoy all inclusive dining in luxurious restaurants. You just worry about wearing that dress you love with the cute shoes.
Sit with your favorite person by the pool at night and enjoy the ambiance.
Enjoy the sunsets.
Walk on the beach in the morning.
Take a boat ride.
Visit a tiny island and take a nap.
Ride on a catamaran ...and take another nap.
Are you ready to head to the Dominican Republic? The Playa Resorts properties are ready to show you and your family an absolutely WONDERFUL time.