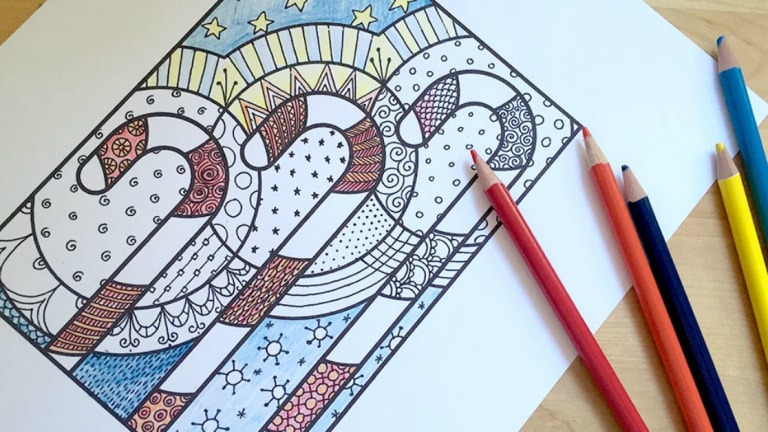 Zendoodle Christmas Coloring Pages
Zendoodle Christmas Coloring Pages
Look. I've got about six dozen ADORABLE holiday crafts pinned to my "Christmas FTW" board on Pinterest. But I've finally come to an extraordinary place of clarity where I've realized that I'm not crafty. At all. So these Christmas coloring pages are exactly my holiday crafting speed.
Oh, I've tried. (How I've tried.) There are a handful of the most abominable "ornaments" that we hang on our tree every year. Some crazy recipe that includes a truck load of cornstarch and glue. It was a nightmare.
But coloring?! Oh heck yes. Sign us up. Some fun coloring pages, a table full of crayons, colored pencils, and markers married with a batch of hot cocoa? BOOM. Holiday magic.
I excel at family activities that allow me to also partake in the enjoyment.
So, I hope you will follow my lead and pour yourself a cup of cocoa and impress your kiddos with your mad coloring skills.
Here, use our Zendoodle Christmas Coloring Pages…
The Christmas tree, candy canes, and gingerbread man coloring pages come in two versions. One is already filled with Zendoodle marks that you can add to and color in. (Get ready to add some serious chill to your holiday hustle.) The other offers a blank Christmas tree, blank candy canes, and blank gingerbread man that you can customize to your hearts content.
New to Zendoodling? Use the blank shapes and consider these tips:
Use cardstock or heavy paper with extra paper underneath so marker doesn't go through
Doodle different patterns into each quadrant. Start with a pencil if you want, but draw very lightly.
Use two sizes of black marker (ie. Sharpie Fine Point and Sharpie Extra Fine Point) for the final doodles.
Each time you make a new shape, let that shape be doodled into. (A big polka dot is really a circle that can be filled with its own doodles.)
Try some holiday doodles! Snowflakes, stars, santa hats, candy cane stripes, etc.
Try to vary texture, size, and value of the doodles. (Ie. If one shape is fairly light and has a lot of white space, the shape next to it can have more concentrated doodles or darker doodles.)
Let the ink dry for at least 5 minutes before erasing pencil lines.
Download the Zendoodle Christmas Coloring Pages
Download our Christmas Zendoodle coloring pages blank or pre-doodled with the lines added, print, and color.
Happy Holidays!
The Mama's Guide to Christmas Recipes
Christmas. All the things. Are you ready? One of the most exciting aspects of Christmas is the food and treats. We have the recipes we love. The recipes we don't. We all have our favorites and make no mistake, the foods and goodies we surround ourselves at Christmas time enhance the Christmas spirit and make this special holiday memorable. Today's Mama wanted to share all of the Christmas recipes, tips, secrets, and hacks we've come to love and enjoy. To learn more about why we love Christmas and the foods it brings, check out our extensive guide to Christmas recipes.