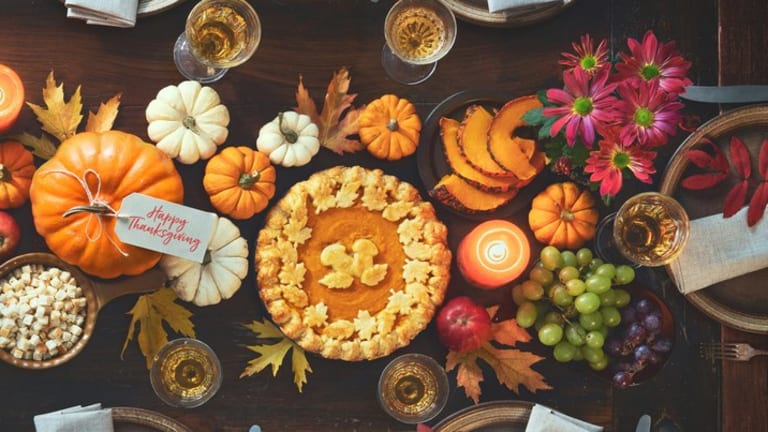 Tips for Throwing the Ultimate Thanksgiving Get-Together
These incredibly helpful Thanksgiving planning tips will have you giving thanks this year!
Thanksgiving is the ultimate family holiday — a long weekend of togetherness, fantastic food, and enlightening conversations. It's a great time for your children to have fun with their cousins and for us adults to personally reconnect in a world of seemingly non-stop busyness.
If you're hosting the big meal this year, why not make it a glamorous and memorable event? Sure, the turkey will still take center stage, but every aspect of the day — from the food to the décor to the atmosphere — can benefit from those little extra touches that take things over the top. Here are some tips to make this Thanksgiving the ultimate get-together.
Thanksgiving Meal Prep: Focus on Food
Food is the star here, so be sure to put a lot of thought into your Thanksgiving Day recipes. Decide on your Thanksgiving menu several weeks in advance of the big day and then draw up a detailed shopping list. Stock up on non-perishable items about two weeks before. You certainly don't want to wait until the last minute and not be able to find a key ingredient. Early Thanksgiving week, pick up the rest of your groceries.
Save yourself some time on the big day and prepare some recipes ahead of time. Make stuffing and other side dishes, like pureed butternut squash, cranberry relish, or pumpkin pie, a day or two before. It also helps to put together a schedule of when everything will be cooked on Thanksgiving Day. Sometimes, it can go by in a whirlwind and you can easily forget something like potatoes or dinner rolls (guilty!) while you're involved in myriad other activities. And don't forget to plan some simple Thanksgiving appetizers like cranberry brie bites!
Thanksgiving Decorations: Plates and Tablescapes
Make sure your table looks spectacular to highlight all the work you put into your menu. Dress your table with beautiful linens and crack out your good china and crystal. Put wine or ice water into glass decanters for an elegant touch.
Don't forget a centerpiece or other table décor. Consider filling a glass bowl with seasonal flowers like mums or create a natural display with miniature pumpkins, white gourds, or autumn leaves. Taper candles add to the atmosphere, as well. You can even involve the kids for kid-friendly Thanksgiving table decor.
Create place cards so your guests don't end up scrambling for seats. Just be sure you're the one closest to the kitchen so you can clear plates and bring out dessert without disturbing anyone.
Thanksgiving Decorations: More With Décor
Add to the atmosphere by decorating your home with seasonal touches. You don't need to spend a fortune or replace everything you already own, but you do want to elevate your home from the everyday to the extraordinary. You can add wall decals to spruce up the space, light candles throughout the room or affix garlands of autumn leaves to bannisters. It's small touches like these that make a big difference.
Thanksgiving Music: Add Music to the Mix
Thanksgiving is a celebration and what celebration would be complete without music? Put together a playlist that's sure to set the stage for your soiree. Consider something jazzy, such as Louis Armstrong, for the before dinner party, and something subdued and classical for the dinner hour.
You don't want your music to overpower dinner conversation, so make sure it's just loud enough to be heard. Also, don't forget the kids! Play some fun, family-friendly tunes that will get everyone dancing after dinner instead of flopping on the couch. Consider timeless hits from the '60s, '70s, and '80s to perk everyone up again instead of falling into a tryptophan-induced stupor.
Thanksgiving Drinks: It's Time for Wine
Forget the old adage that only white wine goes with turkey. This is truly a holiday when anything goes. With that said, you don't just want to pick up any old wine. Make sure the reds you choose are not too overpowering.
Consider wines with a lighter body or that are slightly fruity, such as lambrusco, zinfandel or pinot noir. Crisp white wines are always perfect for Thanksgiving. Consider Riesling, sauvignon Blanc or pinot grigio. For a special festive touch at dinner or with dessert, offer a sparkling wine. Dress up your glasses with a couple of cranberries for extra pizazz.
Thanksgiving is a time to pull out all the stops and really let your home, your food, and your hospitality shine. Follow these tips to elevate your special dinner to a standout celebration. It will truly be a holiday to remember.